B&N 3rd Quarter: Store Sales Stabilize, Profit Below Expectations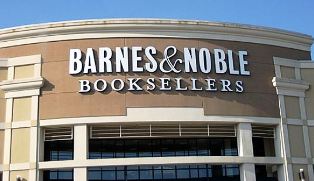 At Barnes & Noble, in the third quarter ended January 31, consolidated revenue fell 1.7%, to $1.96 billion, and net income rose 14.1%, to $72.2 million. Earnings per share were 93 cents, up from last year's 86 cents a share, but fell below Wall Street expectations of more than $1 a share and as high as $1.48 a share.
Sales at B&N's retail segment, which includes Barnes & Noble bookstores and BN.com, fell 1%, to $1.4 billion in the quarter. The drop was primarily attributable to lower sales of Nook products. At stores open at least a year, sales fell 0.3%, and at those stores sales of non-Nook products--both books and non-books--rose 1.7%.
B&N CEO Michael P. Huseby attributed the gain in non-Nook sales to "the continued stabilization of the physical book business, as well as continued growth in non-book core categories such as Educational Toys & Games and Gifts."

Sales at B&N's College segment rose 7.2%, to $521 million, attributable in part to new store growth and a later shift in the fiscal calendar, which included an additional week of the spring back-to-school rush season. Sales at college stores open at least a year fell 1.4%.
Sales in the Nook division, which includes digital content, devices and accessories, fell 50.6%, to $78 million. Sales of devices and accessories fell 62.8%, to $37 million, due to lower unit selling volume, while sales of digital content were off 29.3%, to $41 million, mainly because of the lower device unit sales volume.
CEO Huseby added: "While College continues to invest in its future, its top line sales grew through new school acquisitions and better than expected comparable sales trends. Nook's EBITDA loss was cut in half due to ongoing cost rationalization efforts. This performance across all businesses further supports our belief that now is the right time to separate the College business. The separation will allow each business to optimize their strategic opportunities, given their respective growth profiles, and specifically enable College to pursue opportunities in the growing educational services market."
Yesterday, B&N said that through B&N College, it is investing in Flashnotes, Inc., an online marketplace founded in 2010 and allows college students to buy and sell student-created, course-specific materials, including study guides, notes, flashcards, video tutorials and live video help. B&N will promote Flashnotes at its partner schools and on digital platforms.
---

---