Business Stabilizes: B&N to Close Fewer Stores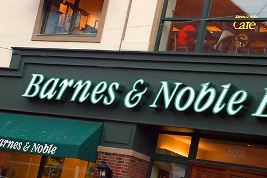 Barnes & Noble plans to close fewer stores than expected this fiscal year because of "improving sales trends and our increased confidence in the business," Mitchell S. Klipper, CEO, Retail Group, said during a conference call with analysts yesterday (via seekingalpha.com) after the company released third quarter results.

Yesterday, B&N stock fell 10.1%, to $22.36 a share, on six times the usual volume, because B&N's profit during the quarter, which increased 14.1%, didn't increase as much as Wall Street had expected.

Still, as John Tinker, an analyst with Maxim Group, told the Wall Street Journal, "The turnaround continues. This is still a mature business, but it is connecting with its audience."

Instead of closing its usual 20 stores, B&N plans to close only 13 of its 649 general stores this year. Klipper added that B&N's "real estate team has done a spectacular job of managing our lease exposure over the past several years. Every year, we examine each store coming up for lease renewal and review the level of profitability that the store can generate." Those reviews have become more positive.

Klipper said he was proud of the retail division team: "From our merchants who implemented several initiatives to drive traffic and sales in our stores to our booksellers who were on the front lines every day to our development team that secured some of the best real estate across the country, everyone has contributed to our improving trends. The Retail management team has been able to seek and capitalize on opportunities to stem the rate of decline in the physical book sales, while making our stores a destination with discovery that simply cannot be replicated elsewhere.

"We've also become the destination for educational toys and games, and have improved our overall selection of gift items and other products. And through our one-of-a-kind in-store events, we have further reinforced Barnes & Noble as a destination for the communities that we serve. The team has also prudently managed expenses and improved store productivity despite the declining sales trends over the past several years."
---

---