Fifty Shades of Grey Returns to College Bookstore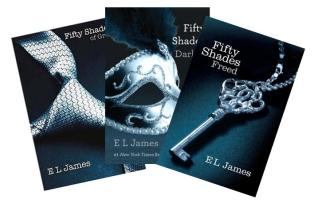 The Boston College Bookstore has returned E.L. James's Fifty Shades of Gray to the shelves, according to the Boston Globe. Last week, the Heights, the student newspaper, reported that the Follett store had pulled James's books after a complaint was made to the store and school administration requesting that the books not be sold.
Boston College spokesperson Jack Dunn told the Globe that after Follett decided to pull the books, the school urged Follett to reconsider its decision, keeping in mind "the inappropriateness of banning books at a university."
Follett rep Elio DiStaola told the Globe that when complaints are made, "we pull the book, have a conversation, and make a determination. In this case, we put it back on the shelf."
---
Fifty Shades of Gray is in the news in North Carolina, too. The Gaston Gazette reported that the series is highlighted in a Books-A-Million display in the Franklin Square store in Gastonia under a sign reading, "It's Easter. What we recommend."
Several customers, including Christian blogger Barry Simmons, don't like the pairing of the Christian holiday with the series. BAM has said that corporate policy is to display bestselling items beneath seasonal signs.
---

---