Children's Choice Book Awards Focus on the Books
This year's Children's Choice Book Awards were thankfully focused on the book candidates, rather than the personalities (well, personality, really). Last night the children's book industry got decked out for a gathering at New York's Tribeca 360 to learn the winners of the Children's Choices.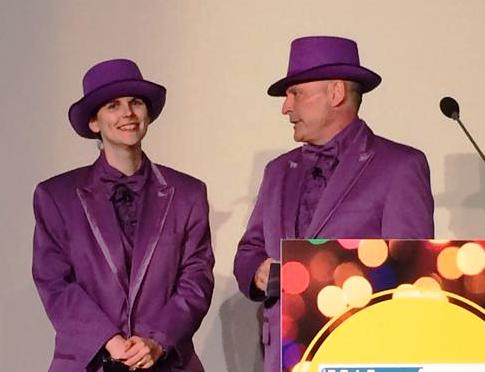 NYPL's Betsy Bird and Jon Scieszka hosted the ceremony. (Photo: Marietta Zacker)
NYPL's Betsy Bird (aka Fuse #8) and the inaugural National Ambassador for Young People's Literature, Jon Scieszka, emceed the evening in matching attire that recalled Prince's Purple Rain period. Eschewing callouts ("The Joker is here twice," said Jimmy Gownley during his acceptance for Book of the Year for Fifth to Sixth Grade for The Dumbest Idea Ever!), the duo kept the proceedings moving along at a good clip.
The Brooklyn literary mafia (Jon Scieszka, Matt de la Peña, Andrea Davis Pinkney, Brian Selznick, Jacqueline Woodson, plus Sergio Ruzzier and Sophie Blackall--all of whom presented) made themselves known. Jacqueline Woodson joked that they'd be selling bottled water after the ceremony: "It's in the water," she said.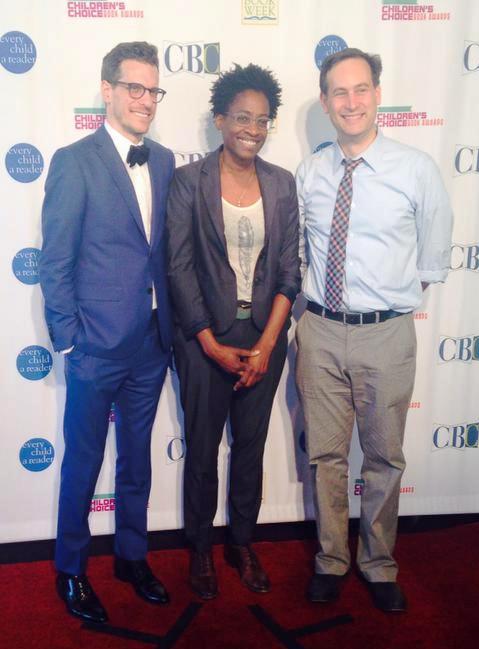 Presenters (l.-r.) Brian Selznick, Jacqueline Woodson and David Levithan. (Photo: Charisse Meloto)
Last night's event kicked off a full roster of events for the 96th annual Children's Book Week (May 4-10) in all 50 states. --Jennifer M. Brown
The complete list of 2015 Children's Choice Book Award winners are:
Kindergarten to 2nd Grade Book of the Year:
Eva and Sadie and the Worst Haircut EVER! by Jeff Cohen, illustrated by Elanna Allen (HarperCollins)
3rd to 4th Grade:
Kali's Story: An Orphaned Polar Bear Rescue by Jennifer Keats Curtis, illustrated by John Gomes (Arbordale)
5th to 6th Grade:
The Dumbest Idea Ever! by Jimmy Gownley (Graphix/Scholastic)
Teen Book of the Year:
The One by Kiera Cass (HarperTeen)
Children's Choice Debut Author
J.A. White, The Thickety: A Path Begins (Katherine Tegen/HarperCollins)
Teen Choice Debut Author
Jennifer Mathieu, The Truth About Alice (Roaring Brook Press/Macmillan)
Children's Choice Illustrator:
Chris Appelhans, Sparky! by Jenny Offill (Schwartz & Wade/Random House)
---

---