Shelf 2.0: Neil Strandberg to Join Shelf Awareness
John Mutter and Jenn Risko, the founders of Shelf Awareness, are very pleased to announce that Neil Strandberg, director of technology of the American Booksellers Association and, earlier, longtime bookseller and manager of the Tattered Cover, Denver, Colo., is joining Shelf Awareness as director of technology and operations.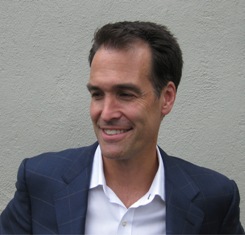 Neil Strandberg
As the Shelf begins to celebrate our 10th anniversary, we can't think of a better way to insure our next decade of continued success than by investing in technology and talent.
Our industry would be hard pressed to find anyone who has more bookselling and tech experience, and who has accomplished more; he sees innovating for booksellers as a true vocation--and we agree!

Neil began his bookselling career as a bookseller at A Clean Well-Lighted Place for Books in San Francisco, Calif., then moved to Tattered Cover, where he started in 1989 as a bookseller. After four years he was promoted to floor manager, then store manager, retail manager and, finally, manager of operations, a position he held from 2002 to 2012. In 2012, he joined the ABA as director of technology.

He has also participated in numerous book world organizations. Since 2013, he has been a member of the Book Industry Study Group board of directors. Earlier, he was a member of the BookExpo America Advisory Council; the Tattered Cover representative to the Independent Booksellers Consortium; and v-p and board member of the Mountains & Plains Independent Booksellers Association. Also, in 2007, he won the MPIBA's Gordon Saull Bookseller of the Year award.

Neil commented: "My career has really been all about supporting booksellers and their customers. I see joining the Shelf Awareness team as continuing to put books and people together, with an increasing emphasis on how technology can help the people in this business do what they do best: write, publish, promote, curate and sell books.

"This is an intensely exciting opportunity for my family and me, and we're all looking forward to moving back to the West. (Perhaps I'll take up mountaineering again!) I need hardly tell anyone in the indie book business that Shelf Awareness has been extremely successful during its first 10 years, and I'm pinching myself that Jenn and John have asked me to join the team. Shelf Awareness is in a fantastic position to build its own future and I'm deeply grateful to be asked to help."

Oren Teicher, CEO of the ABA, said, "All of us at ABA will miss Neil a great deal. He's been a highly valued employee and has led us through some critically important changes in our ability to better serve the tech needs of member stores. While we are very sorry to see him go, we are delighted he'll be joining our good friends at Shelf Awareness, where we know he'll continue to be engaged in helping indie bookstores. We wish him and his family well."
---

---