Melville House Opens in Rough Trade NYC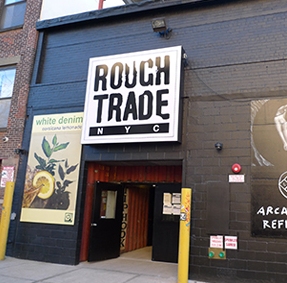 Publisher Melville House is opening a dedicated space in Rough Trade NYC's flagship store in Willliamsburg, in Brooklyn, N.Y., and will host events at the store, including author appearances and talks and book-of-the-month promotions.

The Melville House section will be at the entrance to the store's book section and feature new and backlist titles as well as exclusive Melville House merchandise. The store is also hosting a monthly book club, which on July 13 will discuss Melville House's The Dark Net: Inside the Digital Underworld by Jamie Bartlett. Rough Trade primarily sells music and has a bar and live performances.

"Rough Trade have been devotees of Melville House for many years," said Stephen Godfroy, co-owner of Rough Trade. "Amplifying their voice across Williamsburg and beyond is precisely the kind of initiative we opened Rough Trade NYC for--a place that celebrates creative self-expression, whatever the format."

Melville House co-founder Dennis Johnson said, "Since the height of the punk era, Rough Trade has been a shining model of how to outwit conglomerate culture--which is, to stay true to your mission to support independent art-making, no matter where it takes you. We're thrilled to join forces with such a visionary band of renegades."
---

---