Finally Found Books Becoming Nonprofit
Finally Found Books, Auburn, Wash., which has struggled financially since opening in 2013, has formed a nonprofit called the Washington Literary Organization that aims to buy the store as well as promote literacy, support schools, educators and libraries, and help the less fortunate receive books. Owner Todd Hulbert considers it "a viable model that other struggling bookstores can follow."
In January, Hulbert put the store up for sale, calling it "a very difficult and personally emotional decision." But he found no buyers and told the Auburn Reporter: "We started to see revenues go down substantially from the previous year, and things didn't get any better in February, March or April. I finally said, 'It's either time to shut it up, or we can look at forming a nonprofit.' "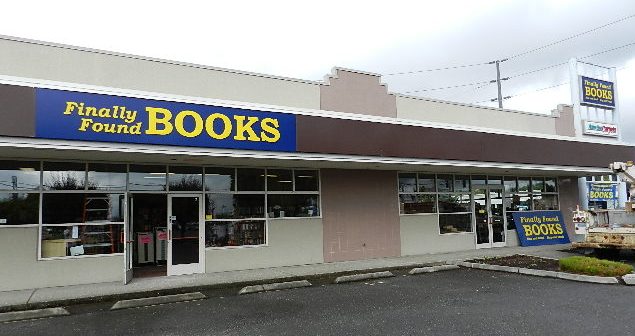 Hulbert emphasized the advantages of a nonprofit: it can engage in tax-deductible fundraising, apply for grants, offer tax deductions for book donations, use volunteer staff, work with schools and libraries directly and network with other nonprofits.
Already, Hulbert told the paper, volunteers have taken on responsibilities "in the business and [to] support existing and upcoming literary programs" and a 13-member board has been formed.
The Washington Literary Organization's initial goal is to raise $10,000 for interim funding to form the nonprofit and offset the store's operating expenses while doing the secondary fundraising of $250,000. One-third of the secondary funding raised will be used as operating capital for the store while the other two-thirds will be used to purchase Finally Found Books's furniture, fixtures, equipment, inventory and goodwill.
Hulbert plans to stay on as interim store manager until a replacement is funded and trained, serve on the WLO board if elected, volunteer in the store several hours a week and be on call to consult.
The Reporter said, too, that various Finally Found Books programs will also be "beefed up," including training and internships that have included developmentally disabled interns; more gift certificates for teachers; more book and gift certificate donations to such causes and organizations as shut-in seniors, PTA auctions, fundraisers, Friends of the Library, the Veteran's Administration and churches.
New programs will include the collection and distribution of some 100,000 books in the first year for schools, libraries and other organizations and 200,000 in the second year; Traveling Story Time, which will offer readings at preschools and other children's gathering places; in-house events such as tutoring, reading hours and sign language classes; and providing meeting space for literary events.
In 2014, Finally Found Books had net revenues of $140,307.21, and in the first quarter of this year, net revenues were $32,364.93. The store's annual fixed expenses are about $70,000, and the proposed beginning annual payroll expenses are about $40,000. Other discretionary expenses include advertising, purchase of new books and inventory, professional trade groups and conferences, etc.
In early 2012, Hulbert bought Baker Street Books in Black Diamond, Wash., closed it to install new shelving, reconfigure the store and absorb some 100,000 volumes he had in storage. In July, he reopened the store as Finally Found Books. In September 2013, Finally Found Books moved to Auburn because sales were too low in Black Diamond. The store sells new and used titles.
---

---