'Losing a Customer and Opening a Conversation'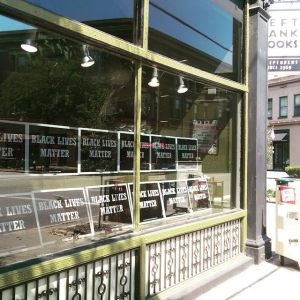 "I hope that you'll see the ways we've tried to promote constructive discussions about race--our ongoing Ferguson Reading Group, our event with Carol Swartout Klein for her book Painting for Peace in Ferguson, our event with Leah Gunning Francis for her book Ferguson and Faith, the Listen. Talk. Learn. session we hosted with Diversity Awareness Partnership.
I want you to know that our door, hearts and arms are open to you and all others always.
If you do make the switch to Amazon I hope that you'll keep reading. As my departing book recommendation to you, I suggest you order Between the World and Me by Ta-Nehisi Coates. For more reading, try our Black Lives Matter Reading List.
We love St. Louis and the rich and various communities and cultures that make up our town. If we insist on anything, we insist that St. Louis keeps moving, however painfully, toward a better future."
---

---