BEA 2016: Content & Digital Conference Programming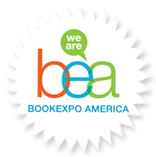 BookExpo America, which will be held in Chicago May 11-13, has unveiled programming plans for this year's Content & Digital Conference, "designed to engage and educate booksellers, librarians, agents, authors and industry insiders by delivering insights on the latest trends and unparalleled networking opportunities."

BEA highlighted a pair of new tracks: the children's publishing track will "address one of the strongest areas of the publishing and bookselling industry, utilizing industry experts to provide insight and direction on current trends and a take a look ahead at what consumers and booksellers can expect." The self-publishing track allows "authors and service providers to explore the opportunities to reach readers, build sales, and establish a social presence with readers."

The Library Insight track will be bolstered by the American Library Association's partnership with BEA for sessions by Libraries Transform: ALA@BEA, which "will cover new terrain in Readers Advisory, nurturing local writers and working with marketing teams from the Big Five publishers to help patrons." The sessions are sponsored by Libraries Transform and Overdrive.

Other conference tracks at BEA's Content & Digital Conference include: Marketing & Engagement, ABA Education, Analytics, Tech & Mobile, Business of Publishing, Content: Readers & Authors and Global Market Forum: Poland.

"This year's programming will tackle the issues critical to the growth of the publishing industry and provide practical education that impacts their day to day businesses results," said show director Steve Rosato. "BEA's Content & Digital Conference provides a significant added value for every participant and we look forward to adding more content in the weeks to come."

In addition to conference tracks, BEA will also host a number of education sessions, including Marketing: What it Takes to Get It Right; Maximizing Metadata (Workshop) & Improving the Bottom Line; Facebook 201: Advanced Book Marketing to Drive Sales; BEA Editors' Buzz; Great Book Club Titles for Fall/Winter 2015--Speed Dating for Booksellers, Librarians & Book Group Leaders; and AAP's seventh Annual Shout n Share.
---

---