New York City's St. Mark's Bookshop Closing
Sad news. After several years of financial difficulties, St. Mark's Bookshop in New York City is closing. The store started a 50% off clearance sale last Thursday and has suspended online sales. The final straw came in the form of a marshal's notice from New York State for $34,408.76 in unpaid taxes. James West, a lawyer for St. Mark's, told Bedford+Bowery, "The State doesn't usually play games. That was pretty much it."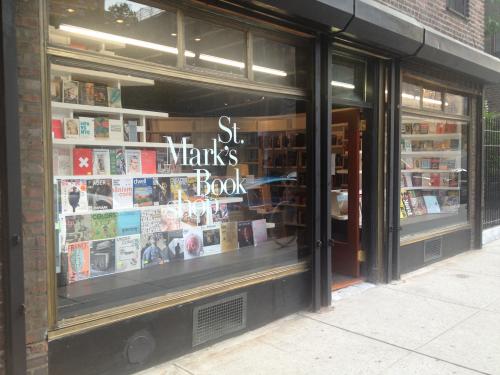 Bob Contant, co-owner of the shop with Terry McCoy, confirmed to Bedford+Bowery that "unless there are investors that step up at the last minute," the store will close. "We don't have the money to continue."
The store also owes at least $62,000 in back rent and faces eviction from its landlord, the New York City Housing Authority. (In 2014, St. Mark's moved to its current spot, where the rent is $6,000 a month, a substantial reduction from its old location.) St. Mark's has also been in legal disputes with Baker & Taylor, to which it owes about $14,000. Apparently patient with late payments and non-payments for a long time, according to Bedford+Bowery, B&T went to court last year, won the case and put a freeze on St. Mark's bank account, which contained nowhere near enough money to pay what the store owed.
West said that the store "ran into too many bad things happening all at once, and they could not get out from under it. It started with the move and this new economic environment. I don't think they ever got the momentum going in the new space."
Contant has said that business didn't fully recover from the Great Recession, and that the store had insufficient inventory for some time. The costs of the 2014 move and being closed for a month before the new location opened also contributed to its shaky financial state. Founded in 1977, the store ran several fundraising campaigns recently, with varying levels of success.
---

---