Regulator to Authors: Come Help Fight HB2
In an open letter building on last Friday's letter from Linda-Marie Barrett of Malaprop's Bookstore/Cafe asking that authors not boycott North Carolina because of its new discriminatory law, HB2, Tom Campbell, co-owner of the Regulator Bookshop, Durham, N.C., suggests a program whereby some proceeds from author appearances in North Carolina indies could go to efforts to fight the law and for equal treatment generally. (And he hopes that Sherman Alexie and Bruce Springsteen will reconsider their decisions to cancel events in the state!)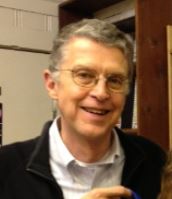 Tom Campbell
We have not (yet) had any authors cancel their appearances at the Regulator because of HB2. But I understand that many people may be reluctant to come to North Carolina now, lest their visit be interpreted as supporting this discriminatory law. Yet it would be sad indeed if one of the effects of this legislation was to diminish the number and strength of voices speaking out here for openness, inclusion, fairness and non-discrimination.
I'd like to suggest that it would be better to come here, speak the truth, and support those of us in North Carolina who are fighting against these bigoted, unjust social policies. It occurs to me that one way to further that end is to offer major authors the opportunity to designate their events with us as special "Liberty and Justice" events. A portion of the author's and bookstore's proceeds from "Liberty and Justice" events will be donated to the North Carolina ACLU and the North Carolina Justice Center, two organizations that are fighting HB2 and that have long been fighting for equal treatment for everyone, under the law.
We ask other independent bookstores in our state to join us in this effort and sponsor their own "Liberty and Justice" events, all across the state.
So to authors (and rock stars) we say: Don't let the North Carolina Legislature scare you away. Come on down here and get in their face! Help fire up the troops, here on the ground. Be a thorn in their side, not a silent, empty space.
Sherman and Bruce, I hope you guys hear this. You have long been major heroes of mine, and it would be a thrill to hear that you are coming back to North Carolina; coming after HB2 and its ill-spawned ilk.
---

---