#BEA16: Pictures from an Exhibition, Day 2
After Wednesday's quiet opening half day at BookExpo America, the full day yesterday drew the crowds and had the energy more typical of BEAs. The day included the adult book & author breakfast (see below), luncheons, a range of panels and author events, a round of parties and the ABA's Celebration of Bookselling as well as its Town Meeting and Annual Meeting (more below). On the floor, many booksellers, librarians and publishers agreed that traffic had picked up, that many booths were busy and that there was more buzz in the air.
Barbara Theroux of Fact & Fiction, Missoula, Mont., for example, called the show "upbeat." Stephanie Crowe, a bookseller from Page and Palette, Fairhope, Ala., said she was excited to be at her first BEA and happy to visit so many publishers and mix with booksellers around the country. In one sign of the draw of having BEA outside New York for the first time since 2008, ABA CEO Oren Teicher noted that two-thirds of bookseller attendees hadn't been to recent BEAs.
BEA show director Brien McDonald told the Chicago Tribune that BEA expects to have 17,000-18,000 attendees and noted that there were 1,000 attendees who had never been to a BEA show.
Scenes from BEA: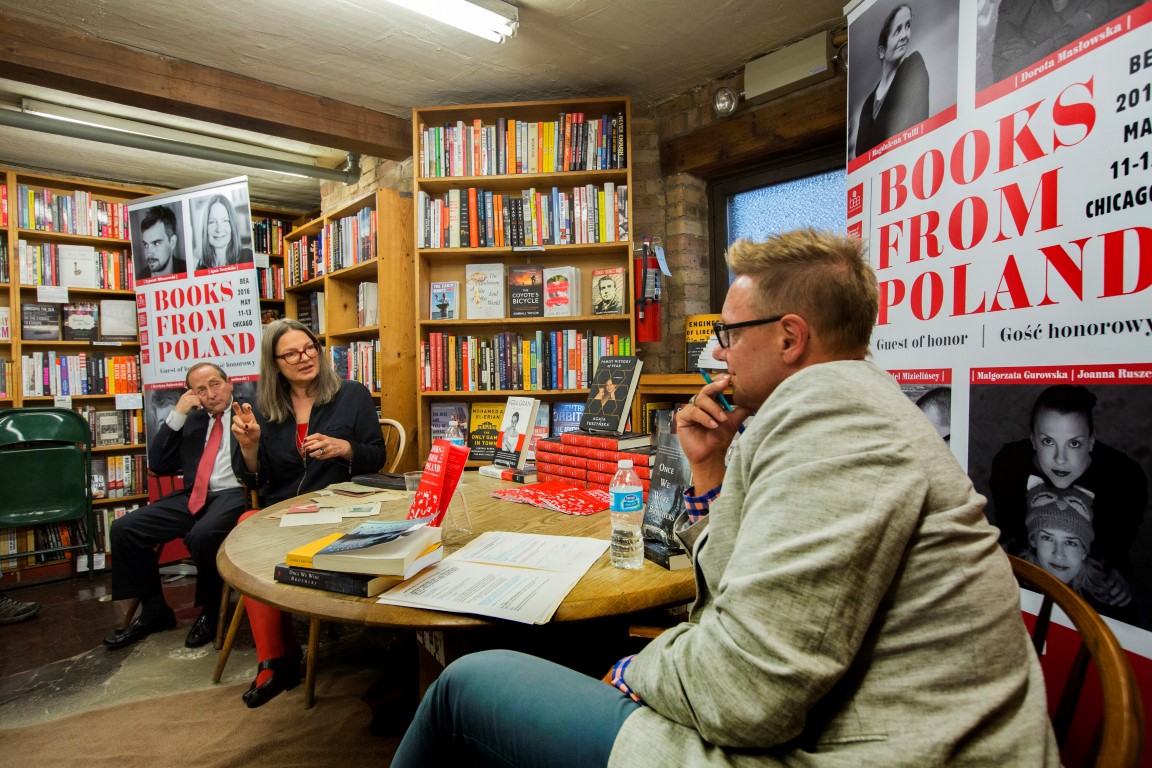 (L.-r.) Chicago author Ron Balson and Polish writer Agata Tuszyńska chat with award-winning journalist Greg Archer, who moderated Family History of Fear, a program held at 57th Street Books in Chicago highlighting Polish literature. Poland is the BookExpo America 2016 Global Market Forum honoree. (photo: Charles Osgood)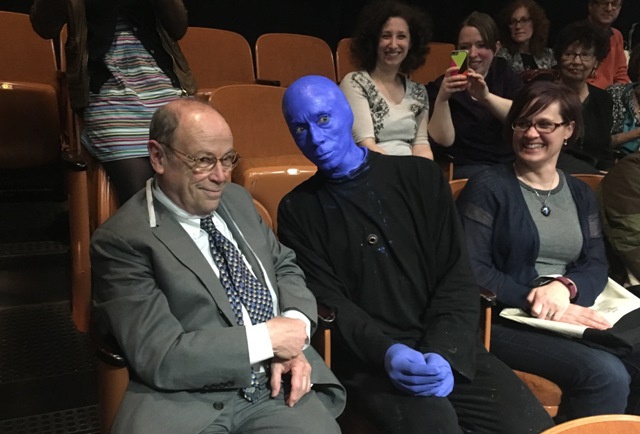 Black Dog & Leventhal hosted BEA booksellers at a performance of Blue Man Group in celebration of the upcoming book
Blue Man World
. Here's publisher JP Leventhal and a new friend.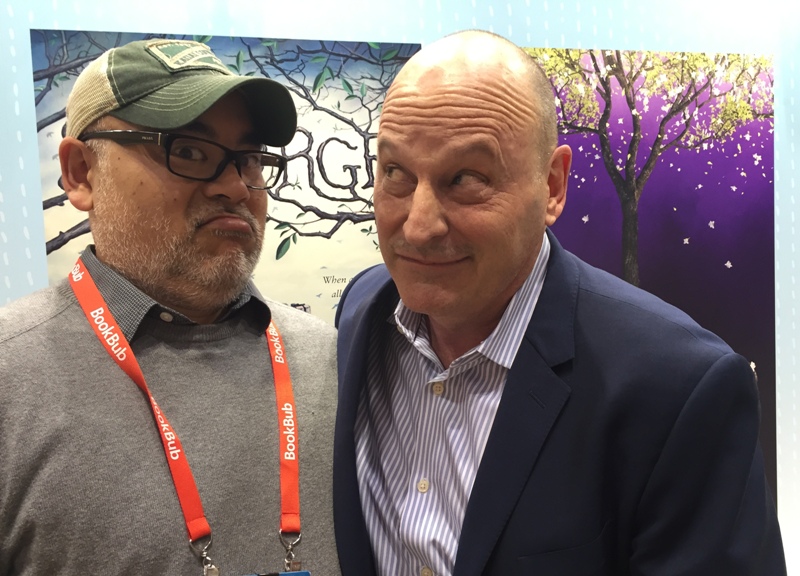 You can't swing a cat at BookExpo without hitting a children's book luminary. Here, Dan Santat, who won the 2015 Caldecott Medal for The Adventures of Beekle (Little, Brown), and Jon Scieszka, the first U.S. National Ambassador for Young People's Literature and author of The Stinky Cheese Man (Viking), ham it up in Chicago.
At the Cuba stand, Camara Cubana del Libro: poet, novelist, journalist and editor Rogelio Riverón with Arnold August, author of Cuba and its Neighbors.
A long line of fans waited to meet Terry McMillan (I Almost Forgot About You, Crown)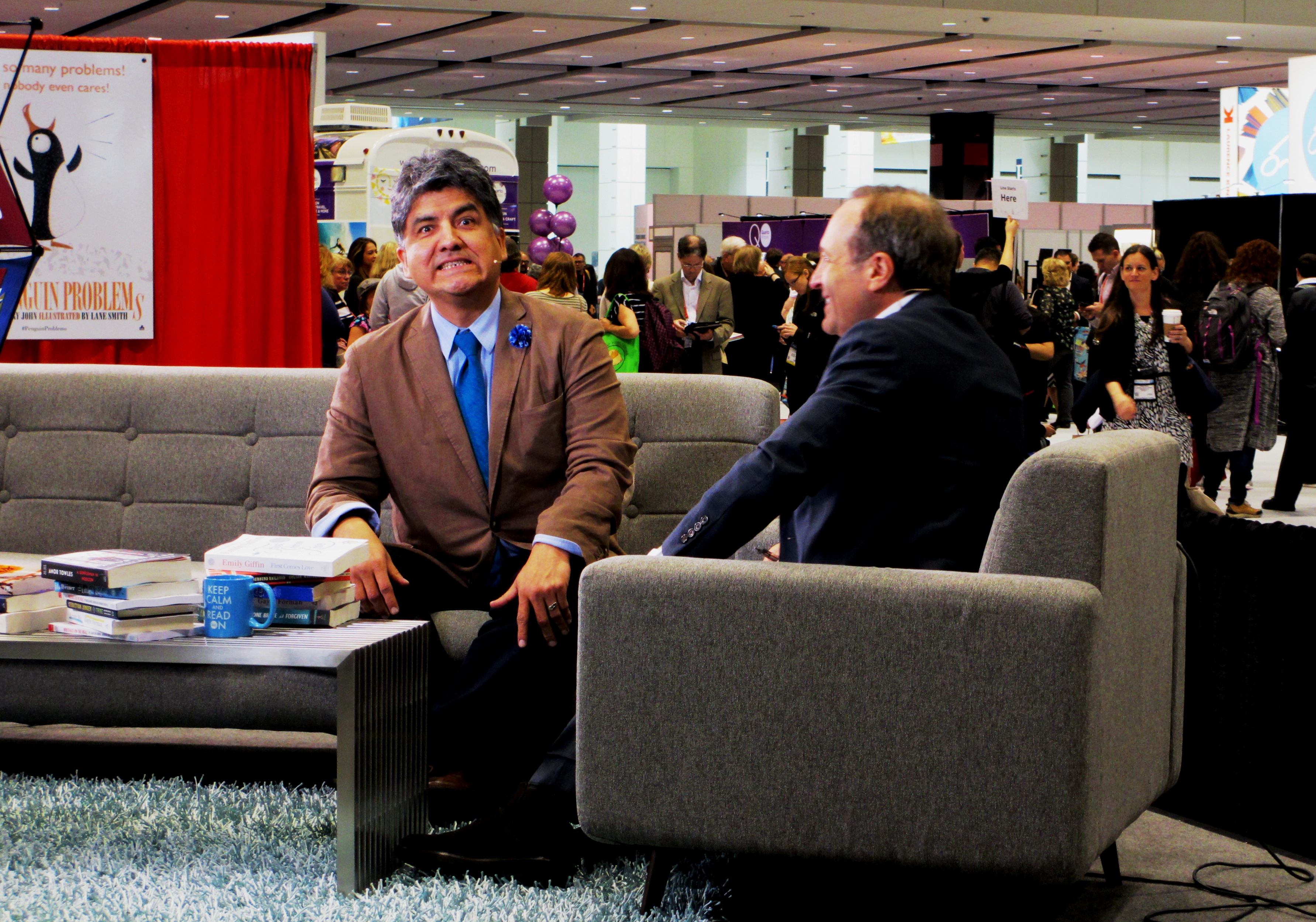 Sherman Alexie having fun at BEA.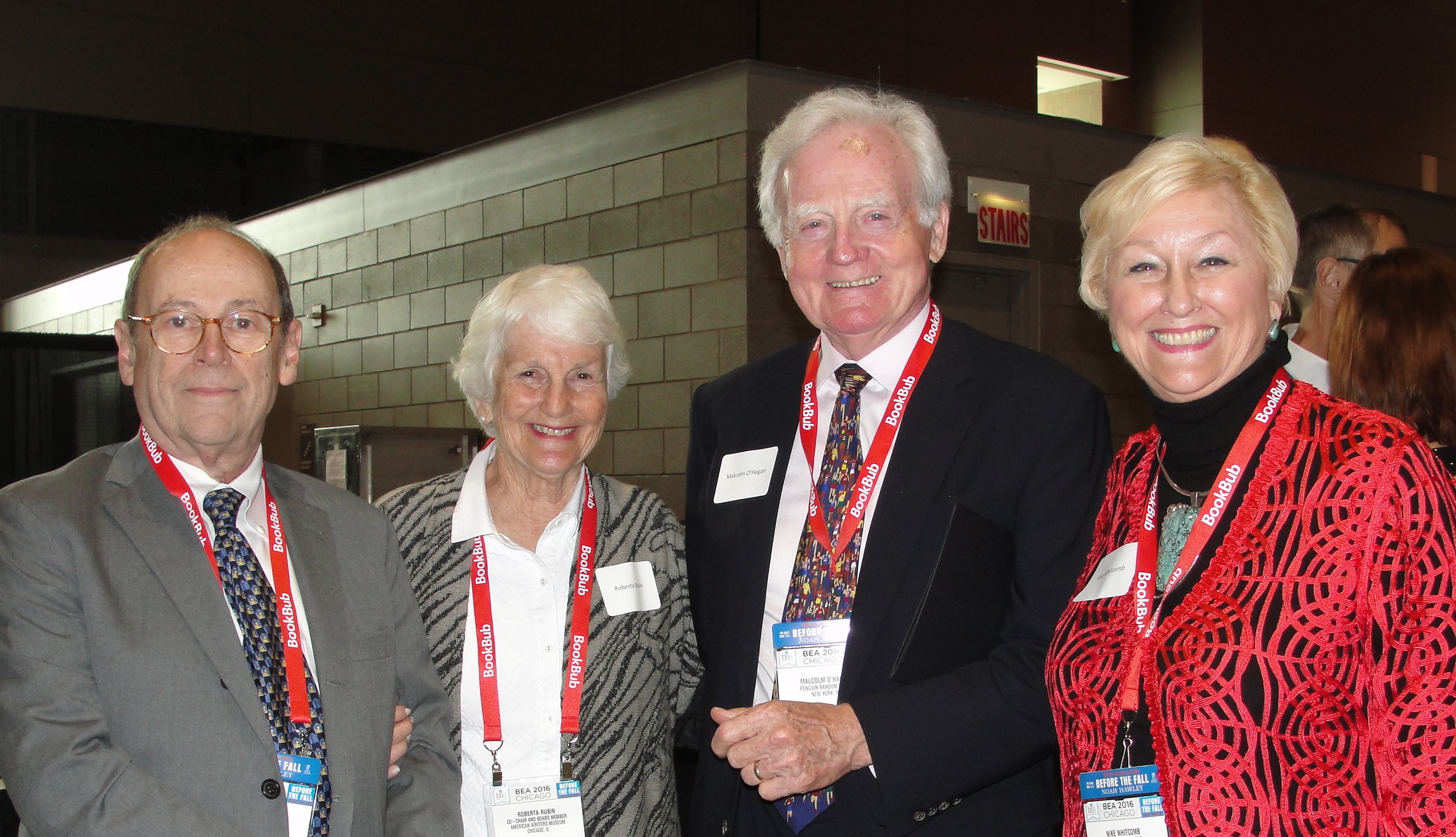 At a cocktail party hosted afterhours at the Penguin Random House booth on Wednesday, organizers of the
American Writers Museum
, celebrating "American writers past and present," talked about the museum's plans--it
opens on N. Michigan Avenue in Chicago in March 2017
and will include a bookstore. They thanked PRH for its support and encouraged others to help the first museum of its kind in the U.S. From l.: JP Leventhal, publisher, Black Dog & Leventhal; Roberta Rubin, co-chair of the Museum board and former owner of the Book Stall at Chestnut Court, Winnetka, Ill.; Museum president Malcolm O'Hagan; and Museum executive director Nike Whitcomb.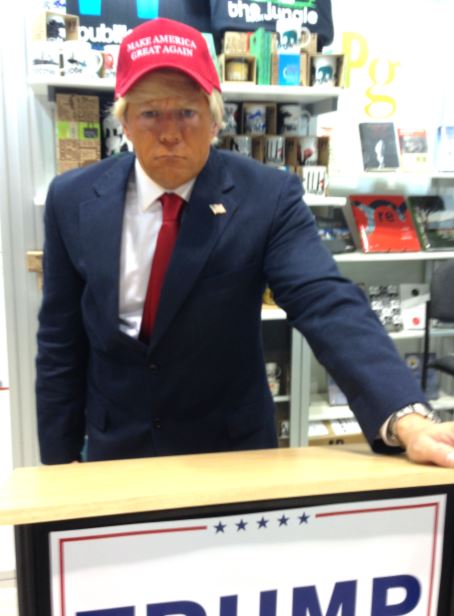 Presumptive Republican presidential nominee Donald Trump, aka Scott Dikkers, brought his campaign to the Micro Publishing Media booth in IPG-land, staying in character the whole time. Dikkers is the author of Trump's America: The Complete Loser's Guide (as well as a hilarious piece on book burning in our April Fool's issue.)
---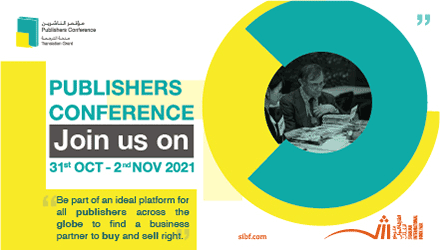 ---