AAP Sales: March Down 3%; First Quarter Off 2.7%
In March, total net book sales fell 3%, to $501.8 million, compared to March 2015, representing sales of 1,219 publishers and distributed clients as reported to the Association of American Publishers.
For the first quarter of the year, total net book sales fell 2.7%, to $2.13 billion. The biggest drops in sales during the first three months of the year came in mass market, off 25.5%, adult e-books, down 19%, and adult hardcovers, off 16.1%. Adult paperbacks eked out a gain of 1.5%.
In March, adult hardcovers, mass market and adult e-book sales were down by nearly identical levels (18.2%, 18.8% and 18.6%, respectively), while adult paperbacks inched up 0.9%. Downloaded audio again had the best results, with sales rising 34.4%. Higher ed sales improved in an unusual way: although there was a net loss for the month because of high returns, the net loss was smaller than in March 2015.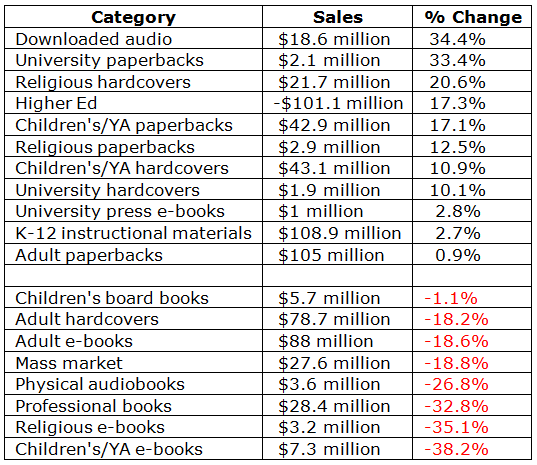 ---

---