Changes in the Works for Oakland's DIESEL, A Bookstore
A change of ownership, name and business model are potentially in the works for DIESEL, A Bookstore's location on College Avenue in the Rockridge neighborhood of Oakland, Calif. Under the proposed plan, current store manager Brad Johnson would become owner of the renamed East Bay Booksellers through a transition contingent upon the success of a community lending initiative that has an open-ended timeline.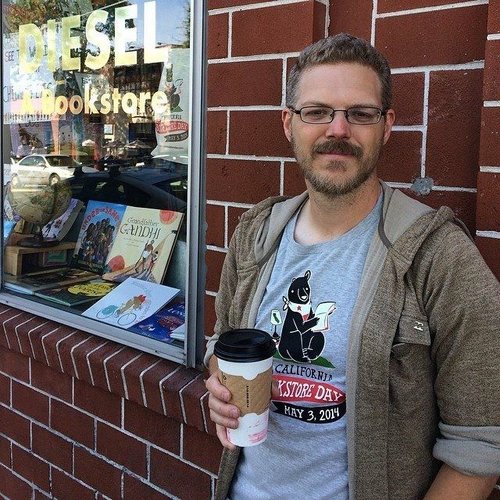 Brad Johnson
Johnson, who has worked at the bookstore for four years, told Shelf Awareness this morning that if the lending program doesn't reach its goal, East Bay Booksellers "simply doesn't exist, but DIESEL most certainly does. (This is not a rescue operation. That's why I emphasize that things have not yet changed.) The present owners see a chance with me to sell it to someone whose values align with theirs, to 'keep it in the family,' as it were. But in the event East Bay Booksellers does not officially happen, DIESEL continues to be. It's an experiment (an exciting one, in our eyes)."
John Evans, co-owner with Alison Reid of DIESEL stores in Oakland, Larkspur and Brentwood, noted: "We are ready to pass the torch to him to carry on this rich and storied tradition, in this wonderful neighborhood that has sustained us, and that we have helped to sustain as well."
In a press release announcing the project, Davis wrote: "Drawing from the inspirational success of Greenlight Bookstore in Brooklyn, the Community Lender program differs from crowdfunding models like Kickstarter or IndieGoGo by inviting loans of $1,000 or more to East Bay Booksellers, which are legally administrated through a simple loan document and promissory note that insures repayment in quarterly payments over five to ten years. Repayment begins one year after the new store's opening date, which is still to be determined, allowing East Bay Booksellers to hit the ground running with a short grace period."
More details about the community loan program and transition will be discussed at an informational meeting at the Rockridge store immediately following Customer Appreciation Day on Sunday, November 20 at 5 p.m.
"Good bookstores are not only profitable businesses, but are proven cultural institutions," Johnson observed. "The industry trends agree. Over the past seven years, independent bookstores have defied the reports of their demise, with the American Booksellers Association reporting a 27% increase in the number of independent bookstores."
---

---