Indies First: Busy Beginning of the Holiday Season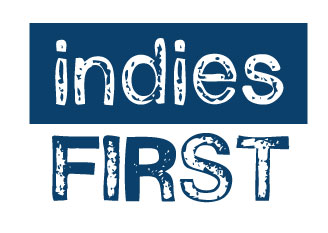 A record number of independent bookstores participated in the fourth annual Indies First on Saturday, more than 500 in all 50 states, many of which again featured appearances by authors who acted as booksellers, handselling their own and others' books. There were also giveaways, raffles, offerings of food and drink, many deals--and booksellers around the country indicated that stores were busy.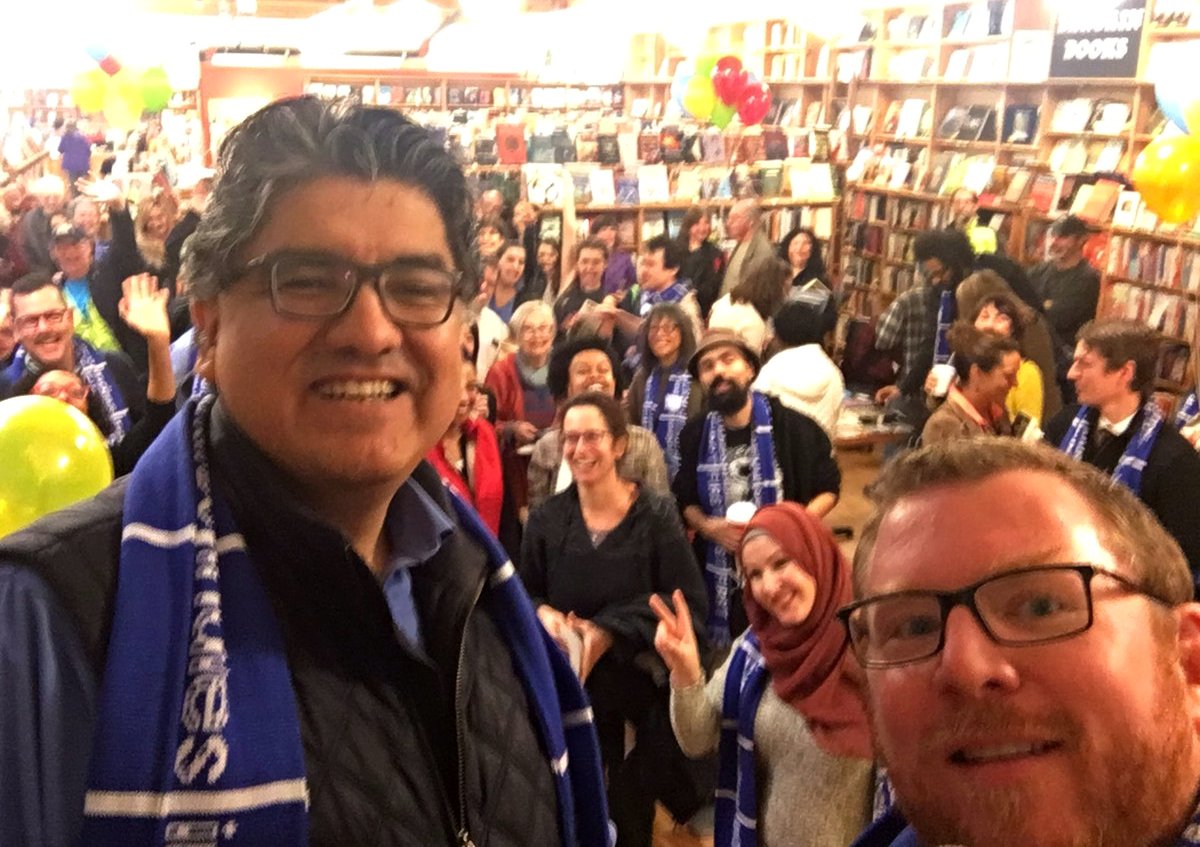 At Third Place Books: Sherman Alexie, managing partner Robert Sindelar and a busload of book lovers.
Sherman Alexie, the driving force behind the creation of Indies First, this year had a bus that took 17 writers, five members of the press and one musician/poet to University Book Store, Elliott Bay Book Company and Third Place Books at Seward Park, all in Seattle. Everyone wore blue-and-white Indies First scarves "and were greeted with enthusiasm at each store, where people were encouraged to ask the blue-scarved for book advice and to sign," Shelf Awareness's own Marilyn Dahl reported. "It was a grand success, and 24 people finished a seven-hour day tired but happy. The red vines on the bus helped, as did the cookies at each store."

At Third Place Books in Seward Park, the bus arrived at noon after the store had prepared "with books, balloons, and coffee and cookies from our restaurant partners at Raconteur," said Sam Kaas, Third Place Books' offsite events manager.
Alexie made a brief introduction ("we've got dozens of local writers and poets--if you see the ones who look sad, those are the poets"). Then authors mingled, handsold books and signed copies of their titles. Kaas added: "Overheard: many compliments on the gang's snazzy Indies First scarves."
---
At WORD bookstores in Brooklyn, N.Y., and Jersey City, N.J., "we had plenty of raffles and giveaways, and all the customers were delighted," events/PR director Michelle Chen reported. In Jersey City, WORD highlighted local authors by bringing in consignment authors to handsell their books to customers. At the Brooklyn store, friends of the store Geoffrey Cobb, Toby Carroll and Isabel Roxas were guest booksellers.
---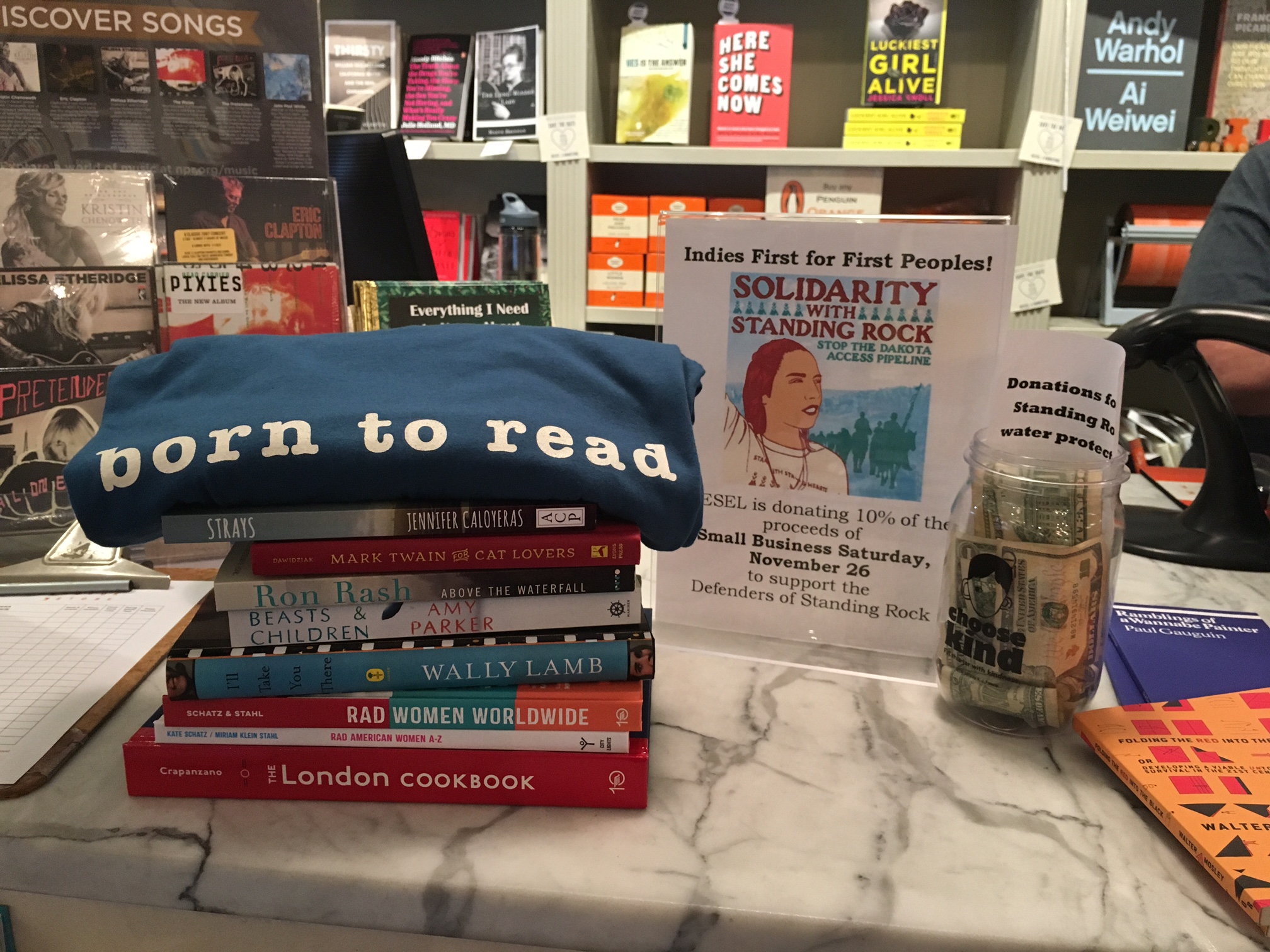 At DIESEL: A Bookstore in Brentwood, Calif., the store's announcement that it would donate 10% of all Saturday purchases to protesters at Standing Rock in North Dakota drew customers like one of the first of the day, who first verified that Saturday was the day the donations would be made and then proceeded to buy a big stack of books. Event coordinator Cheryl Ryan noted that the store received many calls from people who ordered books "and rather than pay when they pick them up, called us to pay over the phone to support Standing Rock."
Ryan added that the authors at the store "did a great job helping customers [who] really liked meeting the authors and purchased copies of their books. And the authors said they had a great time too."
---

Salt Lake City, Utah, Mayor Jackie Biskupski shopped the children's section at the King's English Bookshop on Small Business Saturday, KSL TV reported. "Every year, my kids and I, we go shopping for books. So we wanted to come here and make sure we get all of their little friends books this year from this store," Biskupski said. "It's very important to support local businesses because that money stays in our local economy. The way we generate revenue in this city is to have people buy locally."

Co-owner Betsy Burton noted that the "message is really resonating.... This tends to be the second biggest day after [the Saturday before] Christmas for us, which is huge. [Customers come] because they love us, yes, but because they love independent businesses and they love the idea of what that does for their community."
---
The Detroit Free Press showcased Pages Bookshop in a Small Business Saturday photo gallery, noting: "Participating businesses often hold special events and sales, as was the case at Pages Bookshop and about a dozen other businesses on Grand River Avenue in Detroit's Grandmont Rosedale neighborhoods. In the morning, Pages offered free mimosas. Guest authors visited throughout the day to chat with patrons. Shop employee Leighton Stein said independent bookshops respect books in a way that's not often present at big-box chain stores. 'Books are not just commodities here. Books are doorways into different worlds,' he said."

---

Deshanta Hairston, who opened Books and Crannies, Martinsville, Va., in September told the Bulletin around noon Saturday that sales "had picked up progressively during the day, compared to a normal Saturday," and by the afternoon it had become the second highest sales day in the bookshop's brief history.

---

"The best way to keep a business going is to have what Sarah Bagby had on Friday and Saturday: 'A store full of customers' at Watermark Books, which she owns," the Wichita Eagle in Kansas reported.

---


At Once Upon a Book children's bookstore, Plattsburgh, N.Y., co-owner Lori Titherington-Raville said that customer traffic was busier than usual, the Press Republican reported. "We definitely have been getting people who come in and talk about it (Small Business Saturday)," she said. "I think it is great. I really think it has helped us get out there more and be more involved with other businesses."

---

More than 50 businesses in Fredericksburg, Va, took part in Small Business Saturday, including Jabberwocky Children's Books & Toys. "Downtown has really embraced it, and we're seeing the result," co-owner Mona Albertine told the the Free Lance Star, adding that business at her store has improved every year since the promotion was launched.

---

Some stores are continuing holiday sales today. As part of Cyber Monday, Harvard Book Store, Cambridge, Mass., is offering a 20% discount today to online customers, who can have books shipped to them or available for pickup in the store.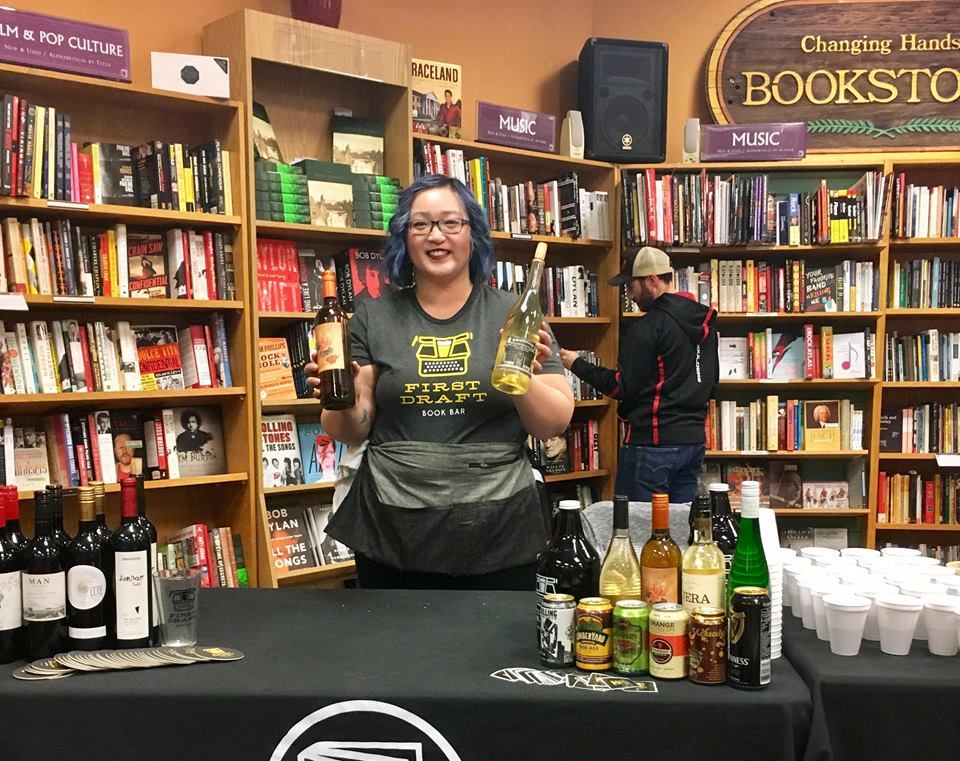 Pop-up bar at Changing Hands on Saturday.
Changing Hands Bookstore in Phoenix, Ariz., is offering a twist on Cider Monday: at the store's First Draft Book Bar, all hard ciders are discounted all day by $2 each. As the store wrote, "Browse with booze! Changing Hands Phoenix is a book bar, which means you can grab a glass of wine, a pint of craft beer, or a hard cider at the bar and drink while you shop. (We've also got coffee, hot chocolate, natural sodas, and more.) We've got books for everyone on your list. So please think local, drink local, and shop local this holiday season!"
---

---