BookExpo 2017: An Evening with Hillary Rodham Clinton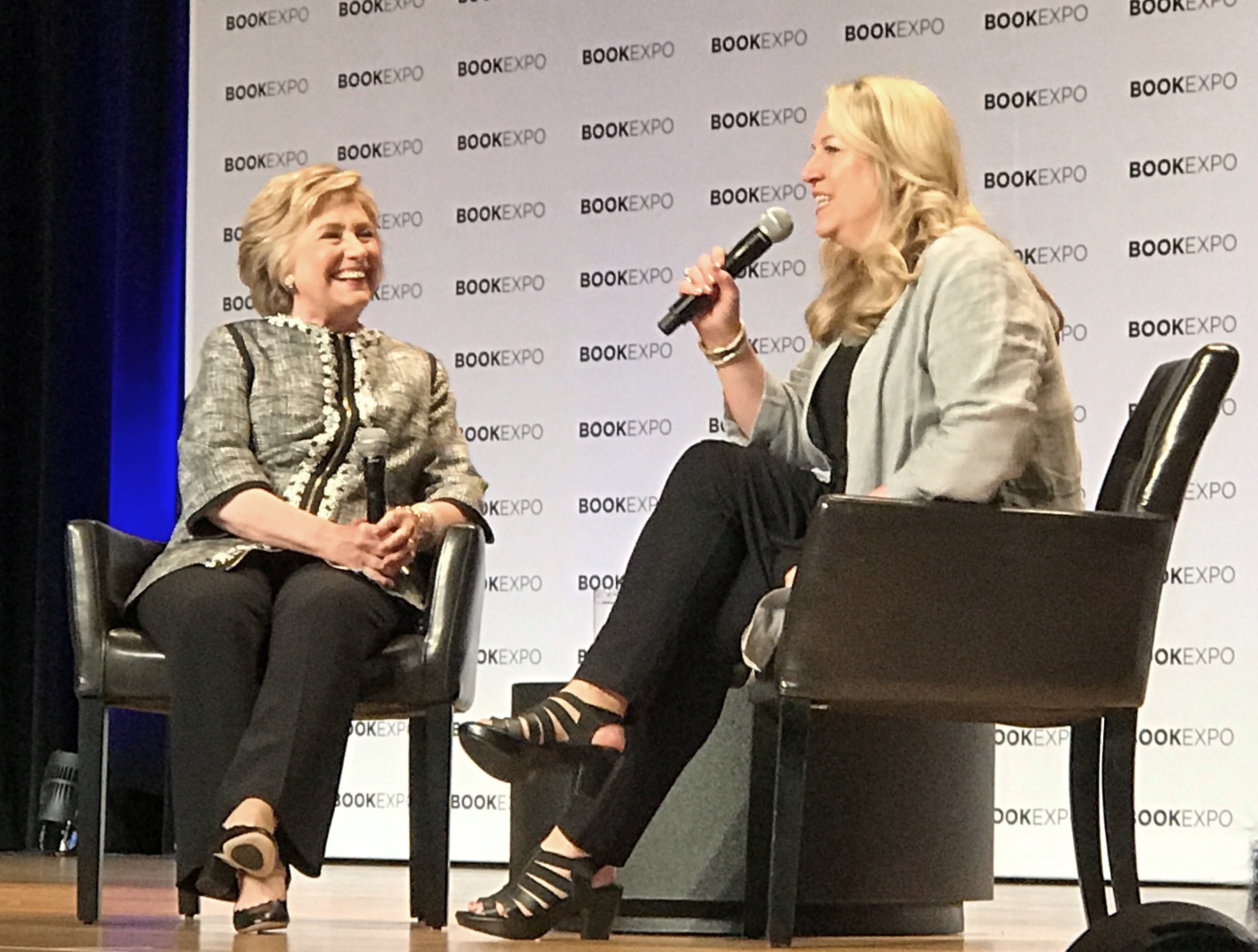 photo: Christine Onorati
"I have to tell you--as booksellers, I hope you know how much you mean to me," said Hillary Clinton Thursday evening at BookExpo in New York City, where she was in conversation with author Cheryl Strayed, discussing her upcoming books, her life as a reader and her plans for the future. "It has been a central part of my life for as long as I can remember. Libraries and bookstores are right at the top of my favorite things to do, so thank you."
The first of Clinton's two titles coming out from Simon & Schuster in September is a picture book version of It Takes a Village: And Other Lessons Children Teach Us, illustrated by Caldecott Honor-winner Marla Frazee. Reflecting on the original release of the book in 1996, Clinton recalled that It Takes a Village became the subject of a number of speeches at the Republican National Convention, "attacking me for... I never know what they're attacking me for--long line of that." Strayed noted that young girls are often told that if a boy teases them, it means he really likes you, and joked that maybe that's what Republicans have been doing all along. To which Clinton drily responded: "If that's the case, enough is enough."
Clinton described writing her other upcoming book, a memoir that has yet to be given a title, as "an extraordinary, very personally meaningful but painful experience," an "emotional catharsis." She said that the book was not just about herself and the election but about "resilience," and about "getting back up when you're knocked down." She added that with the book she is trying to explain what it's like "to try to break through barriers knowing how hard it is, knowing you're going to make mistakes, knowing there all kinds of challenges every step of the way" and how she continued to find "hope and courage and resilience." Clinton explained that writing the memoir was so painful because she not only tried to reflect dispassionately on the shortcomings of her own campaign but also grapple with unprecedented events like Russian interference in the election. And contemplating her losses in 2008 and 2016, Clinton said that losing in 2008 was hard, but she "didn't worry about my country." Now, however, she said she is "fine as a person, but worried as an American."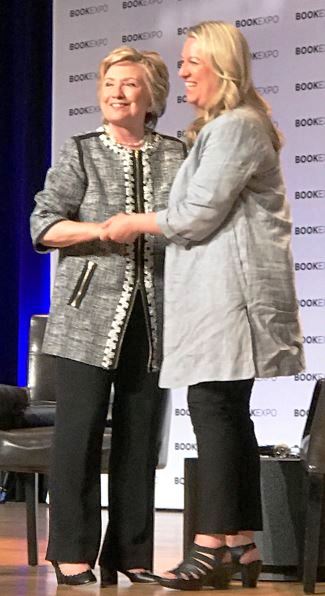 photo: Christine Onorati
When asked about her reading habits as a child, Clinton answered that she read every Nancy Drew mystery growing up and found the character to be something of a role model. After her electoral loss last November, Clinton said she read plenty of mysteries, and described herself as a "very devoted mystery reader"; some of her favorites include Jacqueline Winspear, Donna Leon and Louise Penny. She remarked that mysteries were "very comforting because it was somebody else's problem." And when it came to reading during the campaign, Clinton said she had no time for reading anything other than "reams of briefing papers," because she and her staff had the "old-fashioned idea that the policies you proposed would actually be important in governing your country."
On the subject of America's fiercely divided political climate, Clinton said she was "deeply troubled" by the "deliberate effort" during the election to unleash, verbally and physically, a "level of vitriol and defensiveness and hatred" that can be incredibly dangerous. In this time of a "deliberate assault on truth and reason," Clinton emphasized that she still believed that American democracy is "the greatest man-made invention in the history of the world, and we can't give up on that and we can't get discouraged and we have to figure out ways to keep going."
For her final question of the evening, Strayed asked Clinton what her next chapter would be, to which Clinton answered that she had no idea, except that she would "do everything I can to support the resistance... we're going to have to continue to find ways to work together and make progress together, and to fend off whatever damage may be coming from Washington. I'm not going anywhere. I'm going to be as active as I can." --Alex Mutter
---

---