BookCon 2017: Mild Insanity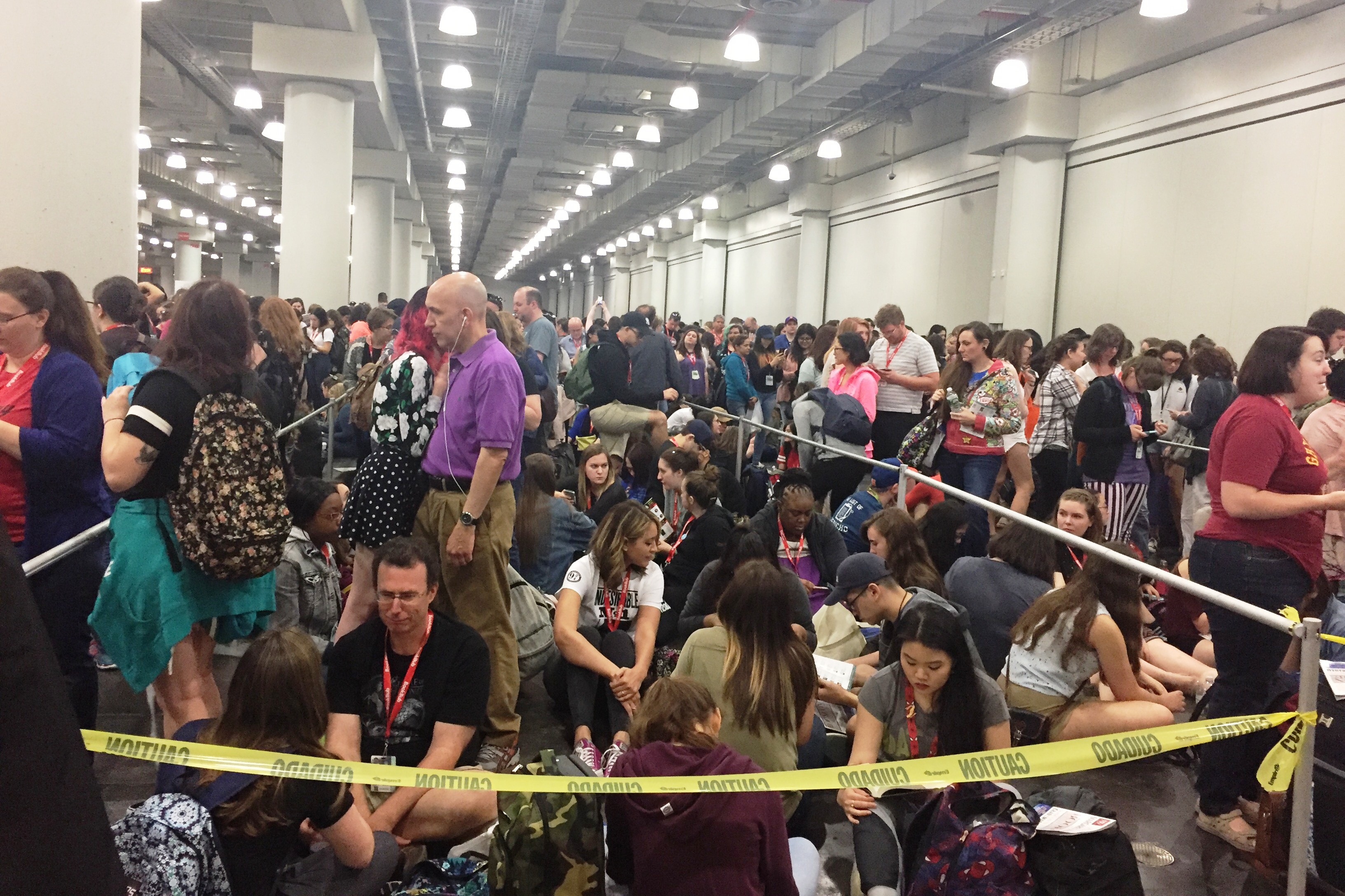 The crowd waiting for BookCon to open.
Entering the Javits Center in New York was a quiet experience at 9:30 a.m. on Saturday--the doors to the exhibit floor were closed, the main floor empty except for staff, and the Starbucks by the front door without a single person in line. BookCon ("the event where storytelling and pop culture collide"), the consumer-focused two-day weekend event following BookExpo, was back in New York after a weekend in Chicago last year and was set to begin in half an hour. This eerie quiet wasn't due to lack of attendance; it was due to extreme planning by ReedPOP, the event's organizers. After attendees arrived, they were directed downstairs, where a massive, snaking line filled much of the cavernous space.
At 10 a.m., those lined up (a majority of whom were young women and girls) were allowed up the escalators and onto the floor amid many (many) yells of "No running!" and "Slow down!" from ReedPOP personnel. As the line unspooled, it was clear that BookCon numbers were back up. BookCon's first year (2014) capped attendance at 10,000; its second year saw it grow by 80% to reach 18,000; and 2016 in Chicago saw a drop in numbers, with only an estimated 7,000 in attendance. But 2017's end-of-Expo event was clearly very popular--even with all the planning, at 11 a.m. the line of attendees still waiting to register filled the entry level of the Javits and flowed out the front door, across the drive and onto the sidewalk.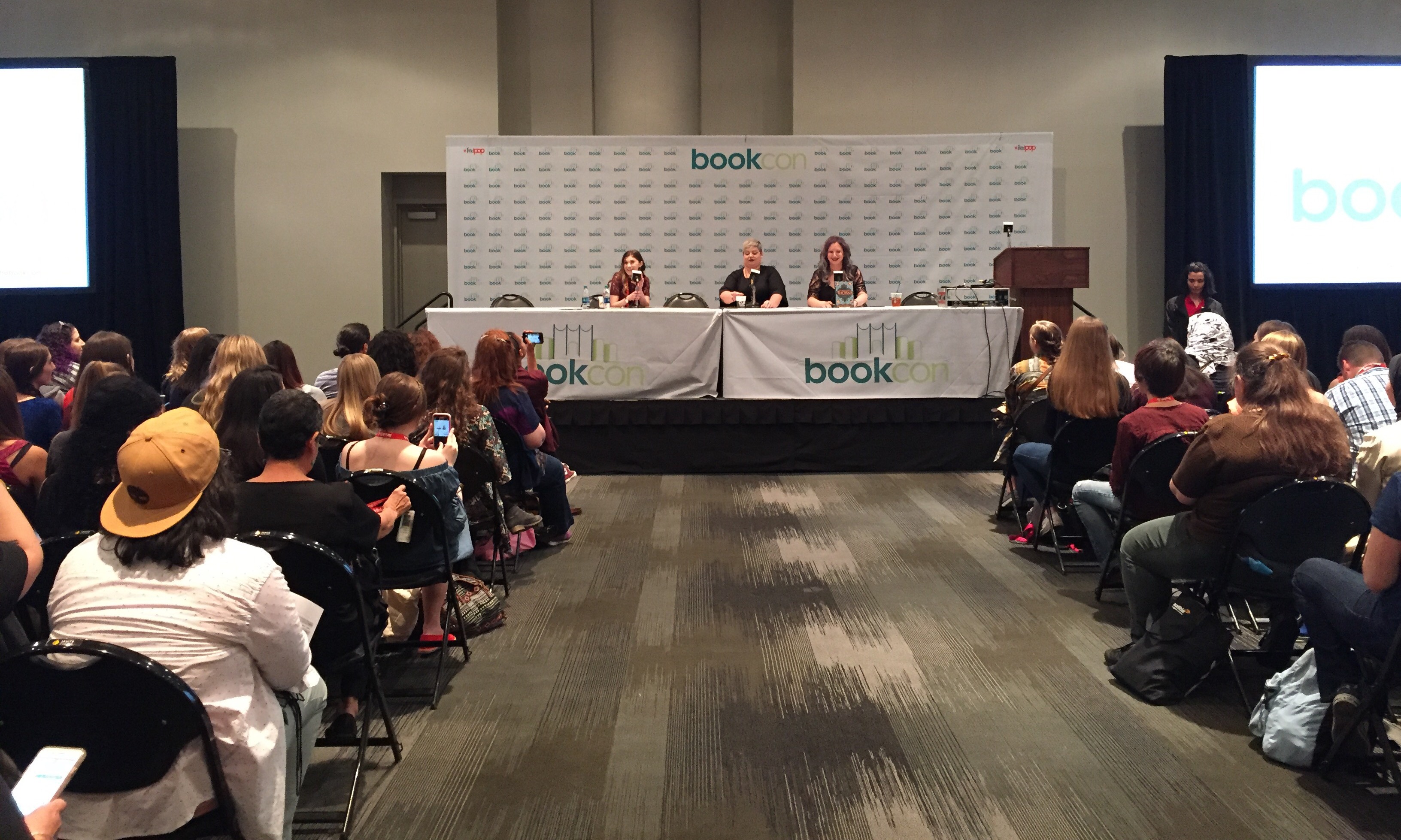 "Magic with an Edge": Moderator Cristina Arreola (books editor at Bustle); Holly Black (The Cruel Prince, Little, Brown; Jan. 2018); Leigh Bardugo (The Language of Thorns: Midnight Tales and Dangerous Magic, Macmillan, September).
Publishers who had booths at both last year's BookCon and this year's commented that, while last year had been pretty tame, this year appeared to be mild insanity. Author lines wrapped all the way around booths, choking the aisles, and lines for free gifts and treats at times spanned the entire length of the floor. Book giveaways were completely demolished by 10:30 a.m. and so many people were interested in panels that whole rooms of the convention center had been set aside to build lines--lines that one needed to find a place in at least half an hour before the panel was to start.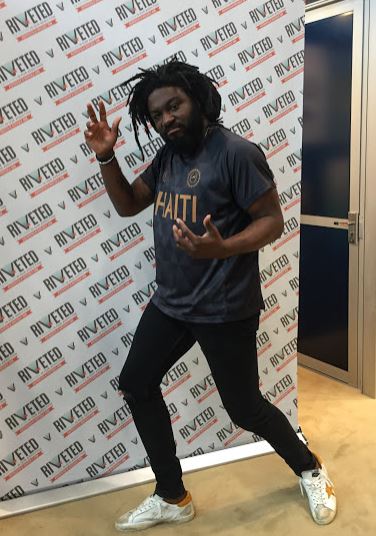 Jason Reynolds promoting his upcoming books Miles Morales (Marvel, Aug.) and Long Way Down (Atheneum, Oct.).
This isn't surprising, considering some of the big names both on panels and available for signings. Jeff Kinney was in attendance, celebrating the 10th anniversary of Diary of a Wimpy Kid; Bill Nye the Science Guy (Unstoppable) talked about the first book in his new nonfiction series, Jack and the Geniuses; and Dav Pilkey was on site to tell everyone about Captain Underpants: The First Epic Movie. Young adult VIPs were in abundance: Veronica Roth, Rainbow Rowell, Holly Black, Leigh Bardugo, Sarah Dessen, Laini Taylor, Jason Reynolds, V.E. Schwab, RJ Palacio and more talked about their new books and hung out with their fans. And celebrities could be found around every corner: Margaret Atwood, Chad Michael Murray, Marc Maron, Jeffrey Tambor and Mayim Bialik were all spotted on stage and in booth.
All in all, BookCon was exactly what it aims to be: an event in which storytelling and pop culture collide, where fans can get sneak peeks, some treats and meet their author idols. --Siân Gaetano
---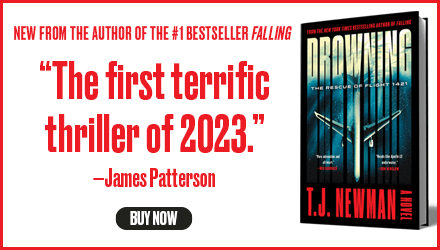 ---