ALA: Notes from the Floor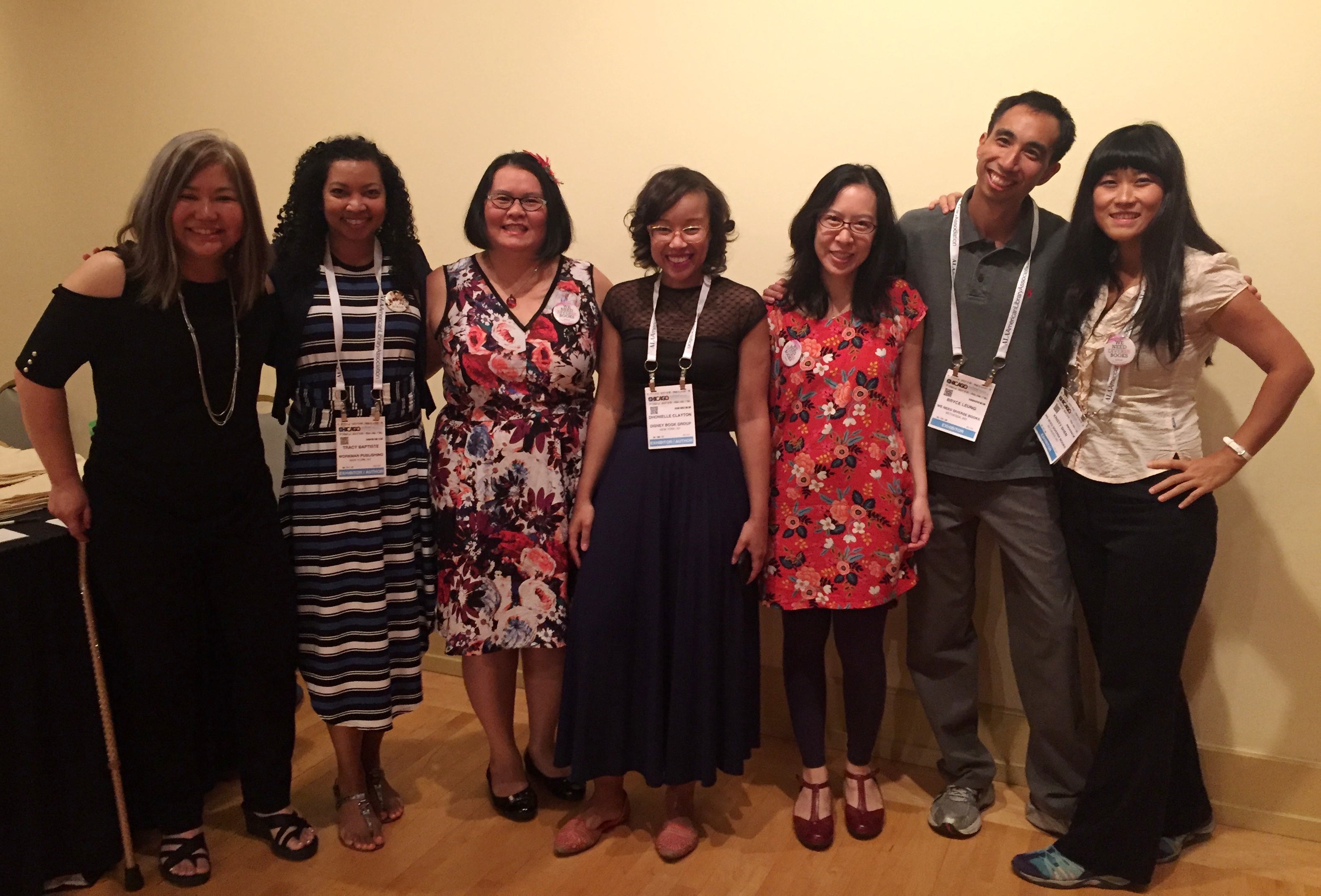 The We Need Diverse Books group (l.-r.): Ellen Oh, WNDB president & CEO; Tracey Baptiste, author of The Jumbies (Algonquin); Thien-Kim Lam, WNDB program director; Dhonielle Clayton, COO of WNDB; Thien-Kieu Lam, OurStory program manager; Bryce Leung, OurStory team; and Kristy Shen, OurStory team.
Thousands of librarians, teachers, authors, illustrators and industry professionals gathered at Chicago's McCormick Place last weekend to talk books, awards and libraries at the American Library Association's 2017 Annual Conference. Committees met behind closed doors to begin debates for 2018's ALSC Book and Media Awards; dinners and presentations were held honoring winners of this year's awards; and people gathered to celebrate book anniversaries and the launching of new tools and products.
On Saturday, We Need Diverse Books--a grassroots organization working to produce and promote diversity in children's books--held an event at the Harold Washington Library Center to launch its new app, OurStory. Designed with the needs of librarians and teachers in mind, the app searches for and sorts books for children and young adults that include "diverse experiences, including (but not limited to) LGBTQIA, people of color, Native, gender diversity, people with disabilities, and ethnic, cultural, and religious minorities." The app will have different levels of paid membership that will include materials for the classroom (such as reading lists) as well as extra features (like author interviews and videos) for young adults. Also on Saturday evening, Albert Whitman hosted a party at the newly opened American Writers Museum celebrating the 75th anniversary of the beloved Boxcar Children, created by Gertrude Chandler Warner; the publisher is releasing a new, five-book miniseries.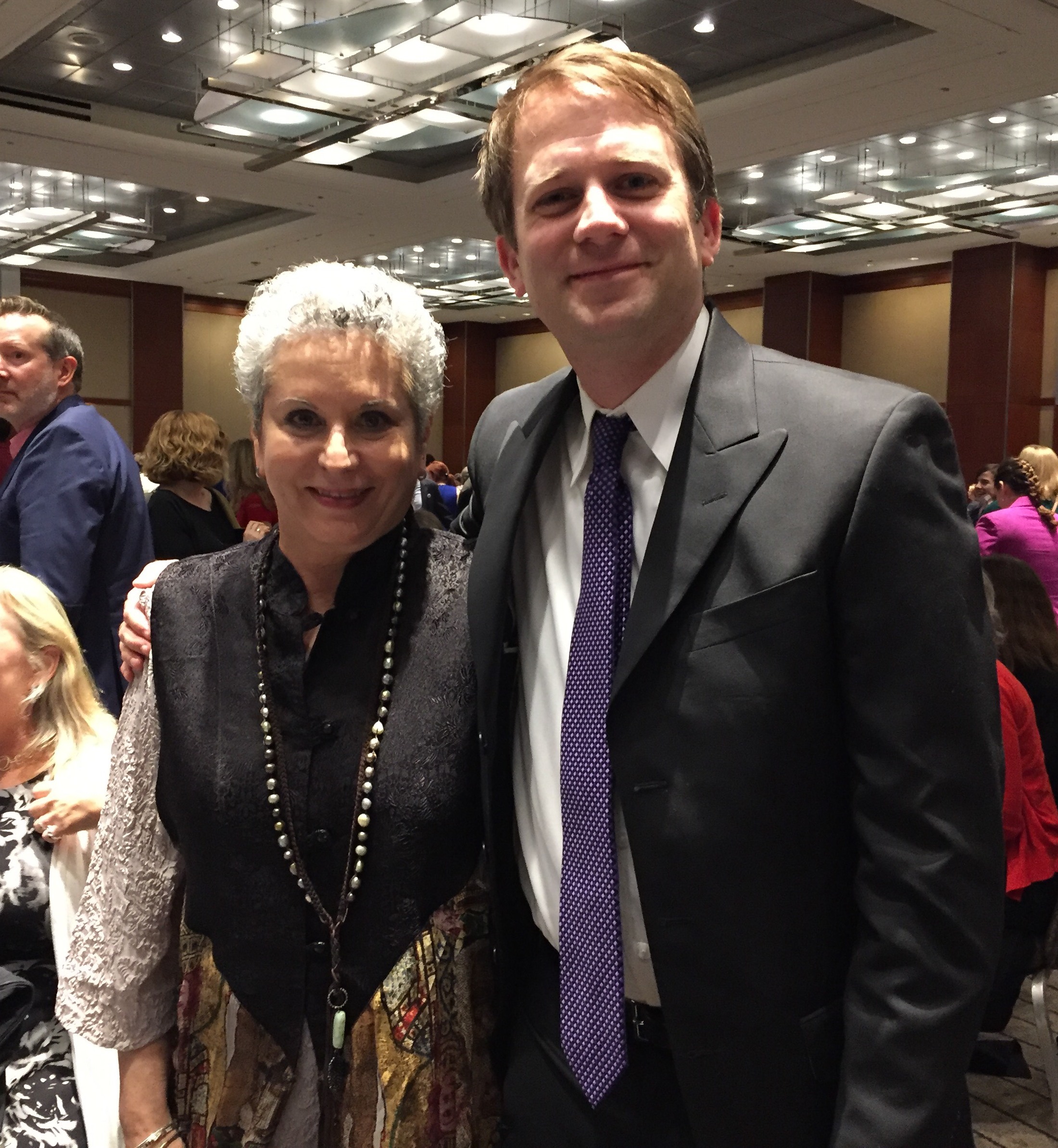 Jean Feiwel (senior v-p and publisher, Feiwel and Friends) poses at the Caldecott/Newbery awards with author Matthew Cordell (Dream, Disney-Hyperion).
The 48th Annual Coretta Scott King Awards were held the next morning in the Hilton Grand Ballroom, and were followed that evening by a banquet to honor the Caldecott, Newbery and Wilder Award winners. Javaka Steptoe (Caldecott Winner for Radiant Child: The Story of Young Artist Jean-Michel Basquiat; Little, Brown) noted that numerous African Americans had received Caldecott honors, but he is only the fourth ever to win the medal: "The silver medals that were received by African Americans? In my heart, they are gold medals." Kelly Barnhill (Newbery Medal, The Girl Who Drank the Moon, Algonquin Young Readers) commented that "politics is storytelling" and it is through books that we learn to transgress. Nikki Grimes (Chasing Freedom: The Life Journeys of Harriet Tubman and Susan B. Anthony; Scholastic), winner of the Laura Ingalls Wilder Medal for a substantial and lasting contribution to children's literature, gave the final speech of the evening, telling the remarkable story of her life in literature and her move from writing adult works to writing for children. She finished, "God has blessed me richly, and I hope he will, in turn, bless you." --Siân Gaetano, children's and YA editor, Shelf Awareness
---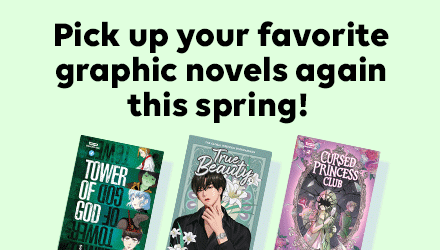 ---