Hurricane Harvey Update: 'Indies Little, but Fierce'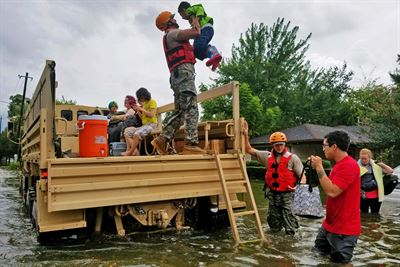 Texas National Guards assist residents affected by Hurricane Harvey. (photo: defense.gov)
Houston continues to grapple with the devastation caused by Hurricane Harvey. Brazos Bookstore was closed yesterday, although the building and the staff are in good shape. Brazos general manager Benjamin Rybeck recommended anyone wishing to donate to help the people of Houston use the list of resources put together by local station ABC-13. In addition, through Sunday Brazos is donating 20% of all online and in-store sales to the Hurricane Harvey Relief Fund, established by Mayor Sylvester Turner. He added: "Once again, please be safe. And even as the storm continues to hit the city, find a moment to take comfort with others and remember that, ultimately, in spite of everything, we're seeing an undeniable display of Houston's resilience and kindness."

Bookstores and publishers far from Houston are following Brazos's lead. This weekend, Point Reyes Books, Point Reyes, Calif., will donate a portion of sales to the Houston Food Bank, and Coffee House Press, Minneapolis, Minn., is donating 20% of all sales through its website this week to relief efforts.
Blue Willow Bookshop was closed, too, yesterday but is "safe and dry aside from a soaked towel at the back door," owner Valerie Kohler reported. In an e-mail to customers, she wrote, "Please keep in touch--and when you can, find refuge, comfort, and laughter in the pages of your favorite books. Here are some of our recent favorites. Think like an indie bookshop: Though we be but little, Harvey, we are fierce!"
The Book Industry Charitable Foundation is available to help booksellers who have been affected by the hurricane and advised people wanting to assist them that they can "tell every bookseller and bookstore owner in Harvey's path about Binc" and donate to Binc.
The Texas Library Association will provide assistance to any libraries damaged by the storm through its Disaster Relief Fund. People can donate to the fund directly or by buying copies of the TLA Coloring Book ($10 for a set of two), proceeds of which go to the Fund.
The association wrote: "The Texas library family is strong. Together we will weather the storm and in the aftermath, support those libraries affected by this natural disaster."
The Texas Book Festival offered a list of ways "to support our fellow Texans in this tragedy." The organization emphasized that "it will likely take years for Texas to fully recover, and months for any semblance of normalcy to return. Even the smallest donations of time or money are great contributions."
---

---