Sassafras on Sutton Opening Soon in Black Mountain, N.C.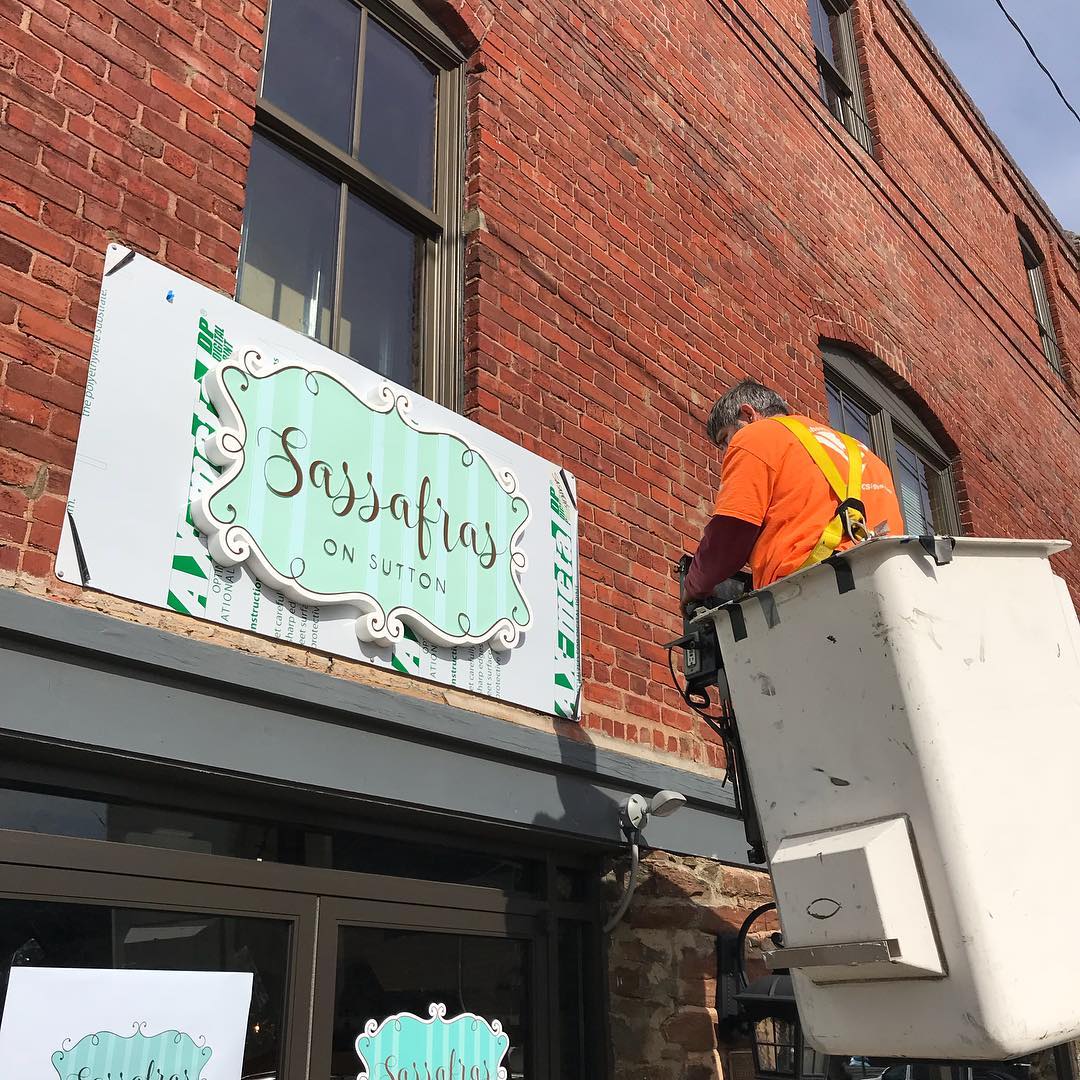 Sign being installed at Sassafra on Sutton.
On February 10, children's author Susanne Blumer will open Sassafras on Sutton, a 2,900-square-foot independent bookstore in Black Mountain, N.C. Located in Black Mountain's historic downtown, in a building dating back to 1876, Sassafras on Sutton will carry new books in a wide variety of genres, with particular emphasis on adult fiction, children's and young adult books, southern authors and Christian books, and will also be home to a full-service coffee bar.
"I love books and I love bringing books to people," said Blumer. Though she has no prior experience in bookselling, she has seen the industry from the publishing side, and she has retail experience through a bridal salon that she used to own. "I also love coffee and cozy spaces and beautiful merchandise. It's a perfect fit."
Blumer plans to carry a large selection of greeting cards, journals, shirts and other apparel, gifts and an assortment of toys and games. She explained that because the area sees a large amount of tourist traffic, she'll also stock literary items and merchandise pertaining to North Carolina and Black Mountain in particular.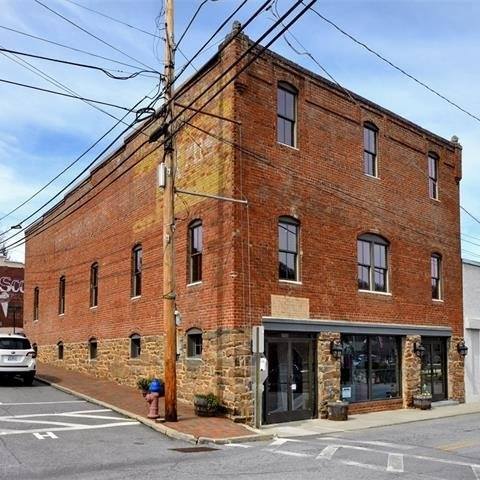 Blumer described her building, which used to be Black Mountain's livery stable, as "full of charm and history." It still retains its old stone walls, as well as its original uneven floors, and train tracks still run right up to the store. And, she added, there is a "lovely view" of the nearby mountains from the store's front windows.
"We sold our farm in South Carolina, sold all of our animals, uprooted our children halfway through the school year, and moved to a new state the day after Christmas so I could open this bookstore," Blumer said. "Living in this magical place and owning a bookstore is a dream come true in so many ways."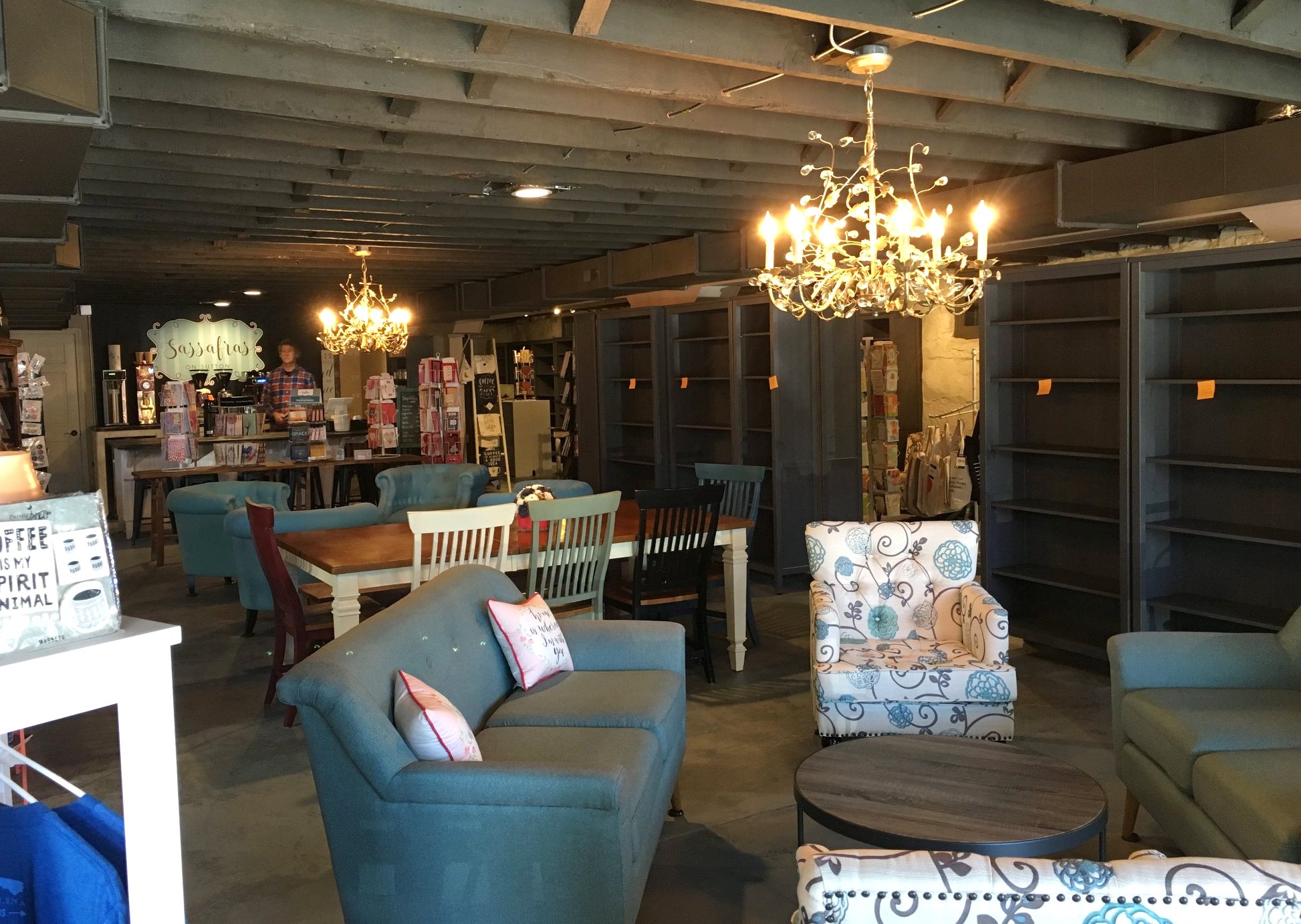 Shelves awaiting new books at Sassafras on Sutton. (photo: Linda-Marie Barrett)
Sassafras on Sutton will have its soft opening on February 10, with an opening-day staff of eight people. Blumer has the store's grand opening celebration scheduled for February 17, and she reported that the Black Mountain community is "so excited" for the store to open.
On December 1, during an annual event called Holly Jolly that kicks off the holiday season, more than 400 people visited the store, even though there was nothing in it except for Blumer's own books, along with some hot cider and cookies. She added that Black Mountain is a "very literary and artistic town," with plenty of book clubs and local artisans and writers, and "people stop in every day while I'm getting the store ready and tell me they cannot wait for us to open."--Alex Mutter
---

---