Andrew Sean Greer, James Forman Jr. Among Pulitzer Winners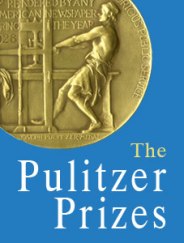 Andrew Sean Greer's novel Less and James Forman Jr.'s book Locking Up Our Own: Crime and Punishment in Black America are among the 2018 Pulitzer Prize winners, each of whom receives $15,000. This year's books category winners and finalists:
Fiction: Less by Andrew Sean Greer (Lee Boudreaux Books/Little, Brown), "a generous book, musical in its prose and expansive in its structure and range, about growing older and the essential nature of love." Also nominated were In the Distance by Hernan Diaz (Coffee House Press) and The Idiot by Elif Batuman (Penguin).
General nonfiction: Locking Up Our Own: Crime and Punishment in Black America by James Forman Jr. (FSG), "an examination of the historical roots of contemporary criminal justice in the U.S., based on vast experience and deep knowledge of the legal system, and its often-devastating consequences for citizens and communities of color." Also nominated were Notes on a Foreign Country: An American Abroad in a Post-America World by Suzy Hansen (FSG) and The Evolution of Beauty: How Darwin's Forgotten Theory of Mate Choice Shapes the Animal World--and Us by Richard O. Prum (Doubleday).
History: The Gulf: The Making of an American Sea by Jack E. Davis (Liveright/Norton), "an important environmental history of the Gulf of Mexico that brings crucial attention to Earth's 10th-largest body of water, one of the planet's most diverse and productive marine ecosystems." Also nominated were Fear City: New York's Fiscal Crisis and the Rise of Austerity Politics by Kim Phillips-Fein (Metropolitan Books) and Hitler in Los Angeles: How Jews Foiled Nazi Plots Against Hollywood and America by Steven J. Ross (Bloomsbury).
Biography or autobiography: Prairie Fires: The American Dreams of Laura Ingalls Wilder by Caroline Fraser (Metropolitan Books), "a deeply researched and elegantly written portrait of Laura Ingalls Wilder, author of the Little House on the Prairie series, that describes how Wilder transformed her family's story of poverty, failure and struggle into an uplifting tale of self-reliance, familial love and perseverance." Also nominated were Richard Nixon: The Life by John A. Farrell (Doubleday) and Robert Lowell, Setting the River on Fire: A Study of Genius, Mania, and Character by Kay Redfield Jamison (Knopf).
Poetry: Half-light: Collected Poems 1965-2016 by Frank Bidart (FSG), "a volume of unyielding ambition and remarkable scope that mixes long dramatic poems with short elliptical lyrics, building on classical mythology and reinventing forms of desires that defy societal norms." Also nominated were Incendiary Art by Patricia Smith (TriQuarterly Books/Northwestern University Press) and semiautomatic by Evie Shockley (Wesleyan University Press).
Drama: Cost of Living by Martyna Majok, "an honest, original work that invites audiences to examine diverse perceptions of privilege and human connection through two pairs of mismatched individuals: a former trucker and his recently paralyzed ex-wife, and an arrogant young man with cerebral palsy and his new caregiver." Also nominated were Everybody by Branden Jacobs-Jenkins and The Minutes by Tracy Letts.
---

---