Buyers of Tucson's Antigone Books Meet Funding Goal in Four Days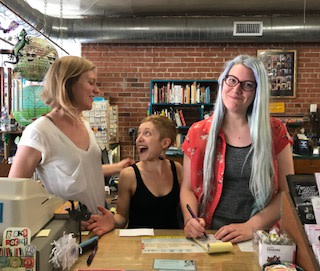 Antigone's new owners: (l.-r.) Morgan Miller, Kate Stern and Melissa Negelspach.
Great news from Antigone Books, Tucson, Ariz.: in just four days on Indiegogo, the three future owners raised their goal of $32,000, the last piece of what they needed to implement their plans. The campaign was set to last a month.

Yesterday, the three--Morgan Miller, Melissa Negelspach and Kate Stern--wrote on their Indiegogo page:

"We are so excited and grateful to announce that we have met our goal of $32,000!! (In fact, with the addition of checks and cash brought directly to the store, we have actually raised closer to $33,500. WOW). We are floored by how quickly Tucsonans, book lovers, friends, and family have rallied to support us. We have the BEST community, and we will do all that we can to be good caretakers of this bookstore that you know and love.

"Thanks to you, we reached our goal in only FOUR DAYS. This is incredible! The Indiegogo page will be up for 26 more days. Any additional contributions will help us pay off our loans more quickly and launch this business into a healthy future, but PLEASE KNOW that thanks to your help we are now able to buy the store!! The change of ownership should take place sometime in May, and we couldn't be more excited. Thank you!!!"

Antigone Books was put up for sale by co-owners Trudy Mills and Kate Randall in 2016. The new owners, who are booksellers at Antigone Books, have spent the last year working on buying the store. They were recently approved for an SBA loan that covers most of their costs, but needed another $32,000.
---

---