AAP Sales: Sales Up 6.2% in First Quarter
In the first quarter of 2018, total net book sales in the U.S. rose 6.2%, to $2.468 billion, compared to the same period in 2017, representing sales of 1,076 publishers and distributed clients as reported to the Association of American Publishers. The quarter started off strongly, with sales gains of 3.7% in January, to $1.112 billion, and 17.2% in February, to $750.8 million. Total net book sales in March, however, slipped 1.1%, to $604.4 million.
In the quarter, adult book sales grew 5.2%, to $1.087 billion, while children's/YA gained 5.9%, to $389.9 million. The biggest category gains were made by religious books, up 20.6%, to $109.8 million, and higher ed, up 11.2%, to $511.8 million. Downloaded audio had the biggest gain in sales of any format during the quarter, up 32.1%, to $98.8 million. Trade e-books were down 3.2%, to $270.2 million. Hardcovers in all categories had sales gains.
Sales by category in the first quarter of 2018 compared to the first quarter of 2017: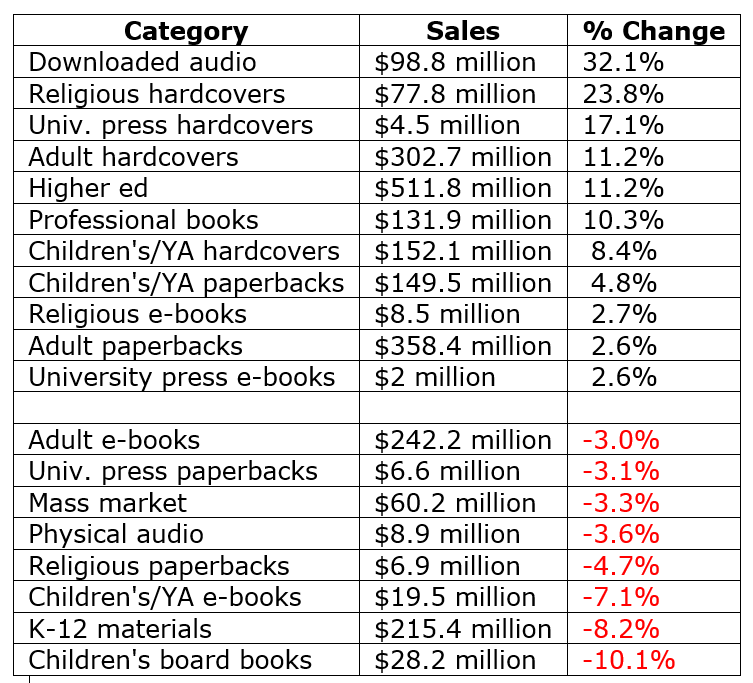 ---

---