BookExpo 2018: ABA Annual Meeting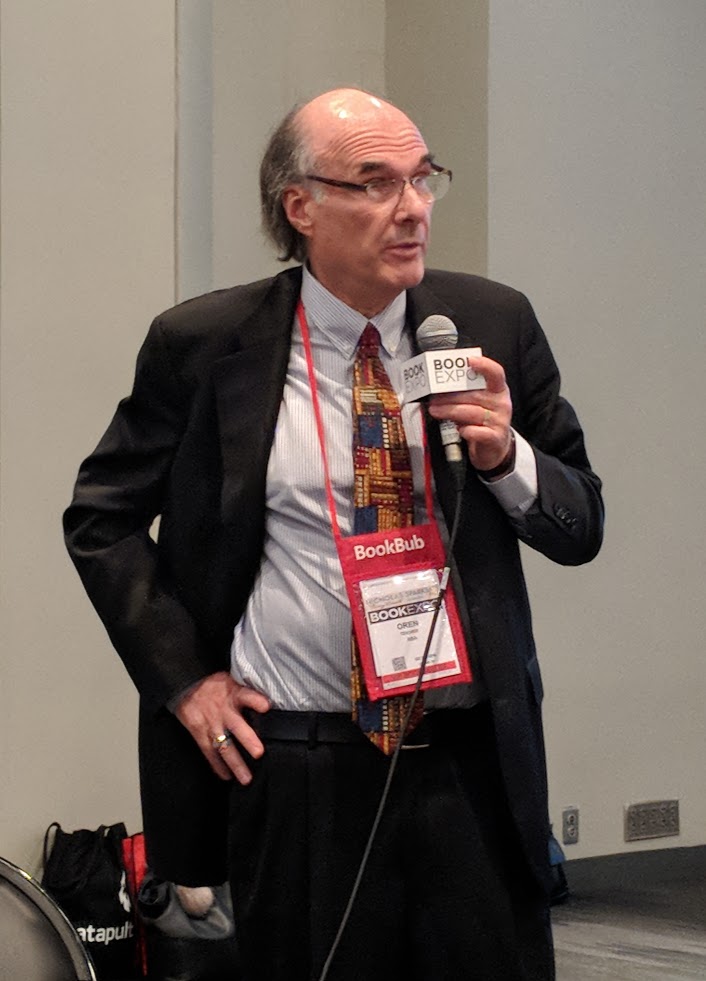 ABA's Oren Teicher
The American Booksellers Association's annual meeting yesterday featured what has happily become regular good news about gains in membership and growth in sales, along with updates on the many programs and projects the ABA operates that continue to help indies grow and to combat the many challenges that face booksellers. The biggest news, however, was the announcement by CEO Oren Teicher that the board has voted to make a "substantial financial investment" in bringing the Batch centralized invoicing system to the U.S. and having it go live in January 2019. Booksellers in attendance responded to the news by bursting into loud applause.
Developed by the Booksellers Association of the U.K. and Ireland, Batch places all publishers' invoices in one system in one format, allowing booksellers to schedule payments and manage credits and returns in a single place, streamlining what has been a laborious, tedious, expensive process. (For more on Batch, see this Shelf Awareness article from April.) The program is wildly popular in the U.K. and operates in 65 countries. The ABA and the BA have been working for some time on launching a U.S. version.
Teicher called Batch "a game-changing thing" for the bottom line of indies that would result in "extraordinary boons" for publishers, too. The savings would allow booksellers immediately to hire "more frontline booksellers on the floor to help customers and sell more books."
Noting that while many publishers are ready to support and participate in Batch, Teicher said more are needed and he called on booksellers for their help in convincing publishers of this.
Amazon continues to be a major challenge, Teicher said in his report to the board and members. The company's growth continues to devastate bricks-and-mortar retail in general, increase joblessness and erode the ability of government at all levels to fund essential services. And although Amazon now collects sales tax in the U.S. where required, most of its third-party Marketplace merchants--whose sales are growing faster than Amazon's--are not collecting sales tax.
The ABA continues its advocacy work for a level playing field and supports the efforts of the Advocates for Independent Business and the Institute for Local Self-Reliance. As Teicher put it, the association will keep making the case that "no mega-corporation should be able to leverage outsize clout and secret subsidies to the detriment of local communities."
At the same time, booksellers have an extraordinary advantage over Amazon, Teicher observed. "While there may be a small army of smart people working for Amazon, in the more than two decades that they have been selling books it's important to recognize that none of them has come up with computer coding or an algorithm that can beat what you all do every day: putting the right book in a customer's hands."
Other ongoing challenges include rising costs to booksellers of commercial rent and payroll.
A positive change is that in part because of ABA efforts, the general media has recognized that indie booksellers are not vanishing. In fact, in many reports, indies are "highlighted as examples of bricks-and-mortar success for the 21st century."
For the eighth year in a row, ABA store membership has grown, up 6%, to 2,470, representing 1,835 companies, an increase of almost 4.5%. Last year the association welcomed 128 new bookstores operating a range of business models, "including pop-ups, book buses, all kinds of collaborative efforts with other businesses, as well as all kinds of traditional bricks-and-mortar bookstores." The growth in membership is all the more striking because the ABA lost 50 member stores when Book World abruptly closed late last year.
According to data ABA receives weekly from NPD/Bookscan, bookstore sales in 2017 rose 2.6% over 2016, and so far this year, sales are up 5%. Bookstores have had a compound annual growth rate of 5.4% during the past five years.
At the end of his report at the meeting, Teicher noted that booksellers face myriad challenges, "but we've faced big challenges before," including the expansion of B. Dalton Bookseller and Waldenbooks in malls, the growth of superstores, the rise of deep discounters and mass merchandisers and warehouse clubs, the growth of online retailing and e-books. "We've faced what may have seemed like insurmountable tsunamis, but we're all still here." Then he repeated a refrain from previous town meetings, saying, "I remain more confident than ever that the best days of independent bookselling are ahead of us." --John Mutter
---

---