Inaugural Graphic Literature Awards Presented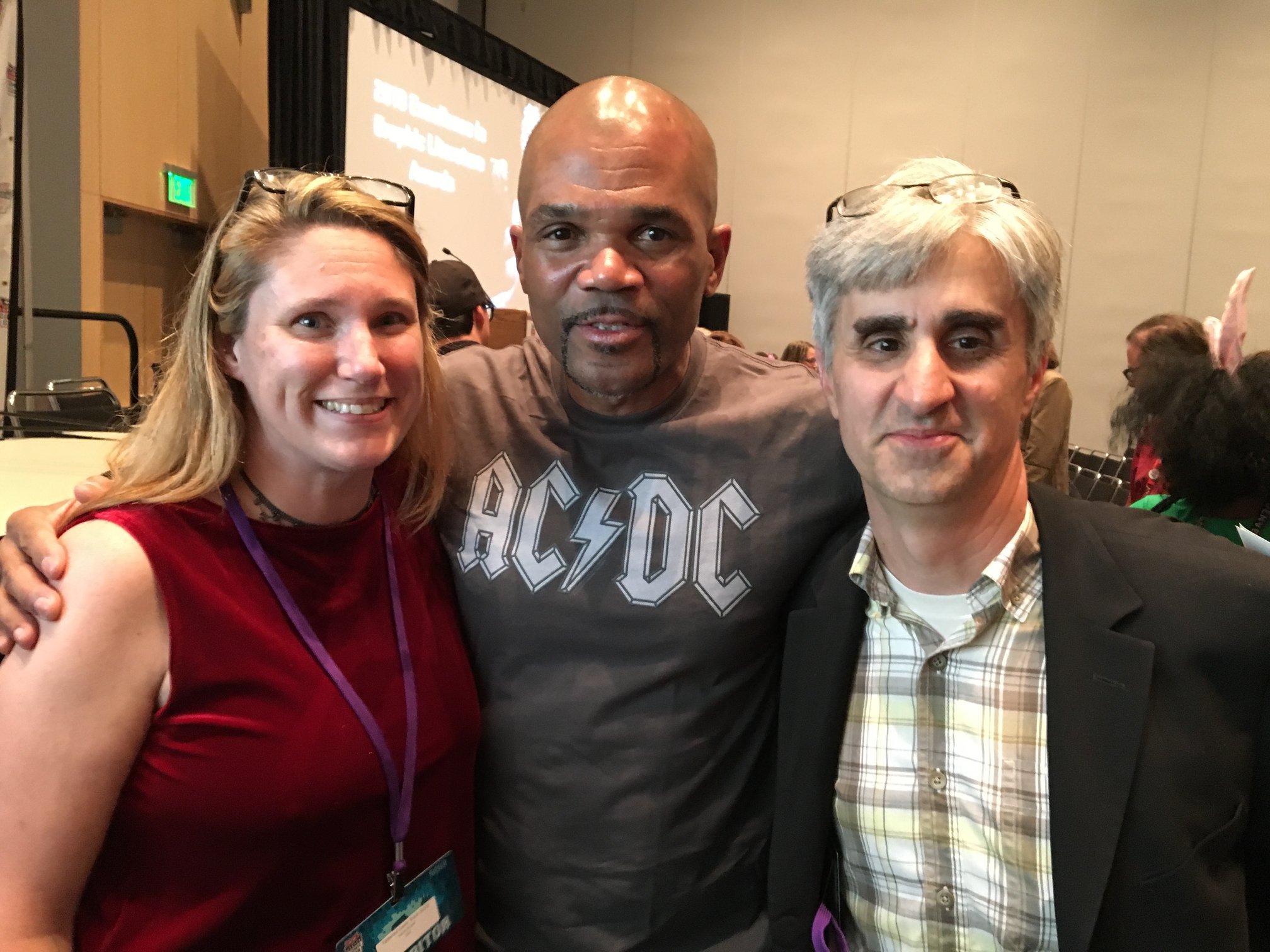 Darryl 'D.M.C.' McDaniels flanked by Tattered Cover owners Kristen Gilligan and Len Vlahos.
The inaugural Excellence in Graphic Literature Awards were presented on Saturday during Denver Comic Con, which is sponsored by Pop Culture Classroom, a nonprofit that aims to promote learning and literacy, celebrate diversity and build community. The awards were two years in the making and include an advisory board and juries that represent booksellers, librarians, academics, teachers and industry professionals.
The winners:
Book of the Year: Spill Zone by Scott Westerfield and Alex Puvilland (First Second)
Best in Adult Books: The Hunting Accident by David L. Carlson and Landis Blair (First
Second)
Best in Young-Adult Books: Home Time: Book One by Campbell Whyte (Top Shelf)
Best in Middle-Grade Books: As the Crow Flies by Melanie Gillman (Iron Circus Comics)
Best in Children's Books: Real Friends by Shannon Hale and LeUyen Pham (First
Second)
Mosaic Award: The Best We Could Do by Thi Bui (Abrams Comic Arts)
The Book of the Year and the Mosaic winners received Saga sculptures and the other winners received Saga Medallions. Sculptures and medallions were created by Colin Poole and Kristine Poole.
The Mosaic award was presented by Darryl McDaniels, aka D.M.C. of the rap group Run D.M.C. Len Vlahos, co-owner of the Tattered Cover bookstore, presented the Book of the Year award.
Outgoing director of education Illya Kowalchuk commented: "We had such a great response from such a wide range of publishing houses. There were books from all the major traditional publishers and, honestly, we discovered some really great small houses with fantastic titles as well.
"One of our goals for next year's submissions is to double the number of books from this first year and to encourage more nonfiction works for consideration. We'd also like to see this award program help teachers justify adding more graphic novels to the school environment."
For more about the awards, including all the nominated titles, the advisory board and jury members, as well as background on the awards' creation, click here.
---

---