Amazon's Prime Day Weathers Glitches, Strikes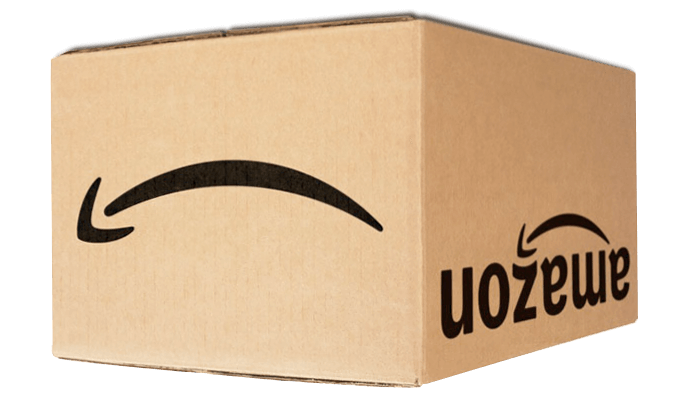 Amazon's mega-hyped Prime Day, the annual Black-Friday-in-July scheme launched in 2015, weathered some early ordering glitches Monday afternoon on the company's website, where the problems "sent shoppers to social media to complain after their attempts to click on Prime Day deals returned only images of dogs with an apologetic message. The snags were an embarrassment for the tech company on the much-hyped shopping holiday it created," the Associated Press reported. Other chain retailers, including Target, Macy's and Kohl's, were also promoting special discounts this week to take advantage of the publicity.
Shortly after Prime Day began, Amazon tweeted: "Some customers are having difficulty shopping, and we're working to resolve this issue quickly. Many are shopping successfully--in the first hour of Prime Day in the U.S., customers have ordered more items compared to the first hour last year...."
"It wasn't all a walk in the (dog) park, we had a ruff start--we know some customers were temporarily unable to make purchases," Amazon said in a statement.
Also detracting from Prime Day's momentum were reports of Amazon employees in Europe striking "to draw attention to their complaints against the company. Unions in Spain said most of the company's 2,000 permanent staff there were on a three-day strike on Tuesday," the AP wrote. Similar labor actions were planned in Germany, France, England, Poland and Italy. On Twitter yesterday, the online retailer posted what may, or may not, have been a thinly veiled message to the strikers: "The Amazonians in #Italy are working side-by-side with robots to pick, pack, and ship customer orders. This morning for #PrimeDay, the machines delivered a special surprise..."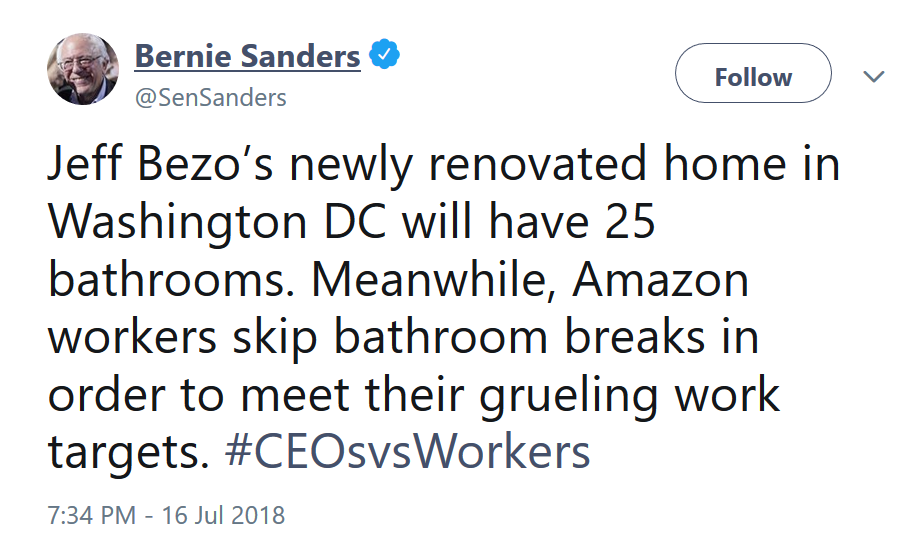 U.S. Senator Bernie Sanders addressed the company's labor issues in a Prime Day tweet: "Jeff Bezo's newly renovated home in Washington DC will have 25 bathrooms. Meanwhile, Amazon workers skip bathroom breaks in order to meet their grueling work targets. #CEOsvsWorkers."
Despite the negatives, however, "Prime Day sales in the U.S. so far are bigger than ever," an Amazon representative told CNN, which noted that "sales soared by 89% in the first 12 hours of Prime Day compared to the first 12 hours last year, according to Feedvisor, a software company that uses algorithm and machine learning to track e-commerce pricing. The number of orders were up 69% in the same period." For 2018, Prime Day was extended from 30 to 36 hours, so year-to-year comparisons are more challenging, with or without the technical glitches. But on its Prime Day live blog early Tuesday, Amazon wrote: "In the first ten hours Prime Day grew even faster, year-over-year, than the first ten hours last year."
"There is no doubt that [the glitches] will erode sales and deter some customers from buying," Neil Saunders, managing director of research firm GlobalData Retail, told the Washington Post (which is owned by Amazon CEO Jeff Bezos). "The outage is especially problematic as many of Amazon's Prime deals are promoted for a set window of time--something that could cause a great deal of frustration for potential customers."
For many indie booksellers, Prime Day is just another challenge to face from a company that has been on the offensive against them for more than two decades.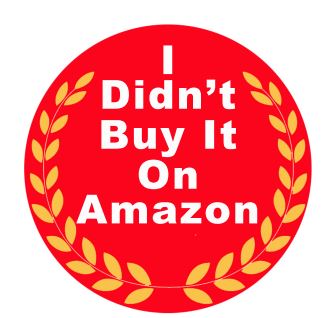 Mary Ackland, retail manager at Mitzi's Books in Rapid City, S.D., told KEVN News the shop hasn't been affected by Amazon because locals and tourists keep them going: "I think we're lucky enough that we have a really good local clientele that are very loyal to us. When they shop for a book, they want to be able to come in and peruse the titles and hold the book in their hand and just look around."
James Conrad, co-owner of the Golden Notebook, Woodstock, N.Y., uses an "I Didn't Buy It on Amazon!" logo in his promotional materials, including the bookshop's sidewalk chalkboard sign. On Monday, he tweeted: "Why not reject one-click, corporatism today? Engage and support your local community with local dollars. Don't allow your local government/schools to lock-into Amazon on #subPrimeDay."
"Our customers are loyal to independent bookstores. They like the personal touch we give them. We care about what they read," said Jim Roumbos, co-owner of Miles Books, Highland, Ind., in an NWI.com piece. Regarding Prime Day, he added: "All it really is is a sale. They take 5% off $100, and it's $5 off. I don't know why they get all that free advertising."
---

---