Trident Booksellers & Cafe: 'An Important Piece of Boston'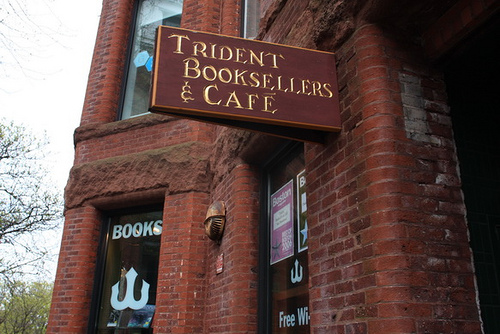 "Customers were so wonderful throughout. We've received so many wonderful e-mails and Facebook posts and all social media stuff, physical letters that people have dropped off, just giving good will, missing us. We've been open for 35 years so--and it's a unique place. We've touched a lot of people, and they have just been so wonderful and supportive... and just the flood of people coming in, missing us, I mean, it's just amazing. It's really the thing that you kind of do it for....
"This has sort of awakened us to the idea that, just knowing how many people's lives we've been a part of and just based on the longevity of the store... it's just a place people feel at home and (where they feel) that they're themselves. Just having that kind of third place, I guess people call it, makes us realize this store is an important piece of Boston."
--Courtney Flynn, manager of
Trident Booksellers and Café
, Boston, Mass., which reopened August 20 after being closed since February because of water damage caused by a fire, in
a q&a
with the
Boston Globe
---

---