BookExpo 2019: Children's Book & Author Breakfast

WNBA Pannell Award co-chairs Susan Knopf and Sally M. Kim opened Friday's Children's Book & Author Breakfast by announcing the 2019 WNBA Pannell Award recipients: Chicago's 57th Street Books won the General Bookstore category, with the award panel commenting on the store's "exceptional passion and creativity"; and the Children's Specialty Bookstore award went to Hicklebee's Bookstore in San Jose, Calif., described by the jury as "the gold standard for children's bookselling."
The announcement of the Pannell Awards was a lively start to a spirited and at times emotional Children's Book & Author Breakfast. Co-hosted by sisters Jenna Bush Hager and Barbara Pierce Bush, the breakfast featured children's and YA authors Tomi Adeyemi and Eoin Colfer, debut author Lupita Nyong'o and adult author Da Chen, whose first work for children will be published this fall.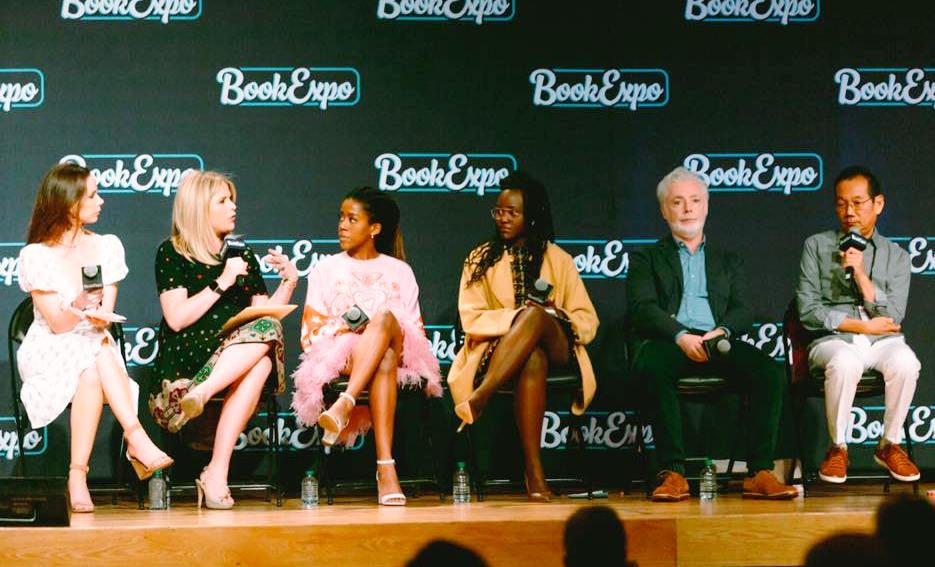 Barbara Pierce Bush, Jenna Bush Hagar, Tomi Adeyemi, Lupita Nyong'o, Eoin Colfer, Da Chen (photo: BookExpo)
Pierce Bush and Bush Hager introduced their picture book, Sisters First (Little, Brown, Nov.), saying it came from their mutual belief that representation of strong sisterhood was particularly needed "in the wake of the 2016 election." Adeyemi--after proclaiming that sitting next to Nyong'o was akin to being "by your crush" ("If you make real eye contact," she said, "you will self-combust")--expanded upon this idea, focusing on the good that representative children's books can do. "When you have a book," she said, you have the ability to make a person "recognize someone else's humanity." The author of Children of Virtue and Vengeance (Holt, Dec.) implored the audience to "create the world [they] want to live in." She finished by referring back to Nyong'o to illustrate the importance of seeing people like oneself succeeding. "Look at her," Adeyemi and her friends say, pointing to Nyong'o as a role model, "And when we say that, it's really 'look at us.' "
A slightly overwhelmed Nyong'o took the stage after Adeyemi, saying, "I came prepared because I knew I was going to cry, but I didn't know I was going to cry before my speech.... It's really moving to hear how my presence has affected other people." After a few moments and a significant round of applause, Nyong'o collected her thoughts about her debut picture book. As a child, she believed "reality was dark and the world of dreams was light" and she hated her dark skin. Sulwe (S&S, Oct.), she said, allows her to give "darker skin" the chance to "exist in dreams"--it's about depicting children of color and creating for herself "the book I never had."
Eoin Colfer, whose The Fowl Twins is coming from Disney-Hyperion in November, gave the audience a rapid tone-shift by denouncing rumors of his death, apologizing for Bill O'Reilly and Riverdance--"Not Riverdance itself, but all the Riverdance-related accidents"--and thanking the United States for Tylenol PM and CVS. He ended on a sincere note, saying "the energy and the talent and the diversity" present on the stage with him assured him that "the future of children's literature is in very good hands." Such good hands, in fact, that he's eager for next year's BookExpo: "Frankly but hypothetically, I would pay for my own ticket.... Like Brexit, that is something we hope never comes to pass."
Da Chen, "humbled" and "honored" to be featured at the breakfast, closed the event by recounting some of the deeply personal and painful stories of his sister's experience during the Chinese Cultural Revolution that are in his first children's book, Girl Under a Red Moon (Scholastic, Sept.).
Covering a range of moods and rapidly switching between them, the Children's Book & Author Breakfast was energetic, emotional, humorous, painful... a good example of the power held in a diversity of experiences and opinions. --Siân Gaetano, children's and YA editor, Shelf Awareness
---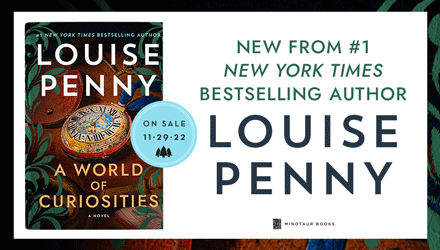 ---