BookCon 2019: Packed and Continuing to Grow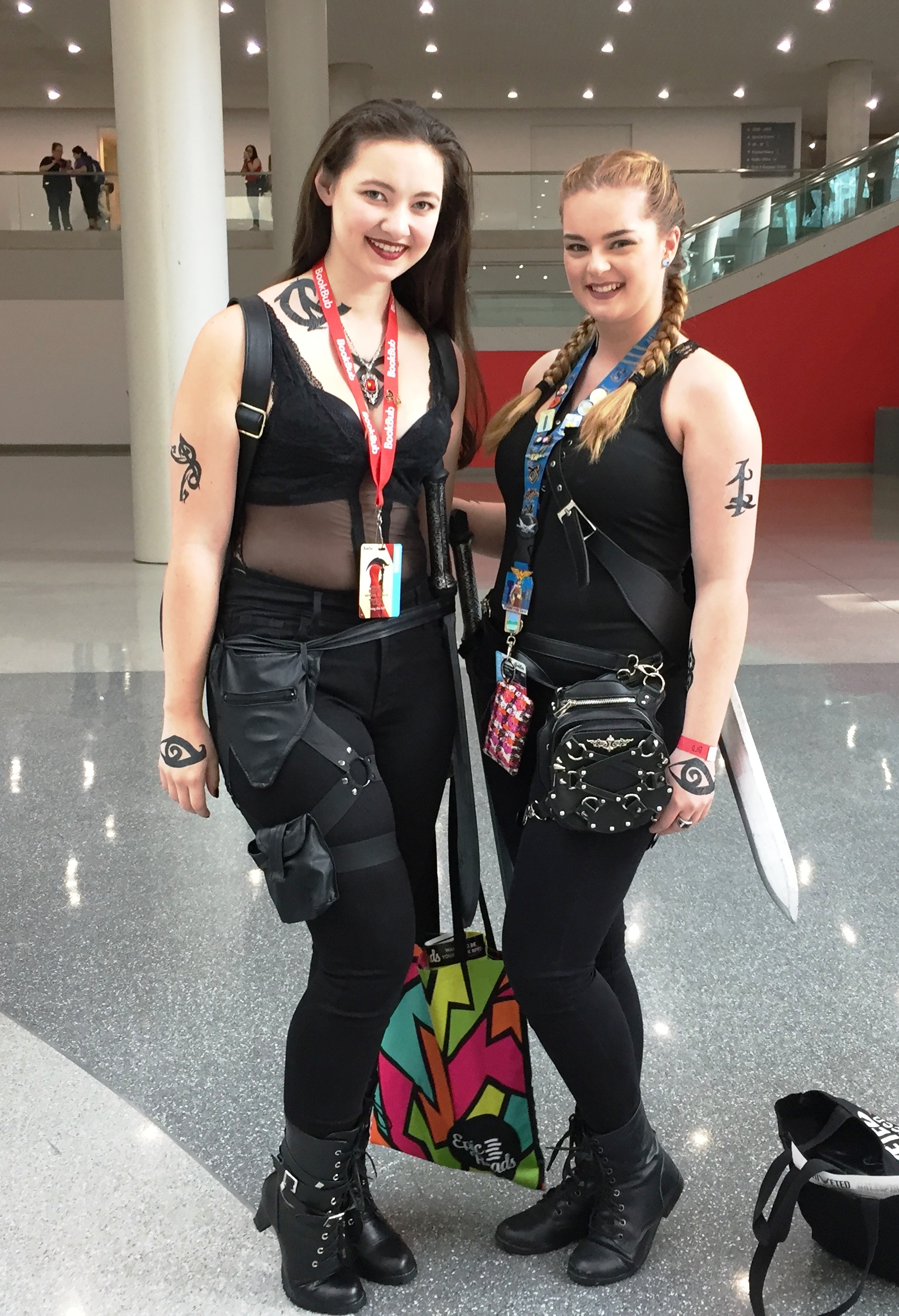 Emily Prior and Ashleigh Olander in cosplay based on Cassandra Clare's Shadowhunter Chronicles.
ReedPOP's sixth annual BookCon took place over the weekend in New York City's Jacob Javits Center, immediately following BookExpo. Offering more than 150 panels, signings and events, BookCon's attendance appears to have surpassed that of 2018's event. Beyond the number of anecdotes about security professionals being needed to help wrangle extremely long lines, another significant sign of growth for the "event where storytelling and pop culture collide" was the large number of people in cosplay, walking the hallways, stopping for pictures and meeting their favorite authors--BookCon is clearly an important cultural event for book lovers.
One highlight from the weekend-long event was the panel on "Contemporary Fictions and Modern Day Storytellers," featuring Sarah Dessen, Karyn Parsons, Brittney Morris, Morgan Matson and Sandhya Menon, moderated by Sarah Enni. The panelists discussed a wide range of topics relating to contemporary YA, including the importance of portraying healthy relationships, the need for non-romantic relationships, technology use and when (and how) to include internal conversations of marginalized communities in works aimed at a wider audience.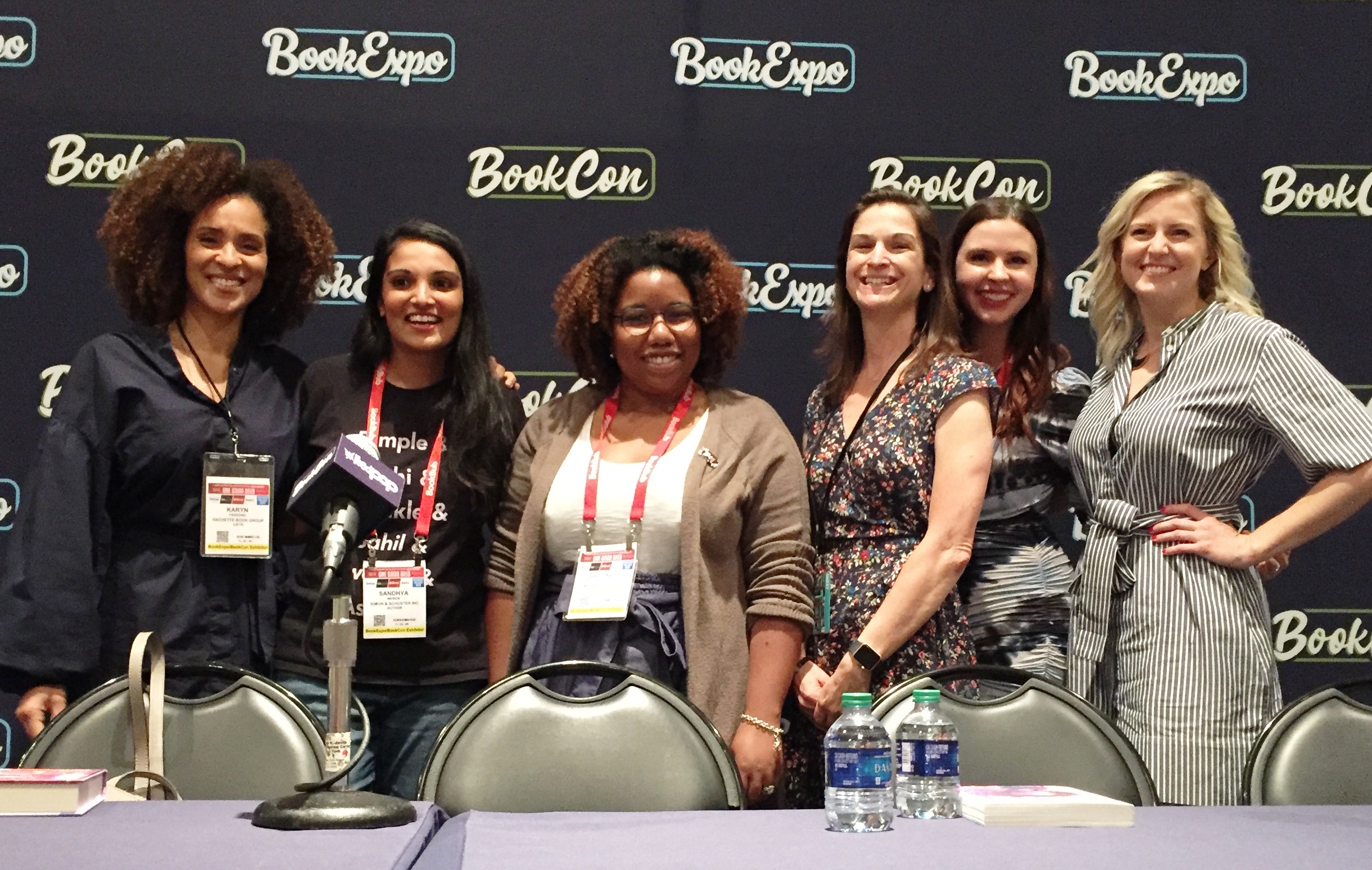 (l.-r.)(l.-r.) Karyn Parsons, Sandhya Menon, Brittney Morris, Sarah Dessen, Morgan Matson and moderator Sarah Enni.
Morris--whose debut, Slay (Simon Pulse, Sept.), features a black protagonist who creates a Wakanda-inspired video game--commented on the difficulty of making these internal conversations known. "Black people are not here to explain ourselves," she said, adding that she was surrounded by so many white people growing up, she was forced into the position of "black culture expert." Including her blackness in the narrative was incredibly important to her, but while writing the book, she felt like she was constantly traversing that thin line between displaying culture and fearing stereotypes: "Do you include a fried chicken card [in the game]?... Is it helping or hurting? Where's the line?"
Another panel featured Zareen Jaffrey, executive editor of Simon & Schuster's new Muslim-focused children's imprint, Salaam Reads, along with several of the imprint's authors: S.K. Ali, Hena Khan, Karuna Riazi, Jamilah Thompkins-Bigelow and moderator Najmah Sharif. The panelists spoke of their experiences seeing--or not seeing--characters like themselves in literature (both Khan and Jaffrey said they had never seen themselves in a book until they read Jhumpa Lahiri's works as adults) and navigating life as a black Muslim author. They finished by talking about which parts of their own cultures they would love to see in the mainstream: Thompkins-Bigelow, a black Muslim, wants to see more stories about second- and third-generation African immigrants; Ali hopes to see more "Muslim joy"; and Riazi wants "to see it all"--the big and "the trivial."
YA authors (from left) Rachel Hawkins, Melissa de la Cruz, Nicola Yoon and David Yoon.
A particularly well-attended panel called "Making Out Between the Pages" featured YA authors Rachel Hawkins, Melissa de la Cruz and Nicola Yoon, moderated by David Yoon. The three extremely popular authors talked about passion both in life and "between the pages." Hawkins suggested to audience members that they "don't have to just be passionate about the big things in life"--she said she's personally passionate about her cats, knitting poorly, writing fan fiction and "trash" (trash media, specifically). Passion, she said, is "an all-encompassing thing" to be pursued. Nicola Yoon continued this thought, discussing the importance of love stories: "So many people denigrate... love stories and it's ridiculous. Love is The Thing." Not just romantic love, but "love of art... love of work... love of family and friends."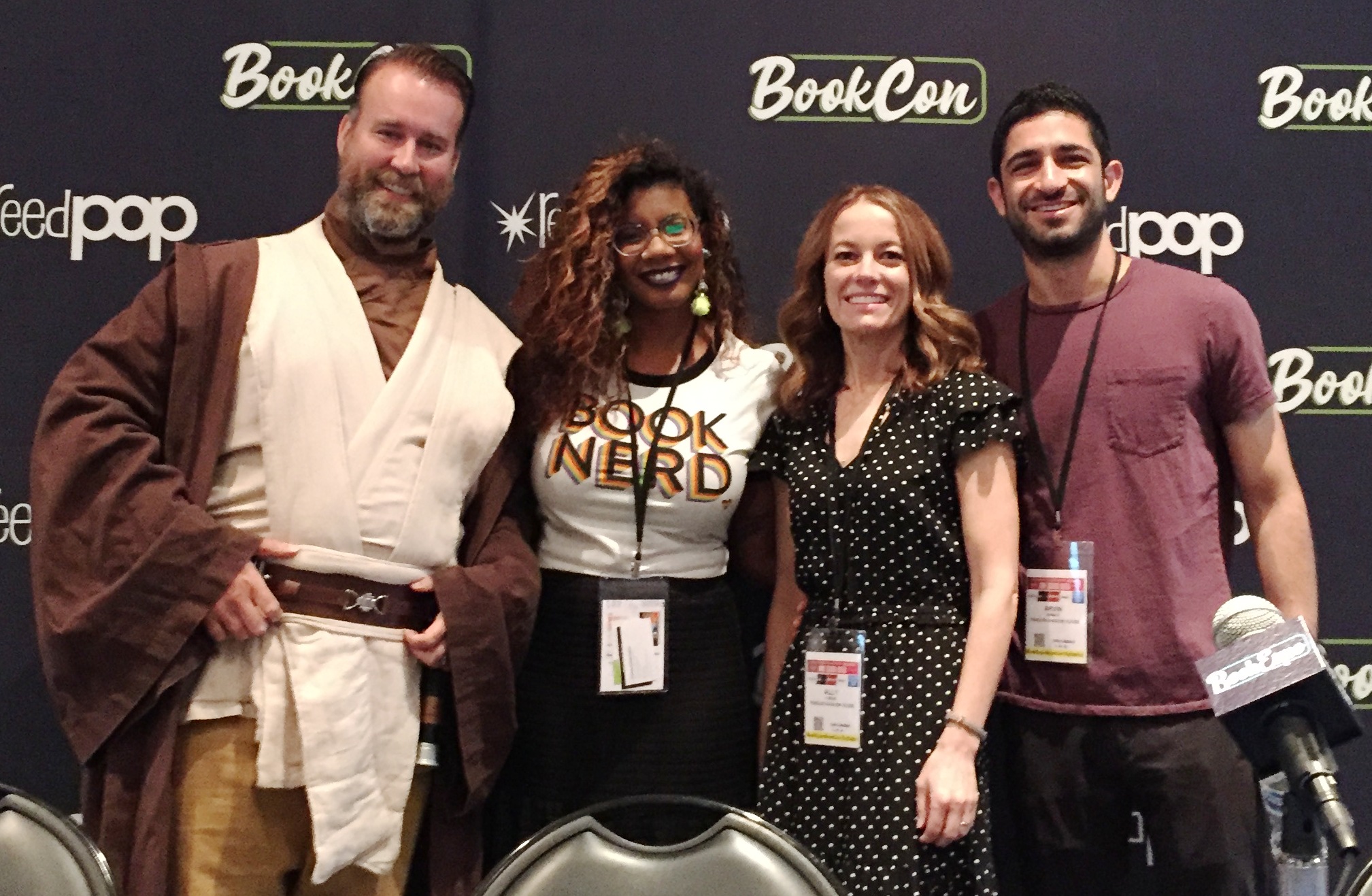 "I'll Take Quidditch for $500, Please!": Pictured l.-r.: Marc Thompson, Nic Stone, Ally Condie, Arvin Ahmadi.
Day two of BookCon was equally busy. An audiobook-based, Jeopardy-style trivia game was hosted by the Jedi-robe-wearing voice actor Marc Thompson. YA authors Ally Condie, Arvin Ahmadi and Nic Stone fought it out over topics like "Seen at BookCon" and "May the Force Be with You." To give each author a hand, three audience members who answered trivia about the authors correctly were invited onto the stage to compete alongside the author. (Condie's team won the day, but all of the audience-member helpers received prizes.)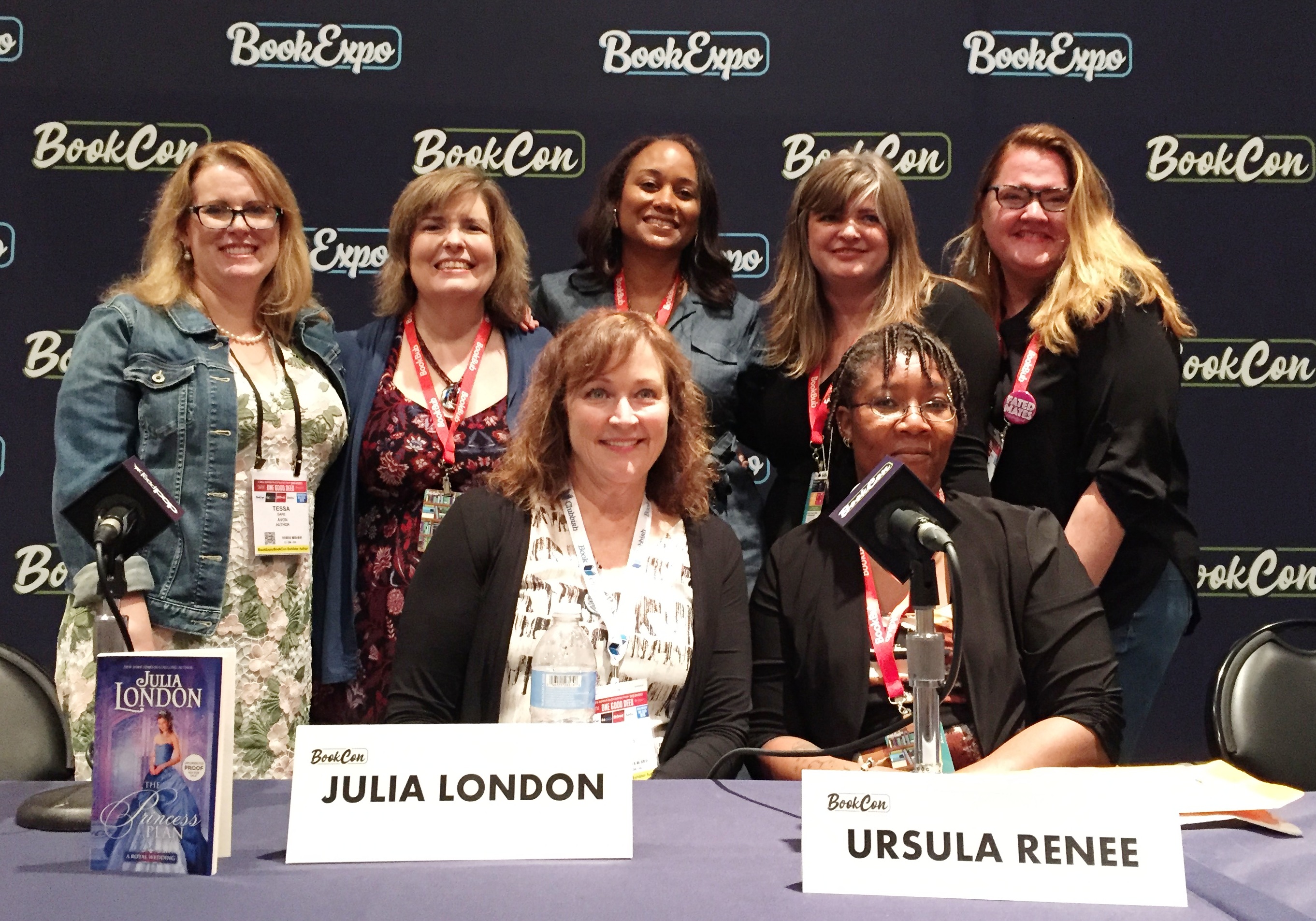 (Back row, l.-r.) Tessa Dare, Sabrina Jeffries, Vanessa Riley, Scarlett Peckham, Sarah MacLean; front: Julia London (l.) and Ursula Renée.
One Sunday panel that drew a standing-room-only crowd was titled "Suffragettes, Sex Positivity, and Smashing the Patriarchy: Historical Romance as a Powerful Political Text." Moderator Sarah MacLean kept authors Tessa Dare, Vanessa Riley, Scarlett Peckham, Ursula Renée, Julia London and Sabrina Jeffries directly on task, asking questions that had each author thinking intently about historical romance in today's social and political climate. MacLean asked the panel of women what they wish readers knew about historical romance, how they handle modernity in relation to the historical text, whether their books have become more overtly political and if anything has become "verboten" in the genre. Riley said she wants readers to know that "historical fiction is more than a dress. The dress is extremely important--how it goes on, how it comes off...." But, she said, the genre is so many things and so much more than those books "your great-aunt reads." Peckham suggested that, even without trying, there is something about historical romance that "feels modern" because, in her opinion, the simple act of being a contemporary woman "feels a bit transgressive"--a lot of historical romance focuses on the transgressive nature of the female, and the works feel modern because "the metaphor is at work." Jeffries added that it makes sense that modernity would slip into the historical text because there is also "a fantasy element" to what they write--"We know there weren't that many dukes in the Regency, and we don't care." London noted, "I've been more conscious about creating a man in the image of how we want them to be today." Riley mentioned that she was 35,000 words into a new book when she watched Christine Blasey Ford testify--the testimony touched her so deeply, she started writing the book all over again.
The conversation around what might be "forbidden" in historical romance was especially interesting, with many of the panelists describing their determination to never include a virginal heroine ever again--"I don't want to write the blushing virgin anymore," Renée said, "because... women did have sex." Now, Renée focuses more on exploring "consensual sex outside of marriage." "I'm happy the virgin trope is... kicked," Riley added. Jeffries finished off this line of discussion by saying, "A hero who rapes a heroine is not a hero."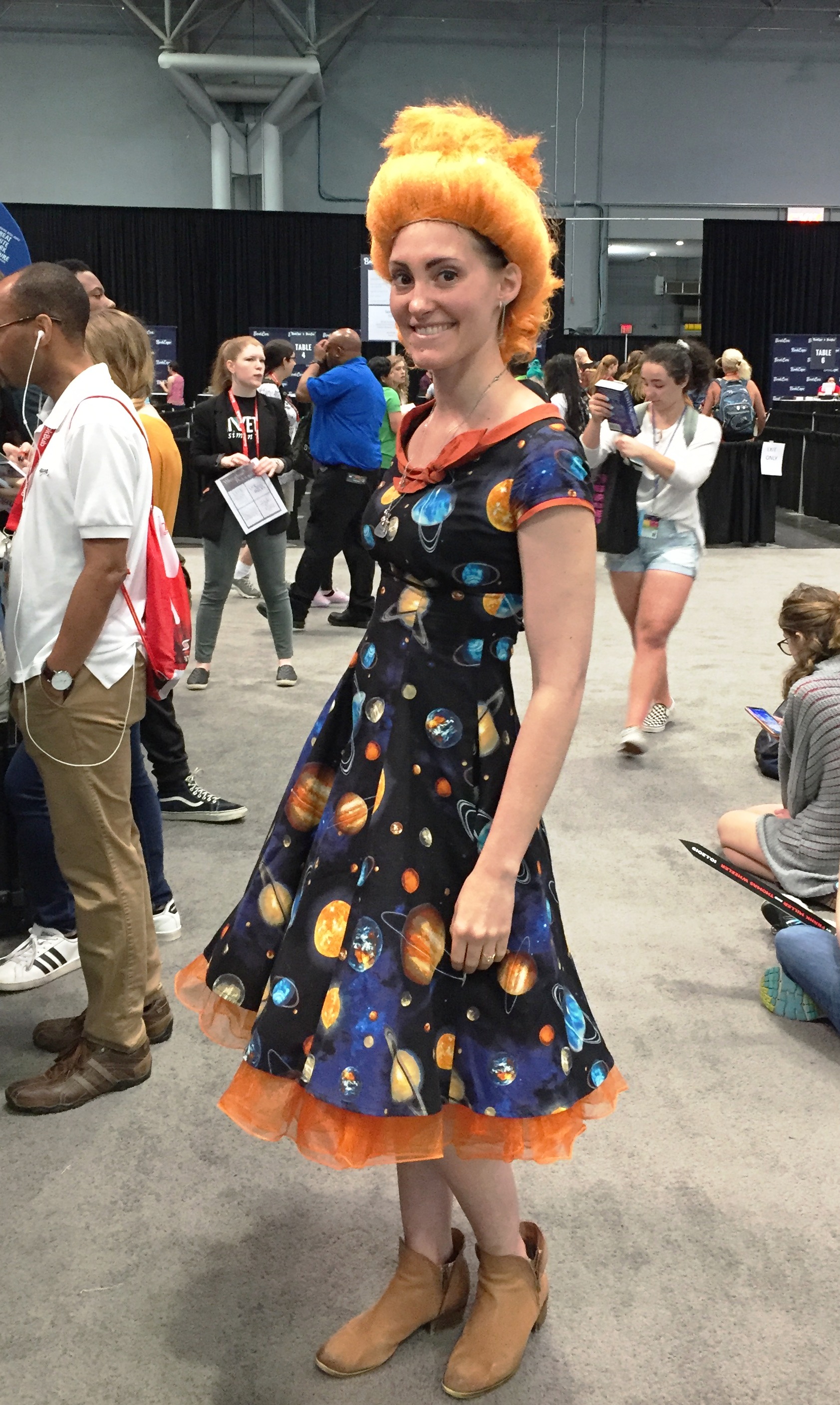 Dorian Misitano in Ms. Frizzle cosplay as she waits in one of BookCon's many, many long lines.
The BookCon floor itself was packed both days, with lines for autographs, giveaways and photo opportunities often snaking across the convention center and wrapping around booths, even extending out the doors. The long lines seemed to deter no one, though, as attendees waited patiently, reading the books they'd recently picked up or enjoying the great cosplay. The new UnBound sidelines section was busy, as was the BookCon shop run by the Strand. It certainly seems as if BookCon is becoming An Event and it will be exciting to watch as it continues to grow. --Siân Gaetano, children's and YA editor, Shelf Awareness
---
---