BookBar's Sullivan Turning Vintage Gas Station into BookGive Headquarters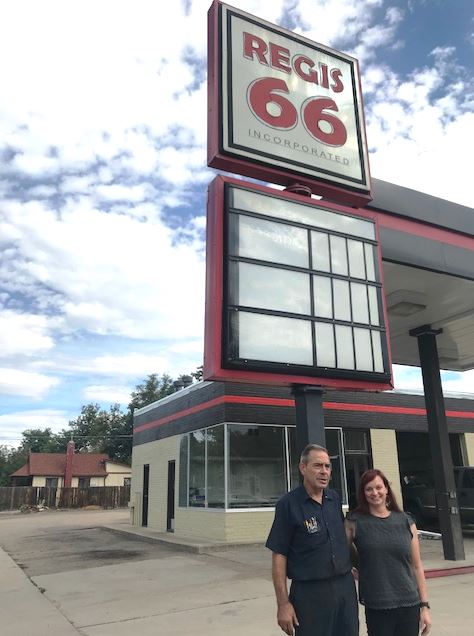 Former Regis 66 owner/mechanic Alan Thielen with BookBar's Nicole Sullivan.
Nicole Sullivan, owner of BookBar in Denver, Colo., has purchased a vintage gas station that she'll turn into the BookGive Service Station, the headquarters for BookBar's nonprofit arm that distributes books to schools, food banks and a variety of other organizations.
"It's going to operate much like a food bank, but for books," said Sullivan. "Not only can it be a drop-off and pick-up location, but it'll be a community space as well."
The gas station, which was built in 1944 and was owned by the same family since 1970, encompasses around 1,400 sq. ft. of garage and office space. Sullivan plans to use much of the space for receiving and storing donated books for BookGive, and the station will also house BookBar's bookmobile. She added that renovations will be light, consisting mostly of "a good power-wash and paint," and she intends to have it open sometime in the fall.
"From the day we started taking donations, we've just been collecting books in store," explained Sullivan. She and her colleagues quickly ran out of storage space in the store, and it was "time to either stop taking in donations, or to expand the program."
Sullivan said she spent a couple of years looking for warehouse space in the Denver area, but found it surprisingly hard to come by. Many warehouses have been turned into growhouses for Colorado's cannabis industry, lowering availability and causing prices to soar. Her realtor eventually suggested looking at gas stations, and Sullivan found it to be the perfect solution.
BookGive has its origins in the Northwest Denver Book Exchange, a yearly community event that Sullivan created in 2009 to provide a space for community members to swap books with each other. Since the beginning, Sullivan has donated all books left over from the Book Exchange to charity. Over the years, the donations became larger and the process more organized and, in 2018, Sullivan officially founded BookGive as a nonprofit.
Looking ahead, Sullivan said she plans to stock some books at the BookGive Service Station as part of a pay-what-you-can store, with all proceeds going to donations. She's thinking of hosting BYOBB (bring your own books and booze) community nights at the Service Station and noted that there is a brewery right across the street. For staffing, Sullivan will rely on volunteers, and said she's already gotten plenty of offers from students at Regis University, which is a few blocks away.
In addition, she's creating a board of directors for the organization and she hopes to do more direct tie-ins with BookBar, such as offering BookBar customers the option to round up their purchases to the nearest dollar and donate the extra to BookGive. Also in the works is a VIP--Valuable Indie Patron--program where customers pay an annual membership for a variety of benefits, and all of the membership fee goes to BookGive.
Sullivan reported that she was "really excited" for the new venture and the chance to further expand BookGive. She said: "There are so many opportunities here." --Alex Mutter
---

---