Decision Time Update: Variations on Indie Reopenings
As more states begin to alter or lift restrictions on retailers shuttered by the Covid-19 pandemic, indie booksellers face complicated decisions regarding when and how to reopen safely. Here's a sampling of their responses:
Madison Books, Seattle, Wash.: "In the interest of not burying the lede, a practice of which we're often guilty, as guilty as we are of casually tossing out obscure and orthographically suspect industry jargon in phrases such as burying the lede, and oh look, now we've gone off on a tangent and done exactly what we said we didn't want to do, so let's get on track and to the point: We're back! Well, we never really went away, but now you can see we're here."
Next Page Books, Cedar Rapids, Iowa: "Uh-oh, you may want to coax me off my soapbox. The governor declared retail businesses may reopen at 50% capacity effective Friday, May 8. Next Page Books will reopen once it appears safe and prudent to do so. The decision will be based on advice from health care professionals, not politicians."
Savoy Bookshop and Café, Westerly, R.I.: "While Rhode Island is beginning to roll back restrictions on businesses like ours, Savoy Bookshop & Cafe will not be reopening to the public this weekend. (We'll continue to operate on our current model.) We are actively working on a plan that is both safe and manageable for staff and customers."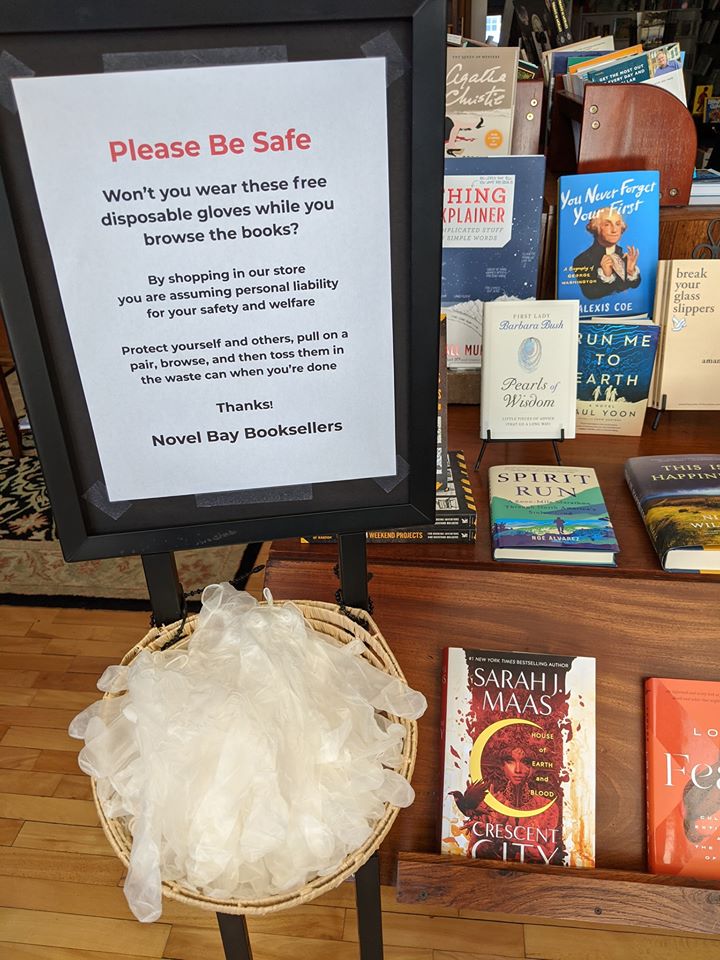 At Novel Bay Booksellers
Novel Bay Booksellers, Sturgeon Bay, Wis.: "Masks, gloves all crucial if you want to make an appointment to visit the bookstore.... Limited to one person or family unit at a time and we schedule to disinfect surfaces between visits."
The Bookshop, East Nashville, Tenn.: "As y'all have likely heard by now, phase one of Nashville's reopening plan starts on Monday. We're a tiny shop; and, of course, the virus is still out there; and everyone's safety is definitely still at the tippy-top of our concerns. So, we will *not* be opening for browsing. We *do*, however, plan on beginning contactless customer pickup (for prepaid orders) at some point next week."
Quill Books & Beverage, Westbrook, Maine: "As Maine and other states start to reopen, we know that we're far from out of the woods and are preparing for a long road ahead. What is most important to us is the safety of our community. We are committed to reopening in a way that feels safe and on a timeline that feels safe, not just as soon as restrictions are lifted."
Whistlestop Bookshop, Carlisle, Pa.: "The stay-at-home, life-sustaining-travel-only orders that Pennsylvania and Cumberland County have been operating under since April 1st have been extended to June 4, 2020. This means the stone-and-brick Whistlestop Bookshop is closed to pedestrian traffic."
The Country Bookseller, Wolfeboro, N.H.: "Admit it, you've always wanted to have the store all to yourself. Now is your chance! This Monday we will be re-opening the store to the public by appointment only."
Dee Gee's Gifts and Books, Morehead City, N.C.: "We are excited to open but ask that you follow the guidelines of social distancing, sanitizing your hands upon entry (automatic pump located on stair wall!!!) and wearing your mask. Forgot your mask? We have them and will kindly ask you to wear one! Let's all get through this safe and healthy, we are willing to do our part!"
Loganberry Books, Shaker Heights, Ohio: "We're pleased to announce that the red OPEN sign will be on and our front door will be open again as of Tuesday, May 12....We're taking this all a day at a time, keeping a close eye on scientific developments and guidance as they become available, and we'll keep adjusting as need be."
Riverstone Books, Pittsburgh, Pa.: "Hmmm, what's new with you? To be honest, we have been having a hard time finding exciting new ways to describe how to order online. And we've been having a little trouble keeping the days straight until Sunday each week when we're closed. But no more--we are opening our doors on May 18!!!"
---

---