Chicago's Exile in Bookville Building Virtual Community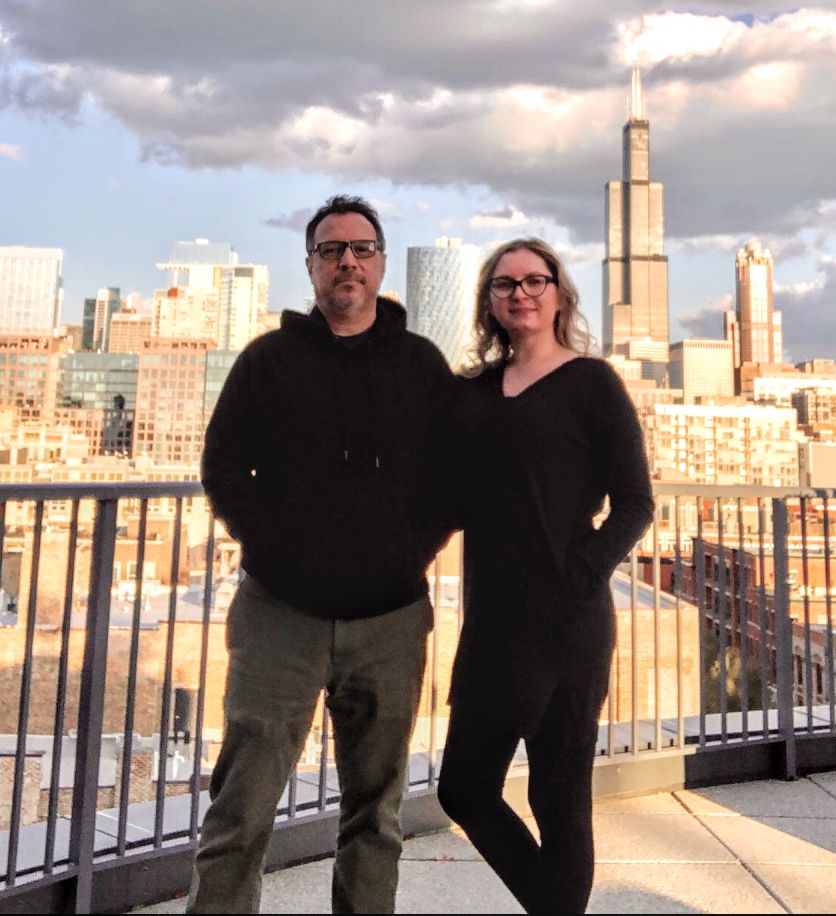 Javier Ramirez and Kristin Enola Gilbert
Javier Ramirez and Kristin Enola Gilbert have launched Exile in Bookville, the independent bookstore they plan to open in Chicago, Ill. While the co-owners don't expect to have a bricks-and-mortar space of their own until early 2022, the store is already selling books through its Bookshop affiliate page, hosting virtual events and building community.
Exile in Bookville will "lean heavily" on fiction, Ramirez reported. He's worked as a bookseller in Chicago for decades and plans to highlight the work of the many local authors he's met over the years. Small and independent presses will be another area of emphasis, and although Ramirez described himself as a "general fiction" guy, he's been exploring nonfiction in recent years.
Gilbert and Ramirez are also both music lovers. The store's name, in fact, is a reference to Liz Phair's 1993 debut album, Exile in Guyville, which was recorded in Chicago. The co-owners plan to make music a big component of their store. They'll feature plenty of titles about music history and musicians they love, and will carry some vinyl and have a turntable in store. Already they've had local musicians and music writers curate booklists on the store's Bookshop page, and they hope to host events featuring musicians and music writers. Once Exile in Bookville has a physical space, and if in-store events "ever do happen again," they'd love to host smaller live music events and do things like pair author readings with albums.
"That's integral to who we are, this idea of music and literature," said Gilbert. She and Ramirez want to create a "collaborative and comfortable space for two types of arts that we think are agreeable with each other."
Ramirez and Gilbert are looking for a space, though they don't expect to set up shop any time soon. In terms of timeline, it's a matter of "letting the world settle down." When asked what their ideal storefront would look like, both said they would prefer a smaller and more intimate space. Ramirez pointed out that he's worked at stores of all sizes, from huge stores to tiny ones, and he feels that more intimate spaces make things easier for both customers and proprietors. And on the subject of neighborhoods, Ramirez noted that when City Lit Books closes at the end of this year, it will leave a "huge gap" in Logan Square.
Until Gilbert and Ramirez find a physical space, they will continue selling books through their Bookshop page and hosting online events. For those events, they are trying to "mix it up a little bit," with roundtable discussions featuring booksellers and authors. They're also hosting virtual rep nights and, in honor of Halloween coming up, they've done discussions around horror novels and horror movies.
Gilbert and Ramirez did not know each other until March of this year. Gilbert, whose background is in academia and is a professor of criminology, was one of Ramirez's customers at his previous bookstore Madison Street Books. She lived right down the street from that bookstore and this spring wanted to pick up Kate Elizabeth Russell's novel My Dark Vanessa. The store didn't have it in stock, and when they offered to order it for Gilbert, who was in a hurry, she said something along the lines of there being plenty of other bookstores in Chicago. In hindsight, Gilbert said, she realized she sounded "like such a bitch," and made a point of going back to buy the book and support Madison Street.
Over time, Gilbert continued, she and Ramirez got to know each other and realized that they shared not only very similar tastes in books and music but also had similar ideas about community and what the ideal bookstore would look like. The seed of starting their own bookstore was planted, she recalled, and eventually they decided to go for it, despite the "crazy economic and social unrest" going on. Though it might be a while until they have a bricks-and-mortar space, being online-only has allowed them to start building this bookstore "in the eyes and mold of its community" as a "collaborative endeavor." --Alex Mutter
---

---