Amazon: Jeff Bezos Giving Up CEO Post; Record Quarterly Results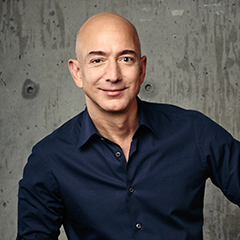 Jeff Bezos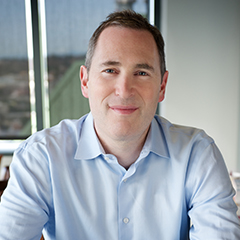 Andy Jassy
The big news from Amazon yesterday wasn't so much its fourth-quarter results--which set a record as more consumers did more buying online because of the pandemic--as the announcement that founder and CEO Jeff Bezos is giving up the CEO post sometime after July 1 and will become executive chair. Andy Jassy, who is currently CEO of Amazon's highly profitable cloud division, Amazon Web Services (AWS), will succeed him as CEO.
Jessy, 53, is a graduate of Harvard Business School and joined Amazon in 1997 as a marketing manager. In 2003, he launched AWS and was became AWS CEO in 2016.
Amazon announced the move in a way that was as much an advertisement for the company as an explanation, quoting Bezos as saying, "Amazon is what it is because of invention. We do crazy things together and then make them normal. We pioneered customer reviews, 1-Click, personalized recommendations, Prime's insanely-fast shipping, Just Walk Out shopping, the Climate Pledge, Kindle, Alexa, marketplace, infrastructure cloud computing, Career Choice, and much more. If you do it right, a few years after a surprising invention, the new thing has become normal. People yawn. That yawn is the greatest compliment an inventor can receive. When you look at our financial results, what you're actually seeing are the long-run cumulative results of invention. Right now I see Amazon at its most inventive ever, making it an optimal time for this transition."
In an e-mail to employees, Bezos, 57, said, "As much as I still tap dance into the office, I'm excited about this transition. Millions of customers depend on us for our services, and more than a million employees depend on us for their livelihoods. Being the CEO of Amazon is a deep responsibility, and it's consuming. When you have a responsibility like that, it's hard to put attention on anything else. As exec chair, I will stay engaged in important Amazon initiatives but also have the time and energy I need to focus on the Day 1 Fund, the Bezos Earth Fund, Blue Origin, the Washington Post, and my other passions. I've never had more energy, and this isn't about retiring. I'm super passionate about the impact I think these organizations can have."
The New York Times noted that "in recent years, Mr. Bezos had stepped back from much of Amazon's day-to-day business, delegating those responsibilities to two main deputies, including Mr. Jassy. He instead had focused on Amazon's future and personal projects such as space travel... But the pandemic pulled Mr. Bezos back into Amazon's daily operations last spring. As Amazon grappled with a flood of e-commerce demand, labor unrest and supply chain challenges brought on by the coronavirus, Mr. Bezos began holding daily calls to help make decisions about inventory, talked to government officials and made a much-publicized visit to one of Amazon's warehouses. Amazon has now stabilized and its growth surged."
Bezos founded Amazon 25 years ago as an online bookseller. Of course, Amazon has grown a bit since then, and now in press releases about company results, books are rarely if ever mentioned. Bezos's personal fortune is estimated at $188 billion, making him the second richest person in the world. (If not for his 2019 divorce settlement and Tesla's huge jump in stock price, he would easily be the richest person in the world now.)
In other Amazon news, net sales in the fourth quarter ended December 31 rose 43.6%, to $125.6 billion, and net income rose 121%, to $7.2 billion. For the full year, net sales rose 37.6%, to $386.1 billion, and net income rose 84.1%, to $21.3 billion.
The company predicted that first-quarter net sales will grow 33%-40%, to between $100 billion and $106 billion.
---

---