New Orleans's Garden District Book Shop Changes Hands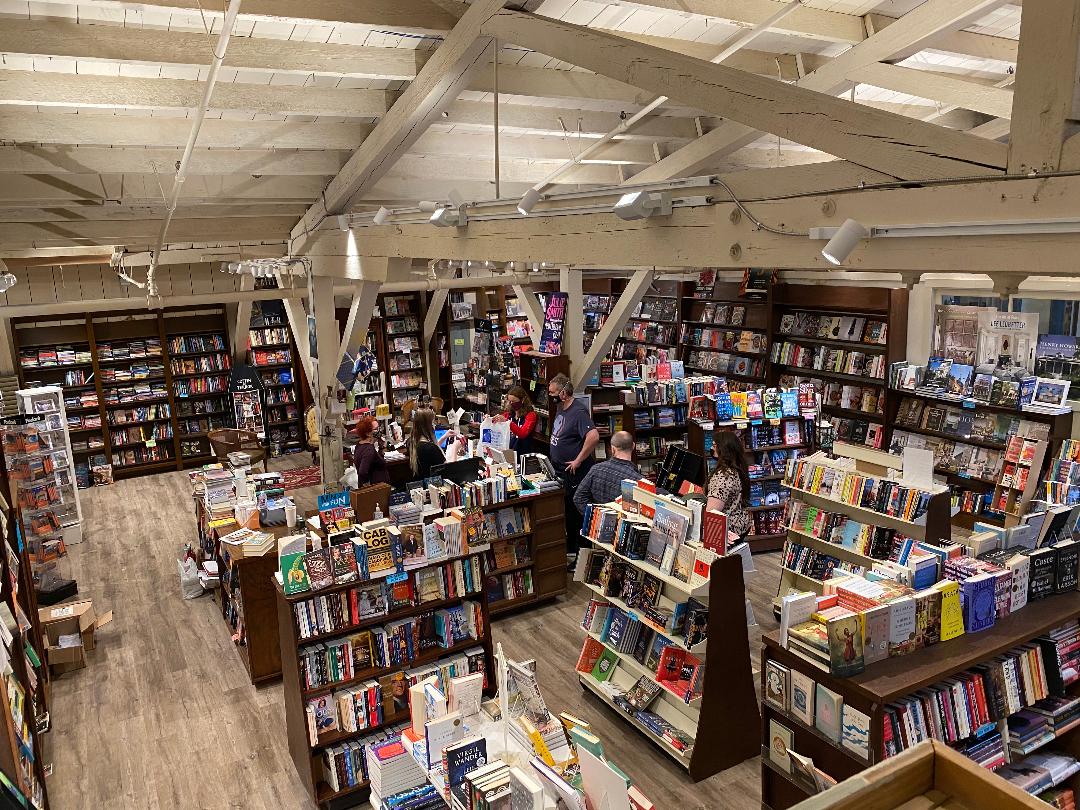 After running and owning the Garden District Book Shop, New Orleans, La., for some 40 years, Britton Trice has sold the store. The trio of new owners plan on "continuing his legacy," as one of them, Christopher Tidmore, put it, while also making some changes, including adding a café/wine bar/bistro next door in the next few months.
Tidmore and co-owners Barkley Rafferty (Rafferty and Tidmore are married) and Carroll Gelderman are, respectively, a newspaper/radio/TV journalist and editor; a teacher with an MBA and the owner of a spice importing company; and a movie producer. They also have strong connections to the store: Rafferty and Gelderman grew up in the neighborhood, and the store was a favorite place for them. For Tidmore, for 30 years, the bookstore has been "the end of a pilgrimage trek I'd make as a kid from the suburbs."
But most important for the sale is that Rafferty and Trice's daughter, Eliza, are longtime best friends, and for years, Rafferty had told Eliza that if her father ever wanted to sell the store, she was interested. As Trice said, "I had been thinking about selling and reached out, and we went from there."
The deal closed on February 1, and Trice is helping with the transition and will consult part-time for two years. Besides introducing the new owners to the intricacies of bookselling, he wants to assist with events and help them make contacts in the business.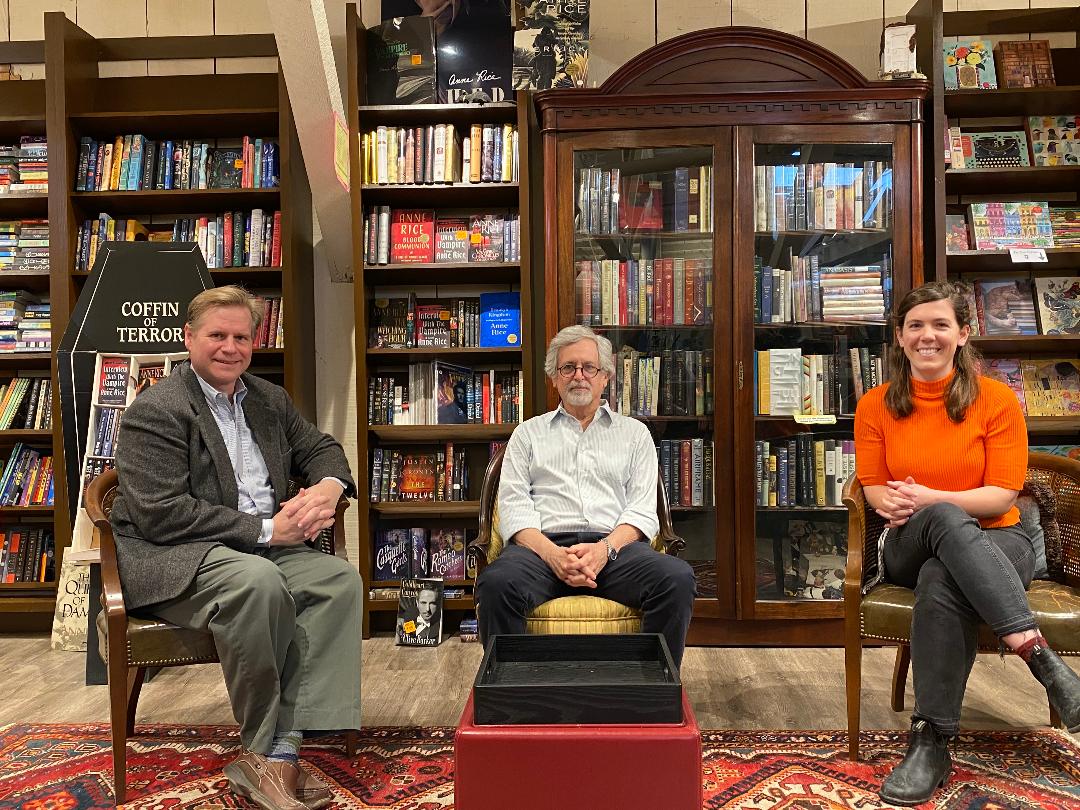 Britton Trice flanked by new owners Christopher Tidmore and Carroll Gelderman (not pictured: Barkley Rafferty)
The new owners have benefited from a major renovation Trice did last year that included replacing old carpeting with wood and taking advantage of new space that the building owners gave the store. The work resulted in every book in the store being moved "three to four times," Trice said.
Garden District Book Shop is located in the Rink, originally built as a roller-skating rink in 1884 and now home to a dozen shops and offices; Tidmore compared it with the Galeries Lafayette in Paris.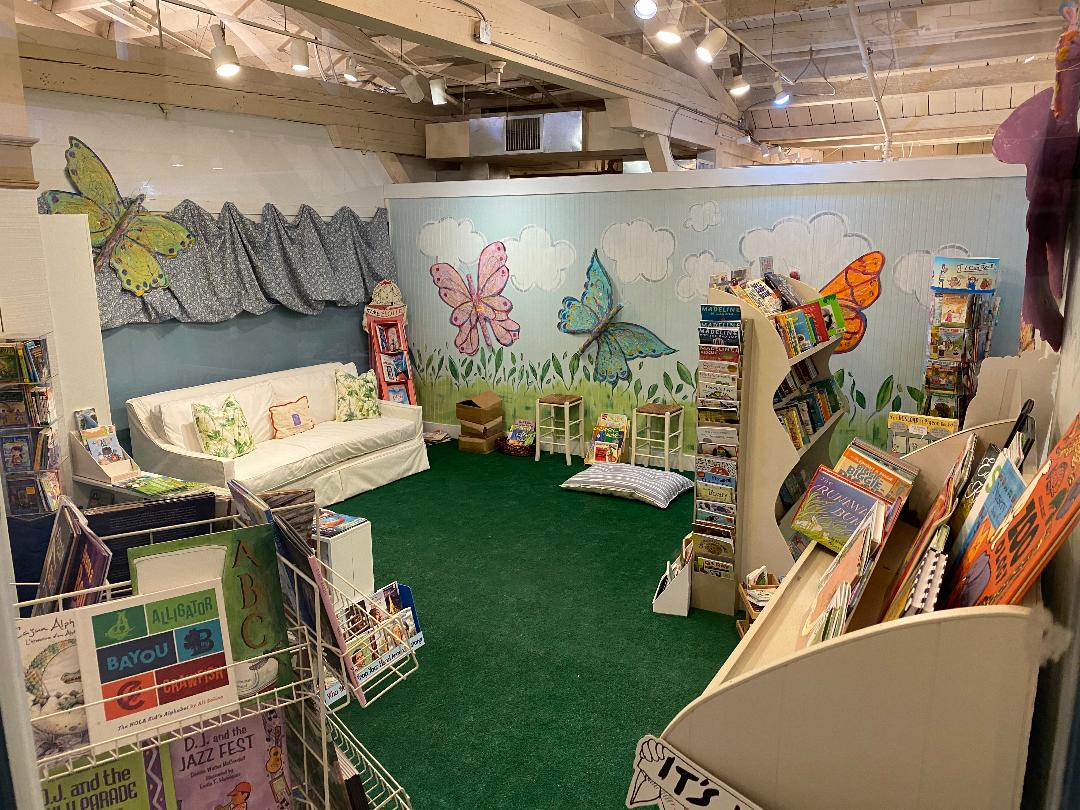 In the first month of ownership, the new owners have already begun to make changes: they converted a storeroom into a children's room in a spot that faces the arcade of the building. Besides boosting sales and "being very prominent," the move of children's books into the room allowed them to "reposition things elsewhere in the store," Tidmore said.
And in a major move, the three are working on relocating the coffee shop they bought late last year from the floor below the bookstore to immediately next to the bookstore. The new coffee house/wine bar/bistro will have "a full commercial kitchen" and bar, offering a place for customers, Tidmore said, "to enjoy books, the amenities, a glass of wine." Tidmore also noted that like many bookstores, the Garden District Book Shop needed "another source of revenue" besides book sales.
The new owners are making the bookstore their first priority. (Tidmore is gradually dialing back on his journalism jobs.) Their aim is to expand what Trice built and to create a model that includes books, authors and events, as well as making it a place where people can "linger, meet, enjoy, discuss." Tidmore espouses the idea of independent bookstores as "academies of the mind, place where people and great ideas come together." And he praised the bookstore staff, who are more knowledgeable than "any algorithm."
What Trice calls a "fun 40 years" began when longtime Maple Street Book Shop owner Rhoda Faust asked him to manage one of her stores. It eventually moved into the Rink and Trice bought it. Since then, Trice has made the Garden District Book Shop into a legend, famous for its collection of signed books and its strong event programming, which has included appearances by, among others, Julia Child, Pat Conroy, Anne Rice (who lives in the neighborhood), Rebecca Wells and "plenty of politicians." Looking back, Trice is especially happy about "all the authors and booksellers and publishing people I've met and become friends with."
No longer a bookstore owner, Trice looks forward to reading at leisure ("it seems all we do is sit in front of the computer with Edelweiss"), traveling when it's possible again, and reviving his publishing company, BE Trice Publishing, which focused on collectible limited editions by Cormac McCarthy, Anne Rice, Richard Ford, James Lee Burke and others. He set publishing aside about a decade ago when trying to get the store back on solid footing after Hurricane Katrina. He said he might now publish "some more mainstream, New Orleans-related titles." --John Mutter
---

---