Markus Dohle: 'The Best Time in Publishing Since Gutenberg'
"Print wins," said Markus Dohle, CEO of Penguin Random House, referring to the race between e-books, audiobooks and books one can hold in one's hands. Dohle spoke yesterday with organizational psychologist and author Adam Grant (Think Again, Viking) in a conversation hosted by Penguin Random House and Publishers Weekly to kick off the U.S. Book Show.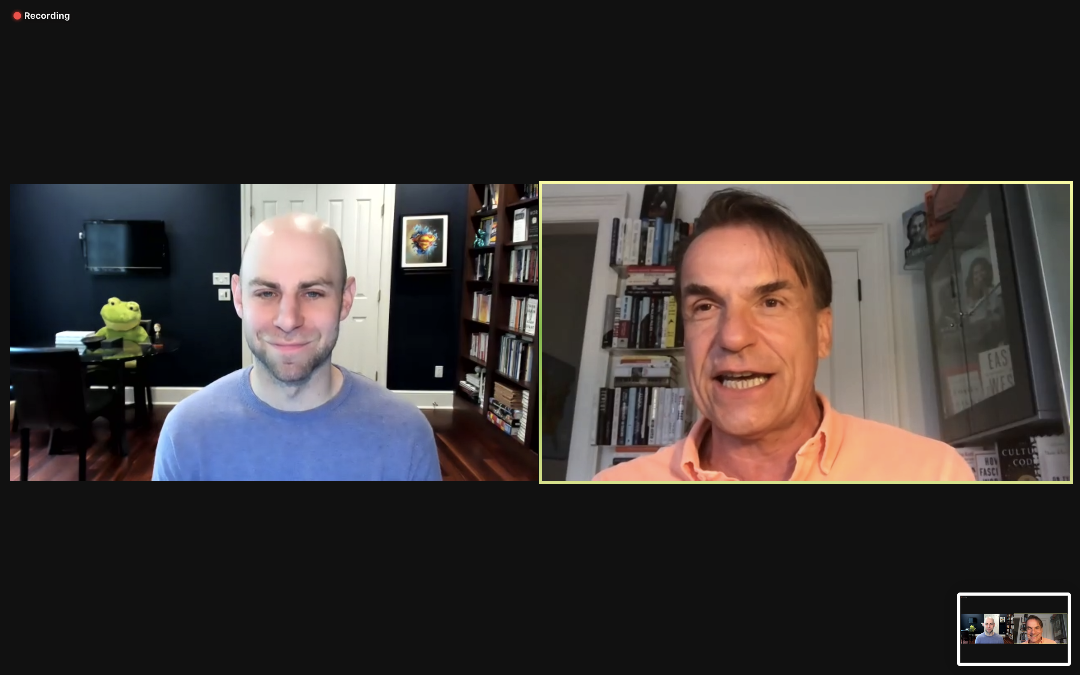 Adam Grant (l.) and Markus Dohle
Dohle listed six reasons why this is "the best time in publishing since Gutenberg": 1) the global book market, with a revenue pool that was up double digits in the U.S. and around the world in 2020 and thus far in 2021; 2) robust business models; 3) healthy coexistence between print and digital (a ratio of 80/20); 4) the "addressable audience" is growing, with population up 3%-4% and literacy rates rising; 5) children's books are the fastest-growing category for the past 25 years, since the publication of Harry Potter, creating more and more new readers; and 6) with the popularity of audiobooks, "we gain reading and listening minutes," Dohle said.
Grant, a strong sparring partner, said that Dohle would be better off reducing his six points to two, so as not to appear to be persuading the audience, and asserted that with the sheer size of Penguin Random House--and in the process of acquiring Simon & Schuster--the company is in a position to be optimistic. But Dohle argued that PRH has just 20% of the market share in the countries in which it operates and that smaller publishers are outperforming the larger ones, over the past 10 years.
Dohle said that Amazon accounts for 50% of PRH's U.S. business and 40% of its global business. PRH is "channel agnostic," Dohle said. "We don't want to tell our readers where to buy books." Yet PRH "doubled down on physical product," investing $100 million in efficiency and speed of distribution, to lower inventory and return rates and improve profitability of physical retail. "Bookstores are essential for physical book discovery," said Dohle. "Indies are willing to give new voices a chance and to build them over time." In their support, PRH has just extended payment terms for bookstores again to give them more financial flexibility and help their cash flow. Dohle quoted Grant back to him, citing the subtitle of his book Give and Take: Why Helping Others Drives Our Success (Viking)--"If you support all your constituencies, then you thrive, too."
When Grant asked about why he as a consumer had to buy the book and the audiobook and the e-book of the same title, with no discount, Dohle said publishers have not yet figured out how to bundle in a way that makes certain "we sustain, protect and support the authors' income." He added that's why PRH does not participate in all-access subscription models right now, either. Dohle ended with a quote from Margaret Atwood: "You're never going to kill storytelling, because it's built into the human plan. We come with it." --Jennifer M. Brown
---

---