NVNR's Opening Keynote: 'Being Black in America: Past, Present & Future'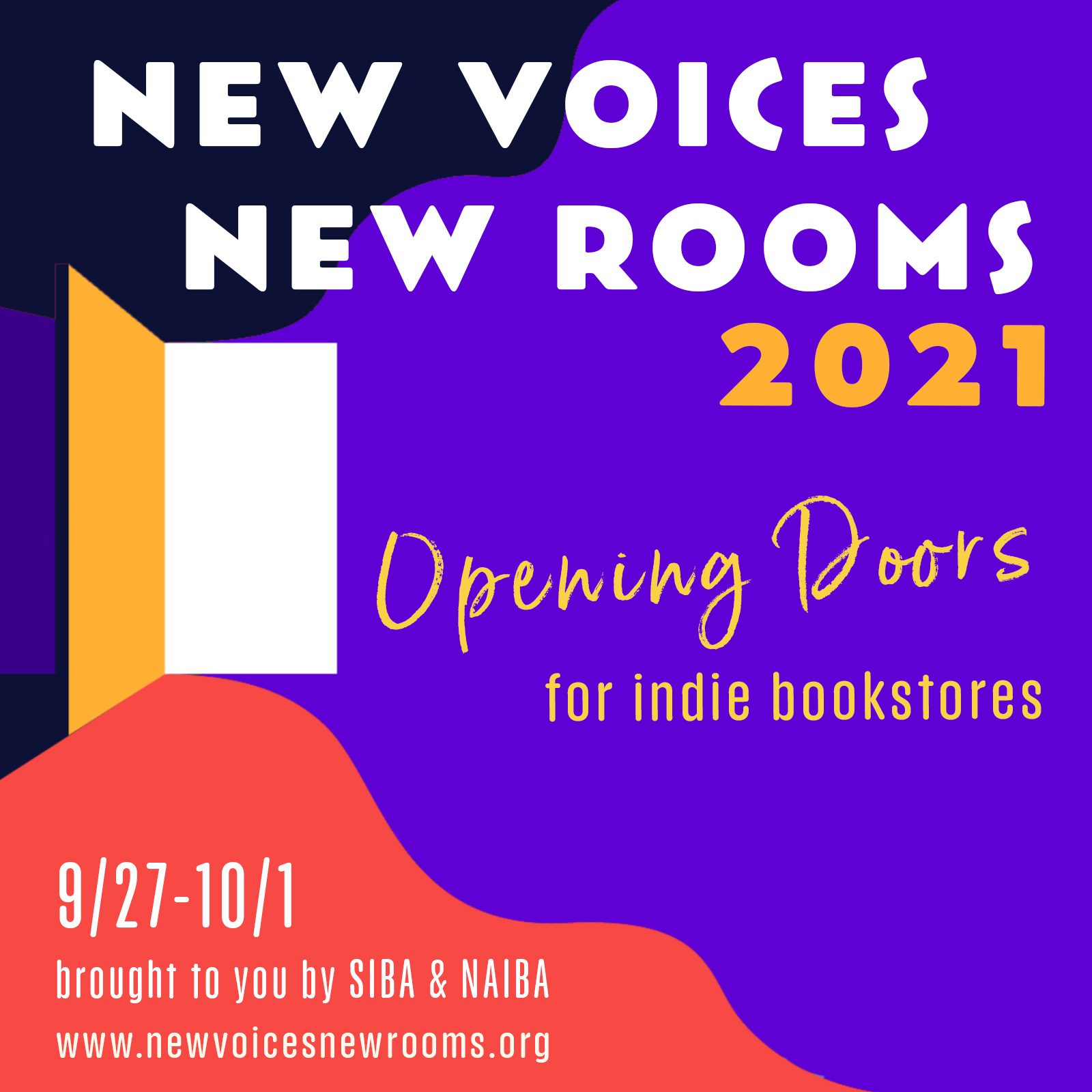 New Voices, New Rooms, the fall virtual conference presented by the New Atlantic Independent Booksellers Association and Southern Independent Booksellers Alliance, kicked off yesterday with the opening keynote, "Being Black in America: Past, Present, and Future."
Hosted by Ramunda Young, co-owner of MahoganyBooks, Washington, D.C., the event featured authors Imani Perry (South to America: A Journey Below the Mason-Dixon to Understand the Soul of a Nation, Ecco, January 2022), Jason Reynolds (Stuntboy, in the Meantime, Caitlyn Dlouhy/Atheneum, November) and Sesali Bowen (Bad Fat Black Girl: Notes from a Trap Feminist, Amistad, October).
Young noted that the conversation was about seeing these authors "as people, understanding their thoughts and their feelings. And let's be clear, the onus is not on them to speak on behalf of the entirety of Black people, but to share their personal thoughts of being Black in America, from the past, present and future perspective."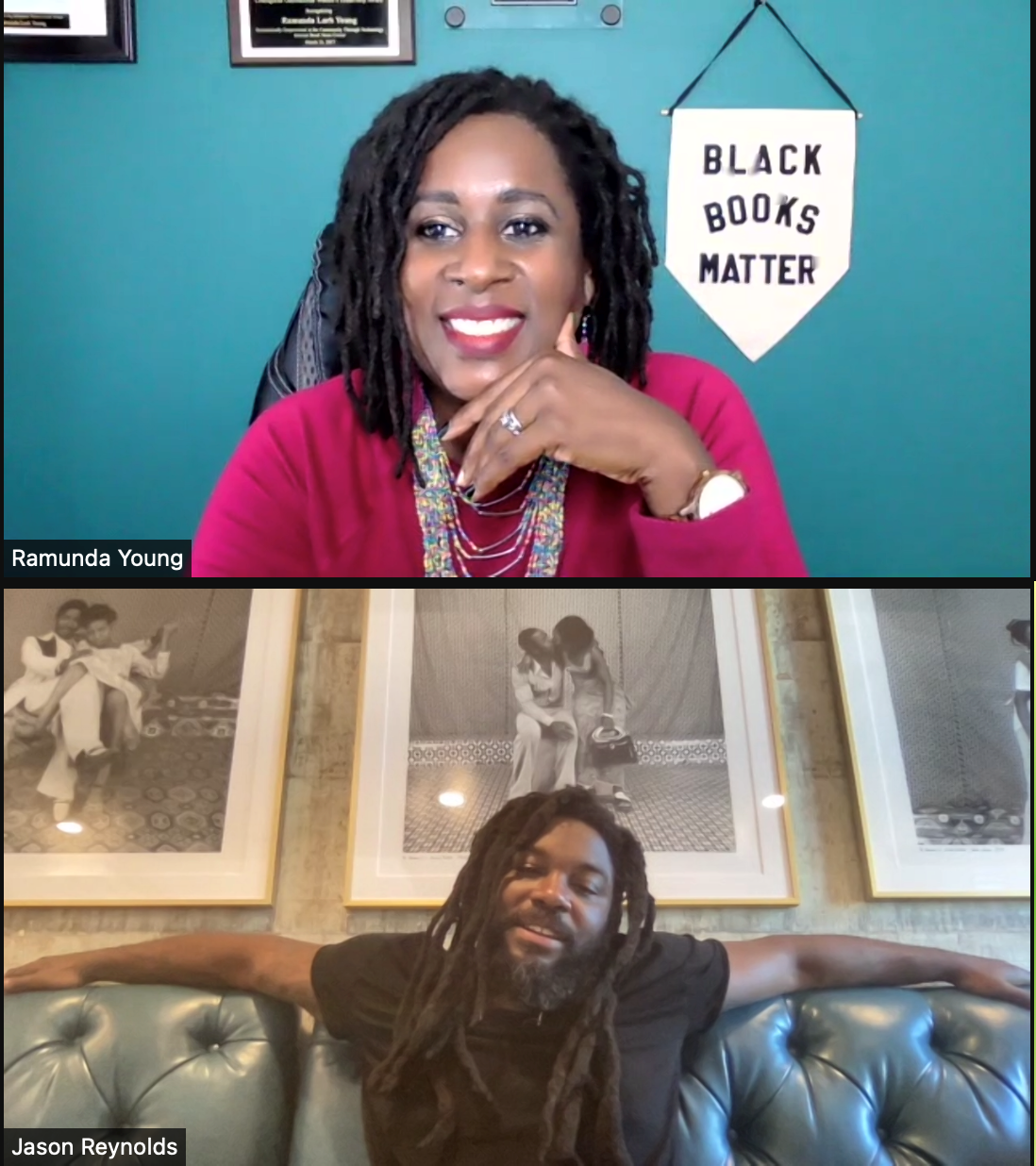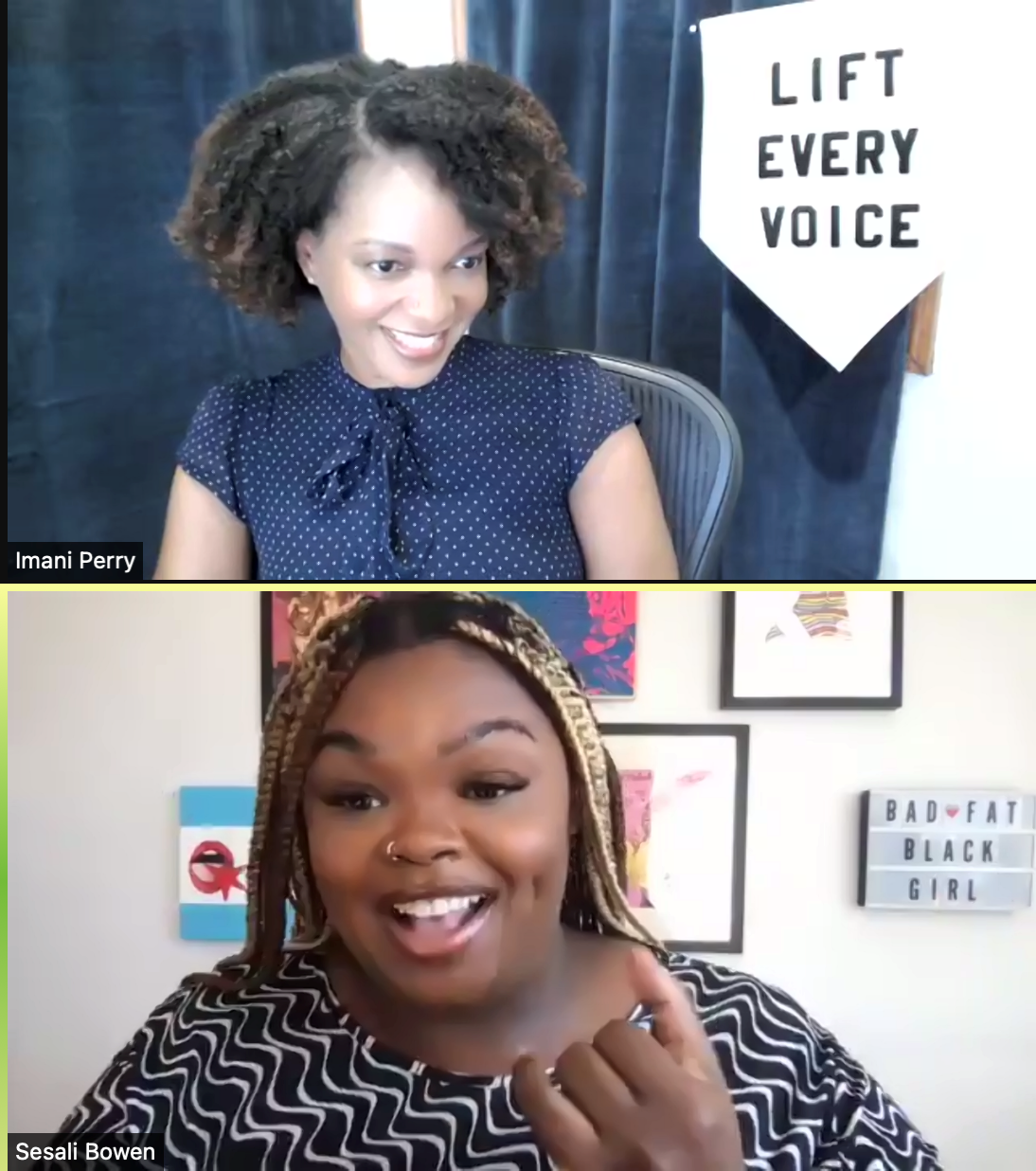 From top: Ramunda Young, Jason Reynolds, Imani Perry, Sesali Bowen.
In response to a question about the role of textbooks in teaching history, Perry observed: "Textbooks are a very particular genre. You get a textbook and you have to tell a concise history. There are all these debates over what's included in textbooks. We want them to be richer; we want them to be more robust. But really it is the other kinds of literature that can give you the deep textured history. So you have this frame story of history, and then you delve into stories that are much more complex. I love when teachers supplement textbooks with other kinds of writings because what you get a sense of is there's a way you can tell a very close, intimate story, personal stories, and you can actually find an illumination of history that's deeper than the overview.
"For me, that's part of the reason I write the way I write. I'm trying to tell big stories, but I tell big stories through these intimate encounters because I think that's how you get moved emotionally. We put history to use for us."
Reynolds was asked what concerns him most about young Black people now. "First and foremost, I don't think about young Black people in that way," he replied. "So the question is complicated for me just a little bit because my focus on young Black people isn't one of concern. It's one of celebration. I'm always trying to figure out how to make sure that they understand that we already exist in a place of abundance; that we exist in a place of surplus; that we are more than equipped and more than adequate, more than proficient in all the ways, despite some of the physical challenges and resource challenges that we may have in some certain instances....
"I think it's just making sure they understand that when I talk about imagination, what we're truly talking about is boundlessness here first. And I think my goal in my stories specifically is to show a freedom within oneself.... If we can continue to convince them of that freedom, then perhaps their imaginations will actually know no bounds."
When Young asked what had been "the most eye-opening part of your journey where you realized, 'I'm just going to be me, no explanation needed,' " Bowen cited her transition "into what is traditionally called women's media." Born and raised on the South Side of Chicago, she had lived in Washington, D.C., and Atlanta before moving to New York City.
Noting that New York was a different kind of cultural experience, Bowen said what she "started to notice was that I was very much expected to be showing up as a person who was separated from my Blackness as I understood it as a Black girl.... For me it was very eye-opening to be in these spaces that were also run as feminist where I was feeling so much pressure to not be who I was. I am a very rebellious spirit, but also I don't know how to do that. And I knew that my writing journey was very much attached to my experiences and who I was. It was the way in which I was always unafraid to write about who I was that gave me a kind of distinct voice."
She added that "conforming is also very privileged. You have to be in a space of privilege to even do that in certain ways. Not only am I a Black girl, I'm a fat Black girl. I speak how I speak. I don't come from a lot of money. There were also a lot of ways in which I just couldn't even if I wanted to because I will always be read as kind of like other. So I think that's a really important distinction to make, too."
Something Young said about Bowen's book rang true for the other speakers' work as well: "I think people need to know when it comes to books that this is a space. You can read this in the privacy of your own home, whoever you are, whatever you look like, and learn and grow and have your eyes widened to a different experience that may not have anything to do with you, but you need to know that we exist." --Robert Gray
---

---