'Good Children's Literature Is a Serious Business'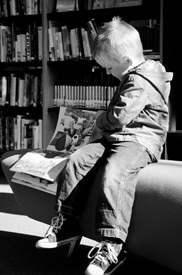 "Good children's literature is a serious business. Not serious as in boring or 'improving,' but serious in attention and ambition, serious about beauty and wonder, about engaging the brain but also the heart, about sadness and difficulty, but also about silliness and joy. Above all, it is serious about the legitimacy of a child's world--which is a world away from being child-ish....
"Good children's literature literally impresses upon a growing brain how the world--or word--is and can be. There is much great children's literature in English, both old and new. But we must ensure not only that it continues to be written but that it is available. We must take care not to devalue the seriousness of writing for children, because by doing so we risk devaluing and narrowing childhood too."
---

---