AAP: 2021 Sales Up 12.2%; Trade Up 11.8%; Hachette's Pietsch New Chairman
Total net book sales in 2021 in the U.S. rose 12.2%, to $15.4 billion, compared to 2020, representing sales of 1,369 publishers and distributed clients as reported to the Association of American Publishers. In December, total net book sales were up 2.8%, to $1.1 billion.
For the year, trade sales rose 11.8%, to $9.5 billion. In traditional formats, hardcovers were up 11.3%, to $3.7 billion, paperbacks up 18.8%, to $3.1 billion, mass market up 5.5%, to $240.9 million, and board books up 9.7%, to $212.1 million. E-book sales dropped 4.7%, to $1.1 billion, downloadable audio rose 13.4%, to $766.2 million, and physical audio dropped 16.4%, to $21.6 million.
Sales by category in 2021 compared to 2020: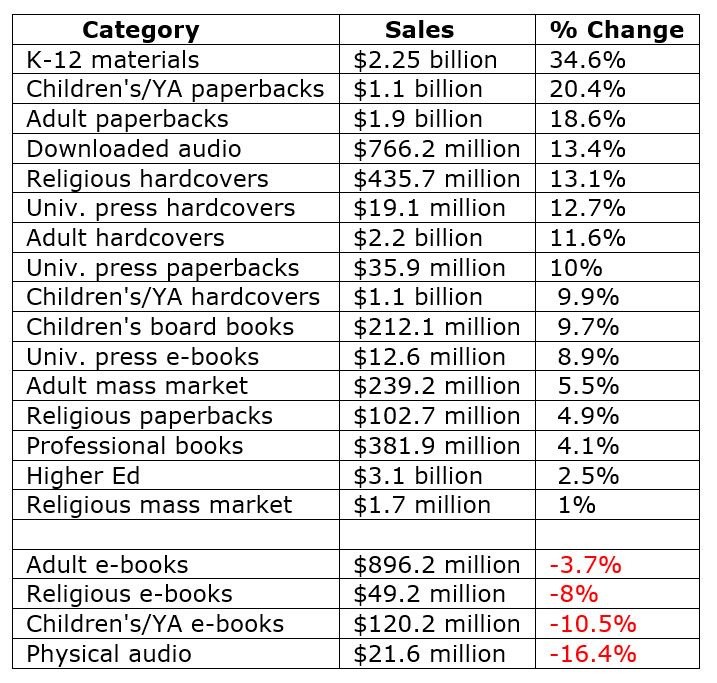 In other AAP news, Michael Pietsch, CEO of the Hachette Book Group, has been elected chairman of the board for the 2022-2023 term, and Julia Reidhead, chairman and president of W.W. Norton & Company, has been elected vice chairman. Jeremy North, managing director, books, Taylor & Francis, has been re-elected treasurer, and Brian Napack, president and CEO of John Wiley & Sons, who served as AAP chairman from 2020 to 2022, is now immediate past chairman. In addition, Blaise R. Simqu, CEO of SAGE Publications, has joined the board as an appointed director.
Pietsch, who served as vice chairman for the 2021-2022 term and has been on the board since 2013, said, "AAP is engaged in a series of critical initiatives that go straight to the heart of how we value, protect, and incentivize authors and publishers. It is an honor to stand with my Board colleagues and the entire AAP team as we fight to preserve the foundational copyright principles that have served culture, education, and the economy for so long."
Reidhead added: "I have long admired AAP's mission-based approach, and since joining the Board, my respect for its work has only grown. Now, as I assume the role of vice chairman, I look forward to becoming even more active in supporting AAP's mission to safeguard free expression, support strong copyright protections, and ensure that publishers can compete fairly in the modern marketplace."
---

---