Indie Booksellers #StandWithUkraine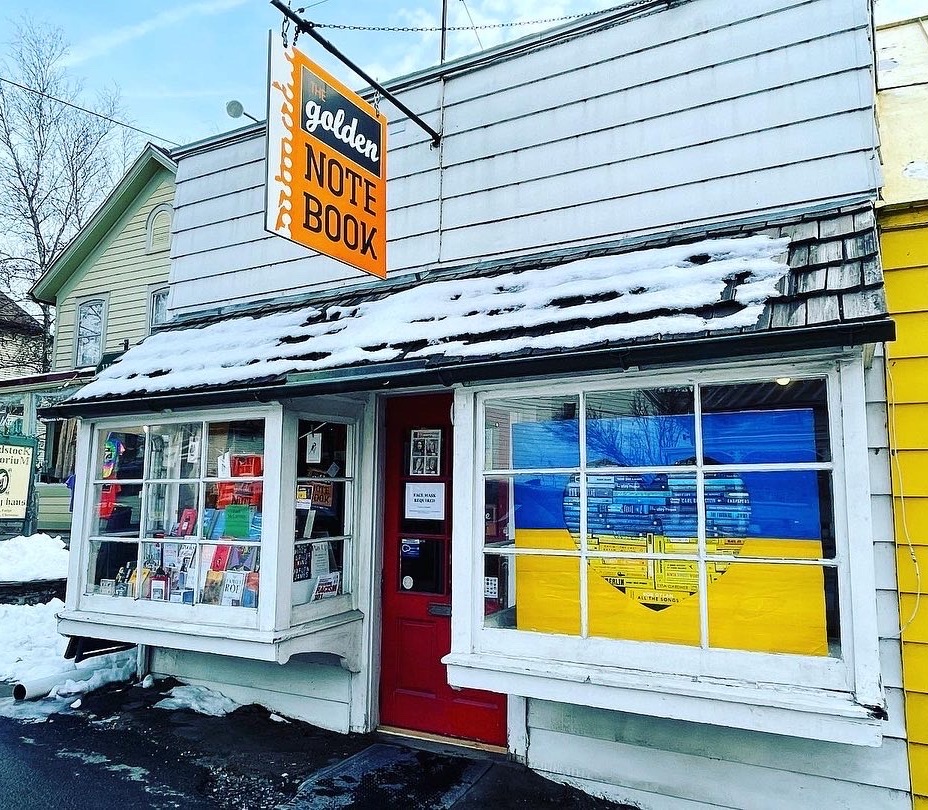 The Golden Notebook, Woodstock, N.Y.
As the Russian invasion continues, many independent booksellers worldwide are expressing their support for Ukraine with fundraising initiatives, reading lists, book displays and more.
Powell's Books, Portland, Ore., donated 20% of all Powells.com sales from March 4 to CARE's Ukraine Crisis Fund, noting: "Russia's invasion of Ukraine is indefensible. The unprovoked attack has already claimed the lives of hundreds of Ukrainian civilians and displaced hundreds of thousands more. There is an urgent need for humanitarian aid for those who have been forced to leave their homes and for those who have remained in Ukraine fighting for sovereignty."
Other indies raising funds for Ukraine include: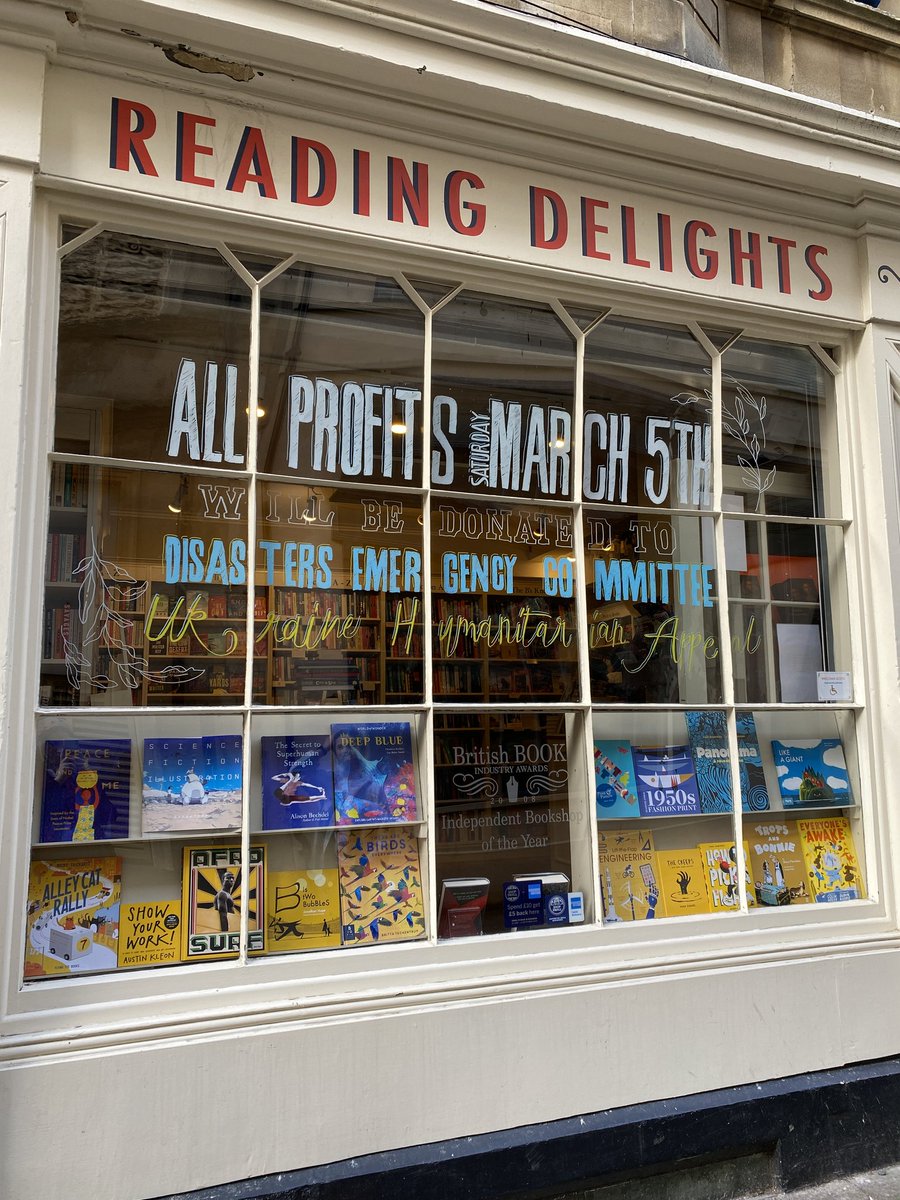 Mr. B's Emporium of Reading Delights, Bath, England
The Strand has also curated a booklist of "essential reading on Democracy and Freedom under siege." Other booksellers featuring book recommendations include East City Bookshop, Washington D.C., and Madison Street Books, Chicago, Ill., which noted: "We wholeheartedly support Ukraine. Because world politics affects everyone, and with all of the misinformation out there, we encourage you to research the issue and learn about it. As books are a great way to do that (but not the only way!), we made a reading list on our website."
The Little BOHO Bookshop, Bayonne, N.J., offered a "PEACE" print by Peter H. Reynolds, noting that the author and illustrator "created this peace print to help with relief efforts for #Ukrainian refugees. Proceeds from the sale of this 7"x7" print will go to UNICEF USA to support their lifesaving support for children and their families in Ukraine."
Yesterday, Archestratus Books & Foods in New York, N.Y., posted: "We have over 60 talented bakers from the community baking to raise money for #CookforUkraine. We are now CALLING UPON YOU AND YOUR LOVED ONES TO COME BUY UP THESE BAKED GOODS TODAY so we can send as much money as possible to #cookforukraine ASAP. We don't have to tell you how extremely desperate this situation is. Thank you for spreading the word. If you can't make it today and would still like to make a donation, you can go to @oliahercules linktree where you will find a direct link to the #cookforukraine site. We are FRIGGIN BLESSED to have so many talented contributors. Together we are so much stronger."
Book Larder, Seattle, Wash., is supporting #CookforUkraine by ordering "100 copies of my friend @oliahercules wonderful first book Mamushka. All of the purchase price of the book will be donated to UNICEF ($35 per book) in support of their efforts to keep children in Ukraine safe.... In addition, our Culinary Director, @polina.chesnakova is planning a fundraiser cooking class that will happen later this month. Stay tuned for more details. Polina has family in Ukraine, so this cause is especially close to her heart. I do also want to recognize that we stand in solidarity with all people whose families, homes, and cultures are under attack from state-supported violence, both at home and abroad."

Bookseller Sam Klebanov immigrated to the U.S. from Russia when he was six. His family owns Petropol Bookshop in Newton, Mass., which specializes in Russian literature. "We are horrified by what's happening," he told NECN. "We have long been critical of the Putin government, but this is a red line that they've crossed, and it's absolutely devastating." He and his family joined thousands of protesters recently at a rally outside the Massachusetts State House, calling for an end to the conflict, something he said couldn't have been done in Russia without serious risk. "Many people are leaving or facing repression for speaking out against the war."
Will Evans, founder and director of Deep Vellum Bookstore and Publishing, Dallas, Tex., wrote an open letter "about how emotional this horrific war in Ukraine makes me & how proud we are to publish the talented & brave Ukrainian authors @AKurkov & Oleg Sentsov (who's defending on the front lines) in Kyiv & @serhiy_zhadan in Kharkiv."
In the letter, Evans observed, in part: "Despite the horrors happening across Ukraine, reading is still a revolutionary act. Glory to Ukraine, and may the citizens and writers of Ukraine stay safe so that tomorrow we can be together again in a world of understanding and compassion."
---

---