Book the Vote: Writer/Bookseller/Librarian Collaboration to Register Voters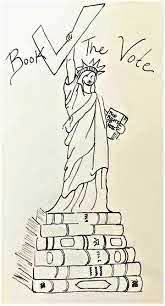 Writers for Democratic Action is launching Book the Vote, with the aim of registering more voters, particularly in battleground states, before the November elections. The effort will take place in bookstores and libraries, where nonpartisan voter registration tables will be set up with the participation of writers and local voter registration groups. Plans call for BTV tables to be available to register voters on Saturdays this spring. In the summer, the tables will be open on Sundays, too, and by fall, tables will be staffed five days a week. WDA said that the Book the Vote project "aims not only to add the unregistered to voter rolls, but to nurture civic resistance to anti-democratic manipulations of elections."
WDA noted that last year "19 states passed more than 30 laws to make voting more difficult, mainly in the name of voter fraud that never happened. Gerrymandering after the 2020 census specifically targeted the power of Black, Latino, and Native American voters. The Supreme Court and state legislatures have gutted the 1965 Voting Rights Act, and the Congress, stymied by the filibuster, has been unable to pass much needed voter protection legislation. The urgent defense of democracy falls to citizens, who must vote in numbers never seen before, voting in part to keep the vote."
Author James Carroll, who's been involved with Writers for Democratic Action since its formal founding in January 2021, said the project "offers all booklovers, but especially writers, a way to join the urgent effort to shore up democracy in this time of its peril. The staffing by writer-volunteers and others of voter registration tables at bookstores will do two things: It will help with the actual support of voting--registration as the key mechanism--when so many unprecedented pressures undermine it (including the recent failure by Congress to protect voting rights). And it lifts up the critical importance of getting to the polls in November, a key element in the decisive issue of voter turn-out, especially in battleground states."
Mitchell Kaplan, owner of Books & Books, with stores in southern Florida, and a founding member of Writers for Democratic Action, said that some bookstores have already signed up for Book the Vote and others are encouraged to join. (More information here.) He noted, too, that the program in stores would be flexible, with writers possibly doing events, and that stores could operate the tables even when there aren't writers present and as often as they want.
---

---