NYC's Three Lives & Co. Moves Back to Longtime Space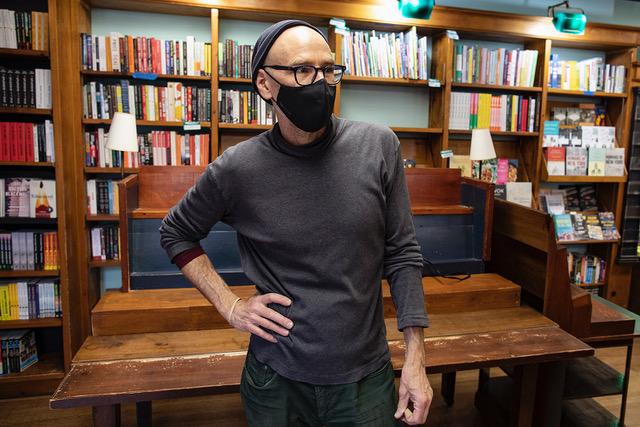 Three Lives & Company owner Toby Cox
(photos: Brian Palmer)
Last week, Three Lives & Company, New York City, moved back into its longtime space at 154 W. 10th St. in Greenwich Village after nearly 18 months at a nearby temporary space. Owner Toby Cox said, "It's hard to believe we're back on our corner, our home of 40-plus years, and in a fully restored and beautiful space. Onward!"
The store had to move because of structural work, repairs, restorations and more. Cox explained in an e-mail to customers: "The shop will look very reminiscent of the one you remember: hardwood floors, a black tin ceiling, the same red doors up front and the same custom-built wooden bookcases, worn smooth by time. There will be some changes--no doubt our regulars will notice every little detail immediately!--but the biggest difference is that you will no longer have to worry about debris falling from the ceiling or that rattling, dripping air conditioner above the entryway. Thanks to the work of a dedicated construction crew, our little old building on West 10th and Waverly can stand for centuries more."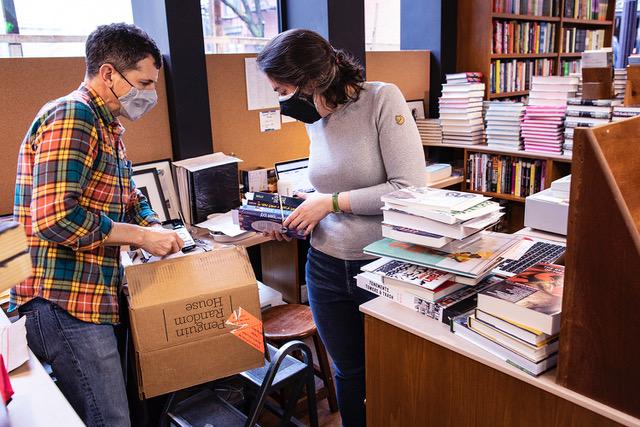 Troy Chatterton, manager, and Miriam Chotiner-Gardner, buyer.
He added that the store's "interim home" at 238 W. 10th St. "between Bleecker and Hudson has served us very well, and we will certainly miss our neighbors in this part of the West Village. It has been a pleasure to join the block's lineup of independent shops. We have picked up lots of new readers in the past year and a half, and we hope you follow us back east--it's not so far! We will see you on the corner!"
---

---