IBD IRL Returns for the First Time in Three Years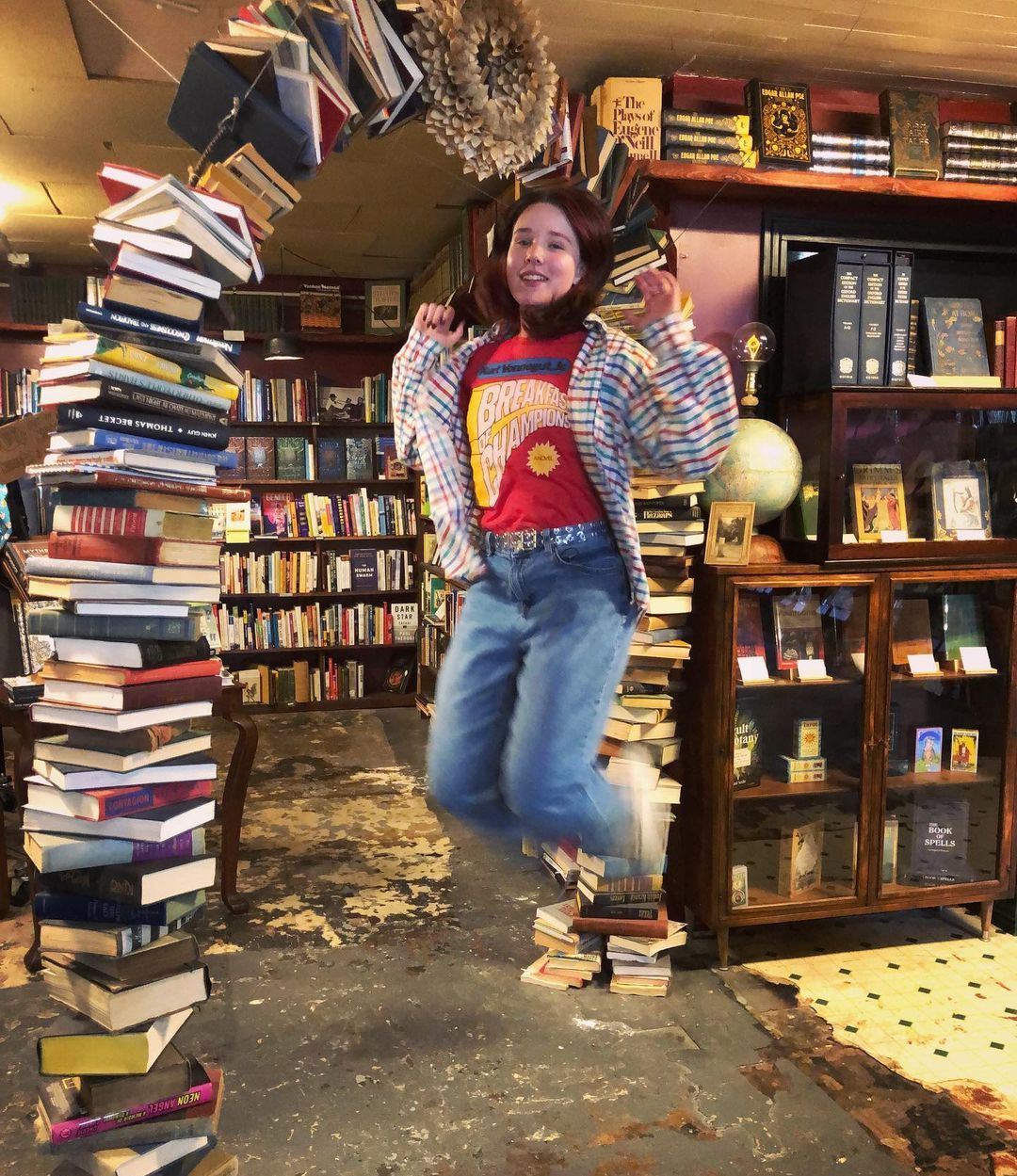 Underground Books, Carrollton, Ga: "We're still straight up levitating from the best Indie Bookstore Day ever!"
Saturday was the first Independent Bookstore Day to be held in person across the country since 2019, leading to more celebration and joy on the parts of both booksellers and customers than even in previous busy years. And this year the excitement started early at many stores in the week running up to IBD with various daily Spirit Week themes such as wearing bookstore T-shirts, dressing in plaid and or dressing as their favorite book character.
This year's Independent Bookstore Day ambassador Angie Thomas, author of The Hate U Give, On the Come Up, Concrete Rose and Blackout, celebrated IBD with unofficial canine ambassador Kobe. The two visited bookstores in Decatur, Ga.: Charis Books & More/Charis Circle, Brave and Kind Books, and Little Shop of Stories. Thomas tweeted, "If Kobe could Tweet, he'd say he had a fantastic #IndependentBookstore Day."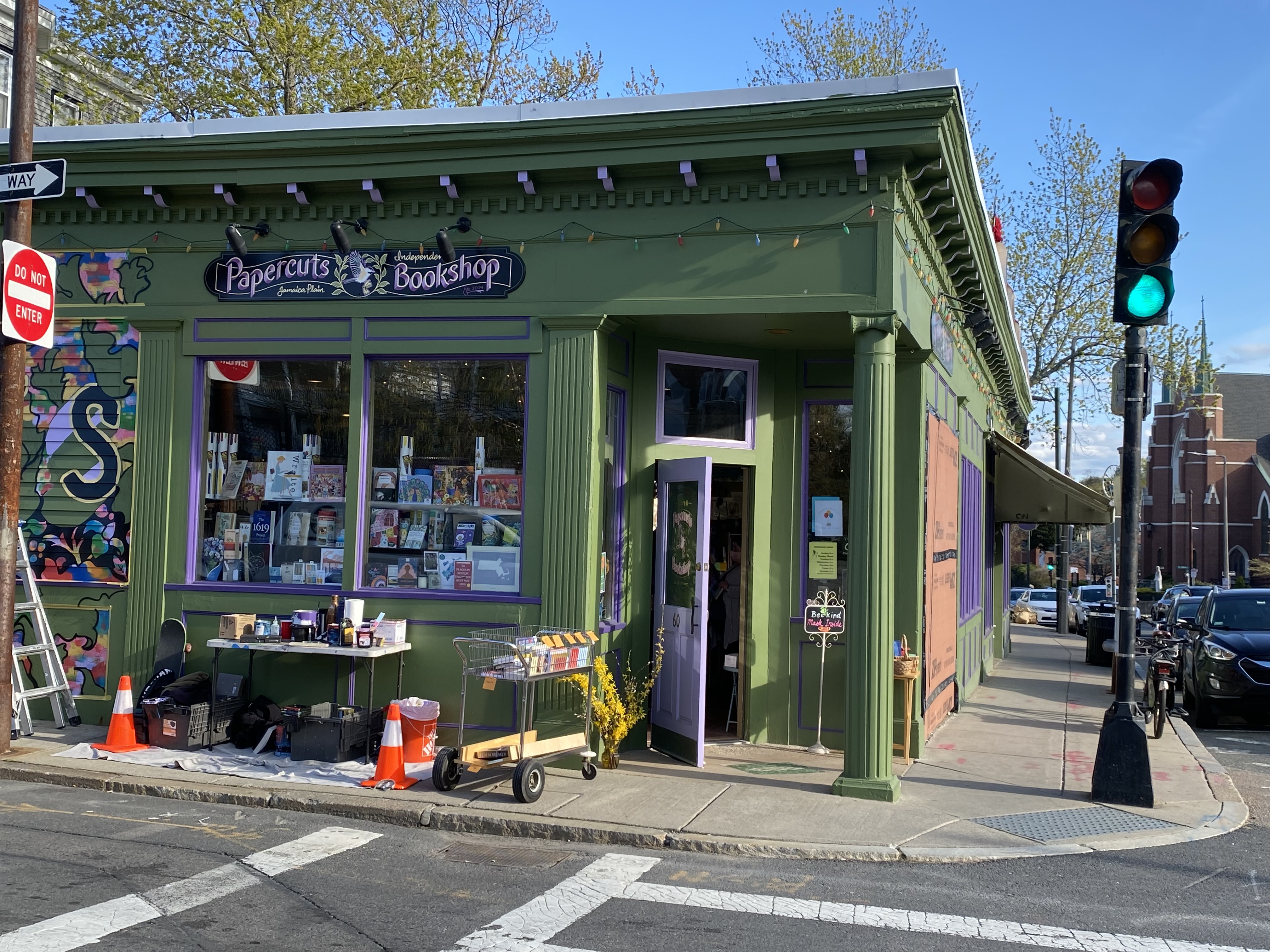 Following the accident earlier this week, Papercuts celebrated IBD with a "car crash slash sale."
Papercuts Bookshop in Jamaica Plain, Mass., which was hit by not one but two cars on Wednesday morning, was open and bustling on IBD. The windows through which the cars had crashed were boarded over, and owner Kate Layte and her staff held a "car crash slash sale," with all the "run-over books" marked down. Bookseller Katie Bircher said most of those titles were new nonfiction, as that section had been stocked below the damaged front window; Bircher added that most damaged titles were 60% off and all sold in the 45 minutes or so after opening. Papercuts also held giveaways and raffles and featured local author Neema Avashia (Another Appalachia, West Virginia University Press) as a guest bookseller.
On Saturday, Watermark Book Co., Anacortes, Wash., celebrated IBD and its fourth anniversary of current ownership. "Boss Lady" Brandy Bowen wrote that day, "We are happily and merrily slinging books. What a fun day... and everyone that has come in seems to be in really good spirits, so this adds to the celebrations." Events on Saturday included mystery grab bags, free IBD tote bags with a purchase of $75 or more, and an appearance by Howard Shapiro, co-editor of Crossing Paths: A Pacific Crest Trailside Reader (Mountaineers Books).
Brookline Booksmith
In Brookline, Mass., Brookline Booksmith held a bookstore scavenger hunt asking shoppers to peruse the aisles and answer questions such as "what famous cook is quoted in our cookbook section?" and "how many rolling ladders do we have?" Customers who completed the scavenger hunt won fame, glory and $1 coupon to use on any purchase that day. There were raffles for three book baskets, as well as a game of "Hookline Bookfish," in which shoppers could fish for books.
Changing Hands, Tempe and Phoenix, Ariz., celebrated IBD with a discount of $5 off any purchase of $25 or more in-store or online through today, Monday. The store wrote on Saturday, "Today is Independent Bookstore Day! But honestly, one day just didn't feel like enough this year... However you shop, thank you for your support this Indie Bookstore Day weekend and beyond! It means the world to us. With ❤️, great books, and gratitude."
Riffraff, Providence, R.I., celebrated IBD by offering all books, in-store and online, at 10% off. In addition, the store gave tote bags to everyone who spent $50 or more, and in-store customers who spent $100 or more received a free tee short. There was also live jazz in the bar in the evening.
The store wrote, "Thanks as ever to everyone who's supported us over the years--this may be a day to celebrate the independent spirit of bookstores, but it's customers like you who've made this particularly independent store what it is. Thank you, thank you, thank you."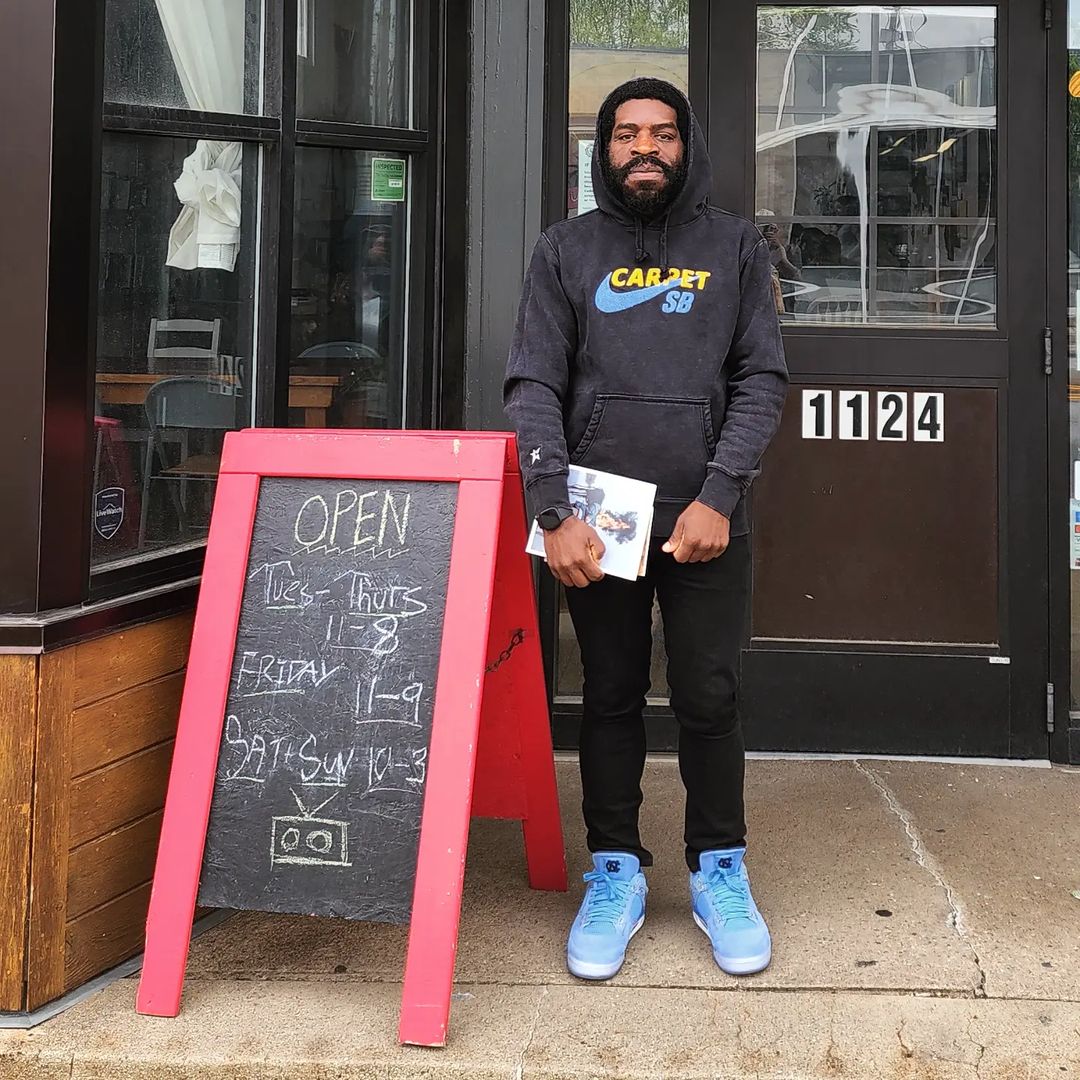 Hanif Abdurraqib
Author Hanif Abdurraqib celebrated IBD by purchasing 25 gift cards each at three bookstores in Columbus, Ohio, to be given to young people in the city, with some going to graduating seniors in city schools. The three stores are Two Dollar Radio, Prologue and the Book Loft. He explained on Instagram: "Like every year, I have immense gratitude to live in a place with bookstores and booksellers that support local writers & look after the community... Wandering libraries and bookstores made me a writer more than anything else did, even when I didn't know it. Love & gratitude to all of the bookstore workers around the country who have been so warm and kind to my work and--much more importantly--to me as a person. Hope to see many of you again soon."
Libro.fm celebrated the full week with its 1,700 bookstore partners by having more than 300 titles on sale and promoting memberships by offering customers a free audiobook when they join Libro.fm. Sales rose 88% compared to the same week last year, and there was a 219% increase in new customers who purchased an audiobook for the first time or signed up for a membership.

Libro.fm's bestsellers last week were:
Braiding Sweetgrass by Robin Wall Kimmerer (Tantor Media)
The Sentence by Louise Erdrich (HarperAudio)
Daughter of the Moon Goddess by Sue Lynn Tan (HarperAudio)
How High We Go in the Dark by Sequoia Nagamatsu (HarperAudio)
The Dutch House by Ann Patchett (HarperAudio)
Bookshop.org celebrated by offering free shipping over the weekend.
---

---