Support for Salman Rushdie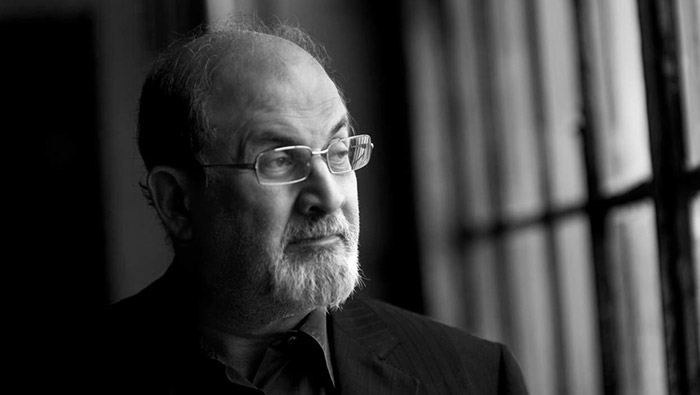 Salman Rushdie
Shelf Awareness joins the many people, companies and organizations in the book world that have expressed shock and outrage about Friday's violent attack on Salman Rushdie, and we wish him the best and a speedy recovery.
A family statement from Zafar Rushdie, Rushdie's son, said yesterday, "Following the attack on Friday, my father remains in critical condition in hospital receiving extensive ongoing medical treatment. We are extremely relieved that yesterday he was taken off the ventilator and additional oxygen and he was able to say a few words.
"Though his life changing injuries are severe, his usual feisty & defiant sense of humour remains intact. We are so grateful to all the audience members who bravely leapt to his defence and administered first aid along with the police and doctors who have cared for him and for the outpouring of love and support from around the world. We ask for continued patience and privacy as the family come together at his bedside to support and help him through this time."
Henry Reese, who was moderating the event on Friday and was injured in the attack when he went to Rushdie's aid, is co-founder of City of Asylum in Pittsburgh, Pa., which promotes free expression, provides sanctuary for writers and artists under threat of persecution and has a bookstore. He suggested to CNN that people react to the attack by buying a book by Rushdie and reading it; writers should "write to the full extent of truthfulness and their ability"; and all should recognize that creative expression "brings people to discuss important issues and to think about people other than themselves."
Among words of support expressed after the attack:
President Joe Biden, in part: "Salman Rushdie--with his insight into humanity, with his unmatched sense for story, with his refusal to be intimidated or silenced--stands for essential, universal ideals. Truth. Courage. Resilience. The ability to share ideas without fear. These are the building blocks of any free and open society. And today, we reaffirm our commitment to those deeply American values in solidarity with Rushdie and all those who stand for freedom of expression."
Markus Dohle, CEO of Penguin Random House: "We are deeply shocked and appalled to hear of the attack on Salman Rushdie while he was speaking at the Chautauqua Institution in New York. We condemn this violent public assault, and our thoughts are with Salman and his family at this distressing time."
The National Coalition Against Censorship, in part: "Mr. Rushdie has bravely defended freedom of expression throughout his career, determined not to be silenced by fear and encouraging others to speak out. An established advocate for writers' protections, Mr. Rushdie is the founding president of the International Parliament of Writers (which has since evolved into the International Cities of Refuge Network), which offers resources and shelter to artists and writers at risk of persecution. At the time of the attack, Mr. Rushdie was participating in a public discussion on the role of the United States as a refuge for artists and writers in exile.
"Mr. Rushdie's famous refrain, 'What is freedom of expression? Without the freedom to offend, it ceases to exist.' underscores the key democratic tenets--the right to disseminate and access ideas, the right to public debate, and, crucially, the right to disagree--whether it be with fellow civilians, institutions, or governments."
PEN America CEO Suzanne Nossel, in part: "PEN America is reeling from shock and horror at word of a brutal, premeditated attack on our former president and stalwart ally, Salman Rushdie.... We can think of no comparable incident of a public violent attack on a literary writer on American soil.
"Just hours before the attack, on Friday morning, Salman had e-mailed me to help with placements for Ukrainian writers in need of safe refuge from the grave perils they face. Salman Rushdie has been targeted for his words for decades but has never flinched nor faltered. He has devoted tireless energy to assisting others who are vulnerable and menaced....
"Our thoughts and passions now lie with our dauntless Salman, wishing him a full and speedy recovery. We hope and believe fervently that his essential voice cannot and will not be silenced."
Ayad Akhtar, PEN America president, in part: "As a former president of our organization, Salman means so much to us. His leadership in the wake of 9/11 set the course for the two decades which have followed. He has been and remains a tireless advocate for imperiled writers, for unfettered intellectual and creative exchange, and one of the last half-century's great champions of freedom of expression. But it is in his own truly seminal, challenging body of work that Salman has stood most powerfully for the values of PEN America--work that has questioned founding myths and expanded the world's imaginative possibilities, at great cost to himself.
"On a more personal note, as a writer whose own work is fundamentally shaped by an early encounter with The Satanic Verses, it is particularly horrifying to me that the nightmare set in motion by the fatwa in 1989 is still with us. We are all thinking of Salman today across the PEN America community, and praying for his recovery."
---

---