The Rabbit hOle Kids' Lit Museum & Bookstore Coming to Kansas City, Mo.
The Rabbit hOle, an immersive museum dedicated to children's books, will open March 12, 2024. Located in a 99-year-old renovated warehouse in North Kansas City, Mo., the Rabbit hOle has been designed to "provide visitors of all ages with radically immersive experiences to discover beloved titles from Goodnight Moon to Last Stop on Market Street," the founders noted.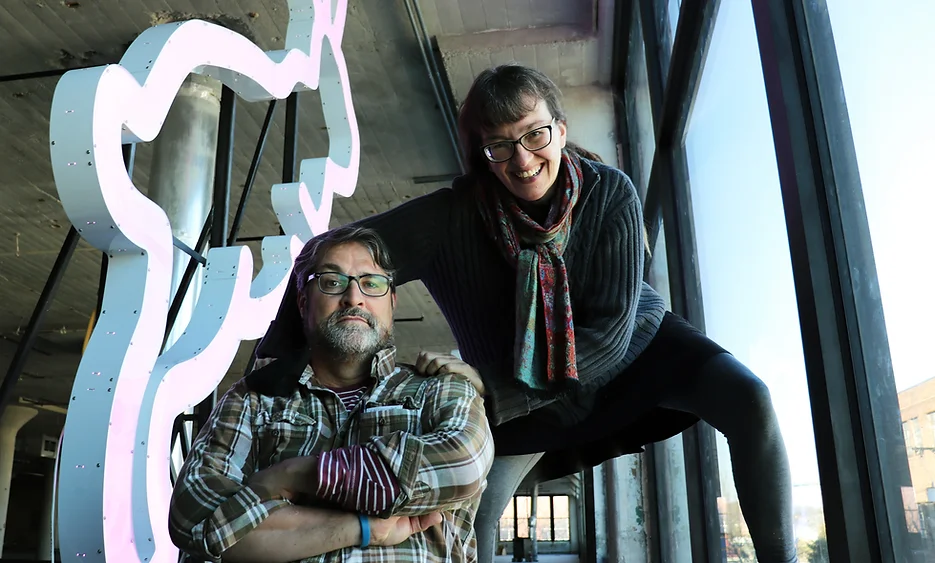 Rabbit hOle founders Pete Cowdin and Debbie Pettid.
In addition to "a literary wonderland featuring over 30 exhibits," the Rabbit hOle will also include a full-service bookstore, print shop, story lab, maker space, resource library, and discovery gallery. These areas will offer a variety of arts and literature-based programming, professional development workshops for educators, field trips and special events with authors and illustrators from around the country.
"Our inspiration has always been to create something beautiful for children," said co-founder and co-director Deb Pettid. "This is an intergenerational space built to connect people to children's books and their creators in fun and discoverable environments."
Pettid and co-founder/co-director Pete Cowdin began planning, fundraising, and building the Rabbit hOle nearly eight years ago after they closed their children's bookstore, the Reading Reptile.
"It hasn't always been easy to convey the scope and depth of the Rabbit hOle, and many people initially thought we'd lost our minds," Cowdin said. "But we know this will be one of the world's most beautiful and original children's museums in the country where the culture of reading and the wonder of books are celebrated everyday."
Attached to the 165,000 square-foot museum building is a state-of-art fabrication facility, where a team of artists design and build all of the Rabbit hOle's exhibits.
Author Jon Scieszka, a Rabbit hOle board member, said, "It takes incredible skill and heart to transform a two-dimensional picture book into three dimensions in ways that capture both the story and spirit of the book. Never before has anyone taken on a project of this magnitude solely devoted to the reading lives of young people and their families."
Memberships will go on sale on November 1. At that time, members will be able to reserve timed tickets, and tickets will go on sale for the general public on November 22.
---

---