Buddy: How a Rooster Made Me a Family Man
by

Brian McGrory

Brian McGrory, a longtime Boston Globe columnist and author of several Boston-based political thrillers, makes his first outing as a memoirist with Buddy, the tale of (among other things) an unlikely alliance between man and bird. Expertly shifting back and forth in time with several shorter vignettes tying into the larger story of how McGrory met his fiancée, Pam, and her two girls, the book opens on the newly formed family's first morning in their just-built house in subyurban Massachusetts. The day begins with the screeching of a rooster named Buddy. It is immediately clear that McGrory and the rooster have an antagonistic relationship--one that makes the human feel like an outsider in his own home and within his new family. There follows a how-did-I-get-here? moment that anyone can relate to. In his case, McGrory tells us, it began with a dog.

Although there have been several recent books with a similar topic, McGrory's sincere and deeply moving story of his dog Harry is a welcome addition. A golden retriever purchased as a Christmas surprise for his then-wife, Harry was a perfect puppy from the moment McGrory laid eyes on him shivering in his crate at Logan airport. The two bonded immediately. Easily trained and a pleasure to have around, Harry quickly became McGrory's most enduring relationship. The same could not be said for his marriage, which began coming apart soon after. Although painful, McGrory's divorce ushered in an idyllic time for him that included passes to his beloved Fenway Park, a host of lovely girlfriends, several well-received novels, many advancements in his career and exciting moments such as receiving an Hermès tie from an anonymous female admirer. But most importantly, he had Harry, his constant companion, who even accompanied him to his getaway cottage in coastal Maine.

But after 10 happy years, McGrory came home one day to find Harry immobile and scared. A trip to veterinarian Pam Bandock brought more than support for Harry, it also brought a relationship that would change McGrory's life forever. Later, Dr. Bandock made a house call to check on McGrory. In the ensuing conversation, he discovered that his longtime vet was the secret admirer (now divorced) who had sent him the tie. Soon after, the two began dating, became serious, and then engaged.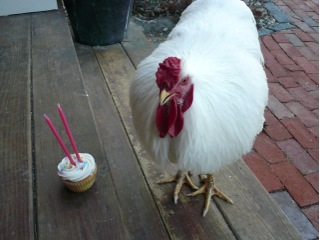 But, as McGrory points out, relationships come with complications. Pam has two young girls--a family unit that McGrory can't help but feel he is intruding on. In fact, when Pam tells the girls that she and McGrory plan to marry, all three of them wind up in tears. Another key factor in this new arrangement is Buddy, who originated as a science project when one of the girls decided to hatch an egg. Animal lovers all, the family can't bear to let the adorable chick go after it hatches. Like a particularly funny time-lapse sequence, McGrory describes coming home time after time to find the chicken in progressively bigger and more comfortable surroundings inside the house and then, finally, in a sweet, permanent set-up in the garage. But the best is yet to come.
One day their Brazilian housekeeper leaves a note saying, "I hope you don't mind that I gave your rooster cheese." Pam explains that chickens have hidden sex organs but "Brazilians know their chickens," so off to the vet they go to get a blood test. Sure enough, Buddy is a rooster, and an incredibly ornery one at that. He pecks, he crows, he screams unmercifully and wants nothing more than for McGrory to leave for good. The females, who dote upon Buddy, are his flock. Buddy soon becomes the metaphor for everything Brian finds uncomfortable and alien about his new life. As readers, we feel his pain. We, too, hope for a coyote to make a quick meal of Buddy or for the health department to take him away or for a passerby to accidentally run him over. We want him to become... dinner. But this is not to be. Along with complications, relationships bring compromise. So McGrory builds Buddy a palatial chicken house on the grounds of their brand-new home. So beautifully tall and spacious is this McMansion that the county livestock inspector proclaims it's the most amazing chicken house she's seen in decades on the job. To McGrory's chagrin, Buddy becomes a minor neighborhood celebrity.
Buddy, it appears, has it all. But soon McGrory realizes that, despite bumps along the way, so does he. Though sometimes utilizing the type of manipulation and open bribery with which all parents are familiar, he develops a warm, loving relationship with Pam's girls that grows stronger every day. And despite his dismay at discovering that chickens can live up to 15 years, he even comes to an understanding approaching empathy for Buddy, who is also often out of his element. Ultimately, McGrory realizes that both he and Buddy are home and that all is right with the world. For now. --Debra Ginsberg, author
Crown, $24, hardcover, 9780307953063, November 13, 2012
---

---