Further Fall Nonfiction
So many good books coming in the fall, and we'll be reviewing and highlighting all the best in the coming months.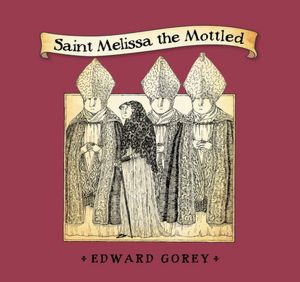 One special treat: the previously unavailable Edward Gorey books coming from Bloomsbury: A Halloween Treat and Saint Melissa the Mottled--they'll make September a happy/morbid month.
Planet Taco: A Global History of Mexican Food by Jeffrey M. Pilcher (Oxford, September) Pilcher traces the history of Mexican cuisine and the rise of Mexican-American fast food, and discusses the question of authenticity--burritos and taco shells were created in the U.S. According to the author, now that Mexican-American food is global, Mexican elites are rediscovering their native cuisine.
Some Girls, Some Hats and Hitler: A True Love Story Rediscovered by Trudi Kantner (Scribner, October) In 1938, Trudi--a beautiful, chic hat designer for the best-dressed women in Vienna--fell in love with Walter Ehrlich, but the world was falling apart for this young Jewish couple. Their story moves from Vienna to Prague to wartime London as they seek safety. Early readers are raving about this one.
The Watchers: A Secret History of the Reign of Elizabeth I by Stephen Alford (Bloomsbury, November) Lest you think that espionage is a relatively modern invention, Alford takes us into the world of Elizabethan spies, double agents, cryptography and torture. He moves from London to Rome and back, in a time of dynastic conflicts and menace to the throne. Chills and thrills.
One Last Strike: Fifty Years in Baseball, Ten and a Half Games Back, and One Final Championship Season by Tony La Russa (Morrow, September) Morrow has several sports memoirs this season (Believe by Eric LeGrand, A Father First by Dwayne Wade), but this is the only one about baseball. La Russa is a legend--six pennant wins and three World Series crowns--and his recounting of his life in baseball and the 2011 World Series is a winner. --Marilyn Dahl, book review editor, Shelf Awareness