Gift Books: Animals
We're planning three gift book issues for you over the next few weeks: general titles, kids' titles and cookbooks. Here are a few on animals to get you started.
We'll begin with dog books, in deference to our office dogs: Butter, Fergus, Oscar and Willow. The Spirit of the Dog: An Illustrated History by Tamsin Pickeral, photography by Astrid Harrisson, comes from Barron's, the publisher that brought out the gorgeous The Majesty of the Horse last year. Pickeral and Harrisson team up again for a magnificent compendium of dogs from the "common" German Shepherd to the rare Komondor.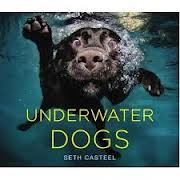 Underwater Dogs by Seth Casteel (Little, Brown) will make you smile. There is no way dogs underwater can look noble as they lunge for balls. They look either goofy or ferocious, determined to get that ball or just blowing bubbles. Photojournalist Robin Layton has compiled dog owners' missives to their pets in A Letter to My Dog (Chronicle Books). Sweet, poignant, heartfelt--the love songs to the dogs are perfectly complemented by Layton's tender photographs.
Shelf Awareness staffers also have home office cats, who often help with the editing. Another Chronicle title, I Could Pee on This, befits their contribution. Francesco Marciuliano has collected poems by cats into a hilarious little book. From expressing their love for dead mice to pulling over Christmas trees, cats reveal their genius and neuroses. For a more serious feline display, the oversize The Life and Love of Cats by Lewis Blackwell (Abrams) is a sure bet. Dozing Siamese, peering bobcats, preening tabbies, eyes, tongues, fur--Blackwell's photos are elegant and arresting.
And of course, we need to include a horse book: Spirit Horses, photographed by Tony Stromberg (New World Library). Now out in large format paperback, it's a stunning homage to both wild and domestic horses. No riders, no tack--just unadulterated beauty and power. --Marilyn Dahl, book review editor, Shelf Awareness