Gift Books, Well-Lit
Laura Ingalls Wilder is finally getting her due as "a distinctive and vital voice in the canon of American Literature"--the Library of America has published her Little House series in a two-volume slipcased edition ($75), without illustrations and young-reader typography, and with historical notes. It's a fine choice for the adult Wilder fan. For Neil Gaiman fans, check out the gift edition of his classic novel Stardust, first published in 1999 (Morrow, $30). It comes with a dark blue, gold-stamped cover, frontispiece and chapter heading art, and smaller trim size.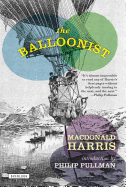 Macdonald Harris (1921-1993) wrote 16 novels, and The Balloonist (1978) is probably his most famous. I discovered it years ago it in a used bookstore and was intrigued by the premise: in 1897 three men set out for the North Pole in a hot air balloon, carrying passenger pigeons and canned goods. Re-reading it in the reissue from Overlook Press ($14.95 paper) I was happy to find that it is just as elegant, quirky, witty and surreal as I remembered. Another favorite author who should be much better known is W.D. Wetherell, who wrote the brilliant A Century of November. Arcade has published his latest novel, The Writing on the Wall ($24.95), a story of three women whose connected lives span a century. When one of them begins to strip the wallpaper in an old house, she uncovers a memoir written on the walls; the women's stories, and others, unfold with tragedy, wisdom and grace.
A satisfying anthology for mystery lovers is Books to Die For, edited by John Connolly and Declan Burke (Atria, $29.99). More than 500 pages of the world's greatest mystery novels championed by the world's leading mystery writers, from classics to little-known gems. It's a great way to revisit old favorites and discover new delights. --Marilyn Dahl, book review editor, Shelf Awareness