Sons and Mothers
Mother's Day is a ways off, but honoring mothers is timeless. With Will Schwalbe's recent The End of Your Life Book Club, he invited us to share the two years he had with his remarkable mother as she was dying of cancer. This brings to mind other writers whose memories of their moms became lovely, insightful books.
Ivan Doig's 10th Montana-set novel, The Bartender's Tale, was published this year. Twenty years ago, he wrote Heart Earth, a memoir of his mother, Berneta, who died on his sixth birthday. Not until 1986, when Doig inherited the letters his uncle received from Berneta during World War II did the author have more than "half-rememberings" of his mother. Heart Earth is not just a tender tribute to Berneta, but an insightful companion to his memoir of his Montana roots, This House of Sky; both are poetic sagas of the challenges of wartime and nature in Montana's high country.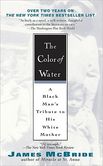 The subtitle A Black Man's Tribute to His White Mother tells only a fraction of the remarkable story James McBride shares in his 2006 memoir, The Color of Water. Ruth McBride Jordan, born Ruchel Zylska, survived Polish pogroms, an abusive Orthodox rabbi father and anti-Semitism in her Virginia town to outlive two husbands and raise 12 children. Both husbands were black, and she taught her children, "God is the color of water." Her standards were high; the last section of McBride's book lists Ruth's children and their academic degrees; all completed at least four years of college.
J.R. Moehringer, the only son of a single mother, grew up among the patrons of his uncle's Manhasset, Long Island, tavern. The 2012 publication of his novel Sutton has re-introduced Moehringer's 2006 memoir The Tender Bar, an homage to Manhassat he wrote in response to the town's heavy losses on 9/11; at the same time, it serves as a loving tribute to his mother, Jean, who realized her son's need for male nurturing. --Cheryl Krocker McKeon, bookseller, Book Passage, San Francisco