Looking Back: Panic 2012
There are bound to be plenty of in-depth books coming about the latest presidential election; personally, I hope John Heilemann and Mark Halperin will write Game Change II. Meanwhile, political and media junkies can enjoy Panic 2012: The Sublime and Terrifying Inside Story of Obama's Final Campaign by Michael Hastings (BuzzFeed/Blue Rider Press, January 15, $4.99 e-book, 9781101600894). Hastings is a George Polk Award winner and author of The Operators, a superb book about Gen. Stanley McChrystal and our unsuccessful troop surge in Afghanistan. Panic 2012 is an often outrageous, irreverent riff on politics and media.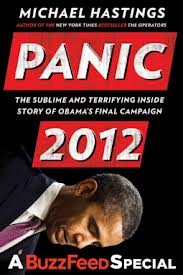 Obama's first debate performance was a disaster; first debates for incumbents usually are. But after the elation the campaign felt at Romney's "47%" debacle, "[Obamaland's] utter confidence in one of the best talkers in American political history" had been shaken. Not news now, but what Hastings digs into before, after and during this mini-crisis, is the good stuff. He's hard on the press for amping up the panic to make the news cycle interesting again.
We learn how the campaign turned the electorate on. Jim Messina, the campaign manager, said, "We were never gonna be as sexy as we were the first time." We learn about the glamorous press corps: third-rate motels, worn-out buses, the brutal journalism caste system, the tension of trying to get close to Obama; four years ago, Hastings had decided that a campaign was the most soul-killing beat on the planet, yet he re-upped. We laugh in horror at the Wall Street Journal correspondent and her Obama sock puppet routine, performed in front of Obama. And we hear echoes of Hunter Thompson when Hastings pops an Adderall after years of sobriety, "caught in the full destructive force of a campaign-induced relapse," when he needs a story that "would justify five kicked mini-bars in as many states."
Panic 2012 is a wild ride. --Marilyn Dahl, reviews editor, Shelf Awareness